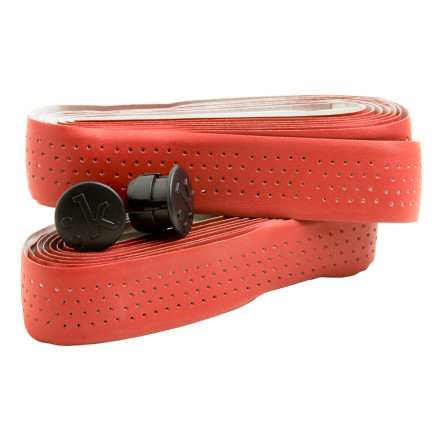 Community Images
Many of you a familiar with Fizik's Bar Gel handlebar tape -- a two-piece shock-absorbing system for your handlebars. A roll of Microtex bar tape encases an adhesive layer of gel onto your bars to help keep your hands from going numb on long rides. It's a great system, since it fixes the gel on your bars instead of forcing you to wear it on your gloves.
We've heard from more than one customer that what they love about the Bar Gel is the Microtex tape itself, and that the bulky feel of the gel beneath the tape isn't their cup of tea. Microtex is a waterproof, synthetic nylon microfiber 20% lighter and more durable than leather, and it doesn't tear anywhere near as easily as cork (Cinelli) or foam (Deda). It has a combination of durability, grippiness, slip-proofness, and good looks you don't get from other brands of tape.
In reponse to demand, Fizik recently released their Microtex bar tape in a non-gel version. What you get here is one roll -- enough for one handlebar. It has all the wonders of Microtex, but since it doesn't come with gel you get a low-profile feel for your bars missing with the cushy Bar Gel. Available in Black, Metallic Blue, Red, Chalk White, Silver, and White.
The actual weight of the Fizik Microtex Handlebar Tape is 63g.
Good Tape
Familiarity:

I've put it through the wringer
I have used this tape for the last few years. It last forever, looks classy, and is comfortable. Add the Fizik gel and you have a comfortable perch.
Wrap your bars up
Familiarity:

I've put it through the wringer
Great tape. Tough tape.
Long lasting but minimalist bar tape
Familiarity:

I've put it through the wringer
Its no secret that Fizik bar tape is a pain to wrap. It takes some coaxing to get the tape to wrap exactly how you want it, but this is exactly what makes it such great tape. Once the tape is in place, it stays in place with no stretching as it wears. The texture is grippy, although there isn't much padding to it. Its among my top 3 favorite tapes, and my top choice for Time Trial bikes, where you spend most of your time in the extensions anyway.
Great grip, feel, feedback. Much to my liking in comfort. Appreciate the low "pile"/profile and weather resistance.

I was skeptical of such a thin wrap but now I wont go back!

The only thing I might prefer is a good leather wrap, however the Microtex takes less (or no) care, is lighter, additionally saves some skin.



The Fizik Microtex is perhaps for the essentialist with a touch of luxury.
White Microtex
Familiarity:

I've used it several times
This tape is a bit firmer than others and doesn't offer the shock absorption you may be used to with cork. Grip isn't necessarily tacky, but provides good road feedback. If you like the texture, but prefer a bit more padding I would recommend gel pads underneath. Durability is superb and any wear can typically be wiped off easily. Installation takes a little bit more time as the material has minimal stretch to it. I attached a photo of the White Microtex w/logos which hopefully might give a better idea on the texture.
Best tape I can find.
Familiarity:

I've put it through the wringer
I love this tape. First of all, I don't really like the cork tape, or the more common foam-ish tape. It gets a bit sweaty for my taste, and it stretches too much.



The Fizik tape, although it looks like fake leather, is way better. No sweaty palms that threaten to slide off, and it doesn't get all stretched out, crusty, mega dirty, etc. Fits tight, looks like leather, and feels great. Not too much grip, not too little. I love it.
This bar tape is pretty awesome for a few reasons. 1 - non traditional; yeah who wants to look like the spandex freak you just passed, its low profile slim on the bars, super comfy, and it wears well. I tug the s**t out of my bars when trackstanding. dont fall though, it WILL tear. :(
Unanswered Question
How does this compare in feel to the Lizard...
How does this compare in feel to the Lizard Skins tape that everyone raves about?
This is the best tape I've used yet! Durable and stays clean far longer than any other tape, and I only use white! Very easy to clean as well,this tape is tough! Excellent gripping surface, even with sweaty palms. This tape is so tough I took it off my bars to replace my cables/housing and and wrapped it back up and it still looks like new...and thats been over 5 months ago! Not much on the padding side though! If thats what you're looking for I'd suggest a base layer of cheap cork/gel tape then a top layer of Microtex! I'm hooked!
It was fairly simple to replace my old, dried out and rotting bar tape with this new role. While I'm sure the thin line of application tape on the back side helps to keep it stationary it did add to the challenge of getting the wrap correct on the first try.
I am a fan of the Fi'zi:k bar tape. I have had the black cork stuff as long as I can remember and decided to switch to white. I tried a white cork but it got dirty too fast. This tape has stayed clean much longer. It doesn't have the padding that cork does but it makes up for it in style. I have gotten used to it anyway and don't really wear gloves either. Since my initial purchase I have put this tape on many of my friends bikes and on my commuter. I am sold.
This bar tape matches the new Cutter Bones bikes great. Check them out here: cut0060
Great stuff for those of us who like a grippy, but firm, bartape. FYI, you will have to wrap these tight as hell to keep it from bunching up on tight bends (e.g. ergo or compact bars).
What's the difference between the Chalk...
What's the difference between the Chalk White and Chalk White Soft Touch?
Chalk white is just like normal bar tape, the soft touch is still white but it has a soft almost suede like feel to it.
I've used both, and the Chalk White Soft Touch soaks up dirt very quickly, whereas the Chalk White stays clean month after month. There is no trade-off in performance
Overall, the grip is pretty ownage. Even after leaving it out in the rain, it still sticks, so plus plus. Wo0t wo0t!
Exactly what I wanted. Not much padding, but that's more comfortable to me anyway.
great comfort without bulk. this is some sleek tape.
The "red" color looks like brown on my...
The "red" color looks like brown on my monitor...which would fit my needs perfectly if it is indeed brown as it looks in the product pic. Could anyone verify how red or brown the color actually is?
Duder - The red is seriously red. Not Brown. You might dig this - Brooks Heritage Saddles Leather Bar TapeItem - BHS0045. It's brown bar tape.