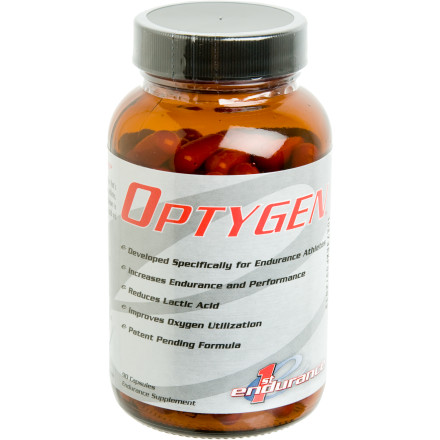 Detail Images
If you're chemically inclined, you could spend a good afternoon reading about the science that goes into First Endurance's Optygen supplement. If you're more concerned with the end product and less about the hyper-complicated beta oxidations, calcium pyruvates, adaptogenetics, and chromium metabolites, focus on the easily understandable benefit: Optygen makes you faster and helps you recover more quickly. The how, obviously, is complicated, but suffice it to say that Optygen's combination of herbs, minerals, and compounds helps regulate blood sugar levels, improve oxygen absorption, reduce lactic acid buildup, and increase aerobic metabolism. It utilizes ingredients that have been used by Sherpas to excel on Everest and by cyclists to win the Tour de France (and before you ask, yes, Optygen is completely legal, safe, and stimulant free). It's designed to work slowly, so you'll notice the effects after several weeks, not immediately, so have some patience and you'll see results.
30 servings
Three capsules per serving
What do you think about this product?
Have questions about this product?
Package states you have to give it about a month to feel the effects, and while I didn't notice any major difference a week or two weeks in, the 3rd week is where I really started to reap the benefits. I'm no exercise physiologist, but I am a bike rider and using this product after a month has made me a better bike rider. Improvements in threshold power, more efficient recovery blocks and better times on all the local climbs are evident that along with structured training, rest, and diet Optygen is just that extra edge.



It is no doubt expensive, but it could be that extra boost you need going into your main event for the year.
Great stuff
Familiarity:

I've put it through the wringer
When you're doing everything possible to get the most out your performace, you find the little things that make the difference. This alone won't win any races but Optygen added to your training regimen will give you the extra boost you need to perform.
I have used it every riding season...
Familiarity:

I've put it through the wringer
I have used it every riding season for the last 4-5 years. While I can't give you any scientific details of how or if it works I can give you my impressions when I use it and when I'm not. I suspect it helps with recovery more than anything else. I don't feel like I'm riding stronger but after hard efforts I can get back on the bike with more energy. I did try the HP version but got some side effects. Went back to the regular version.