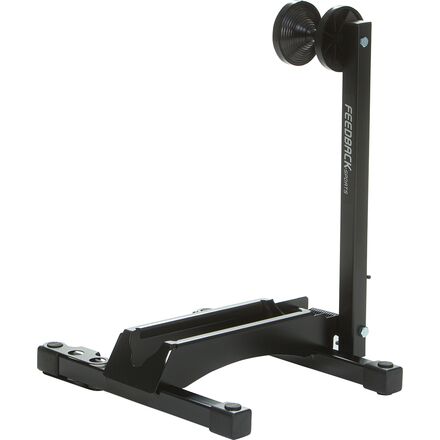 Detail Images

Community Images
Description
Line 'em up!
Feedback Sports' RAKK system is one of the favorites around the office. The ease of use, combined with their ability to hold a variety of wheel sizes, and the fact that you can link them together in a staggered fashion, make them a common living room fixture. The RAKK folds up for easy storage if you're not using it and can accommodate tires up to 2.4in wide with ease.
Compatible with road and mountain bikes
Spring-loaded arm holds the bike in tension
Stands connect together to hold multiple bikes
Do your bike a favor! Buy this stand!
If your bike spends any time at all on the ground without you on it, you need this stand! So much easier to use than the alternatives and it keeps a solid hold on your bike. It's easy to fold up and take with you and comes in especially handy at races and events to keep your baby upright while you get your stuff together (I saw you lean your F8 on the car!) You can also connect multiple stands together to keep a slew of bikes up and avoid the velo domino!
Perfect!
Familiarity:

I've used it several times
I love these racks. Very simple, but work perfectly.

I just ordered two more.
Work Great
Familiarity:

I've put it through the wringer
I have four in my garage. Been using them for a while now and they hold up great.
Well built bike stand
Familiarity:

I've used it several times
This Rakk is a well thought and well built stand. It is so good that I ordered a Fatt Rakk as well for my fat bike. Whether it's a road or mountain bike, it will keep your bike upright while you admire the beauty of your pride and joy. If the front wheel tilts to one side, the whole bike will kinda lean but nothing to fear as the Rakk will do its job of keeping your bike up.



When in use, the rakk just touches the walls and the knobs of the tires eliminating the possibility of scratching the wheels (especially if its carbon). One thing i noticed is that if you have a 2.55 size tire, there is a chance it will not fir the wheel stand. Anything smaller that this size will work on this rakk.
Great Bike Stand
Familiarity:

I've put it through the wringer
Why? They do what they're designed to do, easily. Also, they fold up nicely and take up very little room when not in use. Warning: button to open and close it is a bit stiff. Watch the fingers when folding it down....yeah, I got a mild crunch.
Best bike stand
Familiarity:

I've put it through the wringer
Unfortunately, I bought two off amazon.com prior to finding this one. It is the same one they use at my LBS. I have bought several more since my first purchase. Works great for my road bike and my 29ers.


Simple, Easy, Works.
Familiarity:

I've put it through the wringer
Lightweight, cost and space effective and the perfect stand to gently caress your new ride. Plenty stable and so easy a triathlete could use it (just joking triathletes). No assembly required.
Does well what it's supposed to do
Familiarity:

I've put it through the wringer
Super easy to use - ready right out of the box. Holds the bike very stable.
I looked around for something to keep my road bike in a standing position..other products had bad reviews because they hit the gears etc...got this ..took minutes to assembly and put my bike it in and works great ! If your looking for a stand that doesn't take up much space and doesn't ruin your bike and does what it supposed to do ..then buy this
Super easy to use..works on my road and mountain bike. I would highly recommend this product if you are looking for a stand that does not take up alot of space, and is stable.
Say, nice rack - bike stand that is...
Familiarity:

I've put it through the wringer
Straight out of the box, nothing to assemble - excellent! Build quality seems legit, paint is nice and seems like it will hold up longer that my bike frame will. There is a small push bearing/button on the lower assemble to remove it from the upright position to fold for storage or transport. The two extra pieces on the side are meant to attach to other racks of the same - and would be pretty sweet if needed. Easy in/out - no bumps or bruises for your trusty steed - unless you have a teenage driver trying to park your new Porsche back into the garage from a joy-ride :) I may buy a few more, just because the price is cheap, the product is not, and your fellow riding peeps will be envious to get one.
Love it!
Familiarity:

I've put it through the wringer
I've been leaning my bikes for years and this is a great solution that prevents tip-overs and looks great. Simple design, secure hold, great price.
Love all 6 of mine
Familiarity:

I've put it through the wringer
After trying a variety of stands, I finally discovered this gem. I own 6 now and will be investing in several more. They are great to travel with and are indispensable in my bike storage room.
fits my 29er mint!
Familiarity:

I've used it several times
Great minimal style storage system! opens up with a snap and has a spring in the back to let you slide your bike back into the sleeve. great balance and dont have the typical "fell over in the garage" excuse to tell my friends when theres a new scratch in the bike! haha....great product!
Great little rack.
Familiarity:

I've put it through the wringer
I bought this rack to use with my 29er and my road bike. I was amazed how well it can hold either bike without any issues. The 29er's tire is pretty wide and does get stuck when I pull the bike out. You could even use the rack to work on your bike because it holds it so well.
Have a few of these and really do work with all kinds of bike
The RAKK Bike Stand - Storage
Familiarity:

I've used it once or twice and have initial impressions
After looking over many other reviews, I decided to go with the RAKK Integrated Bicycle Stand for storage of an extra bike. The stand works

very well with a 26" mountain bike, and once you get the danged thing open, it is easy to use. You do need to be aware of something that is only mentioned in the paperwork inside the box: the stand will hold your bike in place ONLY IF THE (racked) TIRE REMAINS INFLATED - something that is not always the case when a bike is in storage a while.