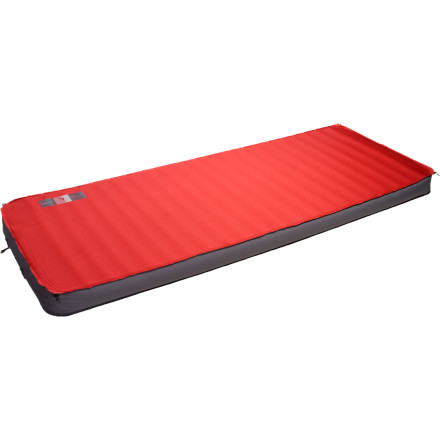 Colors

Detail Images

Videos
Description
Let your dogs have the bed.
Camping doesn't necessarily have to be roughing it. The MegaMat 10 Sleeping Pad keeps you comfortable while you sleep. In fact, the MeagaMat has adjustable firmness that feels so good, you might end up inflating it on your floor at home and sleeping there.
Quick-filling, thick, self-inflating foam is simple to set up
Mini pump lets you add more air to the mattress to get a perfect firmness level
Two (or more) mats can be linked side-by-side to create one large sleeping area
Large stuff sack means you won't have to fight to get the mat back into its bag
Puts TempurPedic to shame
Familiarity:

I've used it once or twice and have initial impressions
Whenever I go camping, I go with the expectation of getting a very poor nights rest. Sleep is so important, and all the more so, when you need energy for whatever kick ass adventure you are on!
So working at backcountry.com, some vendors donate gear to our gear closet, and gearheads can demo the product firsthand.
We have a tent set up outside the closet with a sleeping bag and the Exped MegaMat 10 Sleeping Pad inside.
On my break today, I decided to take a small cat nap. A 15 minute nap unintentionally turned into an hour. Needless to say that was the best nap I'€ve ever had.
This pad is so comfortable!!!! Ever wonder what heaven feels like?
It'€s sleeping on this pad camped out in a remote area away from humanity.
This is not an ideal pad for backpacking due to it being 5 lbs 11 oz, but great for any other camping.
The price point is pretty high, but I feel like it is an overall good investment for a quality product that serves its purpose. Not to mention, Exped has a phenomenal warranty policy.
I don't actually own this pad, but I will once these come back in stock. I swear, they fly off the shelf so fast!


Baller sleeping pad!
Familiarity:

I've used it several times
Yes, it's pricey. Yes, it is the best I've ever used. Even if it got a hole and wouldn't inflate, it's still comfy enough to be used no problem. Love it.
Care of Exped sleeping mats
Exped MegaMat 10 Sleeping Pad
Best.
Familiarity:

I've put it through the wringer
We had this pad out on a video shoot for Backcountry, and I had the opportunity to test it for a night. Quickly after (quite literally as soon as I got back to an internet connection) I ordered one of these for myself. The best pad I have ever slept on, and IMO the most comfortable pad on the market. I did however tear this a few weeks after buying it, but the patch was easy and is holding up very well. If you're car camping, this is the pad!
Holy Comfort, Batman!
Familiarity:

I've used it several times
Best. Sleep. Ever. I've slept on just about every sleeping bad out there and consider myself a bit of a sleeping snob. I'm a side sleeper and toss/turn a lot. A comfortable pad is essential. This one is by far the most comfortable I've ever had the pleasure of resting my head on for the night. The extra length and width (when compared to a standard 20x72" pad) and the adjustable inflation/foam setup makes this thing amazing.



Only downside? It's about 5 times the size and weight of my backpacking Exped sleeping pads. But, if I'm car camping or doing very short hikes, this thing is SOOOOOO worth every penny.
Home away from Home
Familiarity:

I've used it several times
If you're car camping this pad is the way to go. It's almost as good as taking your bed with your but it's a lot smaller and lighter. I spend thanksgiving camping in St. George on this for a 5 day climbing trip. Added bonus is it has a super high R-value so it insulates from the cold ground very well.
Andy Brun describes the features of the Exped MegaMat 10, newest mat in the SIM Comfort series.
Ted shows us how to use the Exped Mini Pump.
Best Mat I've Ever Owned
Gender:

Male

Familiarity:

I've put it through the wringer
I have spent the last ten months in grad school, living in a small apartment with no furniture. This mat has literally been my bed every night for the entire duration. It's as comfortable as any real mattress and has held the same air I pumped into it over 300 nights ago, with absolutely no leaks. Quality of construction is without peer and I would absolutely set this up as a guest bed. Typically I've set up AeroBed air mattresses for guests but this mat is even more comfortable, and significantly more reliable. I give this product my highest recommendation.
I didn't have time to inflate and leave...
I didn't have time to inflate and leave for 24 hrs, so I inflated the mat and slept on it right away. I have to say, it leaked pretty bad through the night. I had to pump it up 4 different times. I hope this will go away. If it doesn't, I will return this for sure. $200 and it leaks? Very dissappointed.
Best Answer
You might have a problem with it since i have the Exped SynMat 9 and I have never had it leak noticibly. I mean, when it gets cold outside, no matter what, the air inside you pumped when it was warm is going to condense a bit. But I have never woken up with touching the ground or uncomfortable. I agree with you though, if it is leaking to where you need to pump more than a couple times, then I would return it and get another one. What type of temperature swings are you seeing? My usualy temperature change was from about 60F to 25F-15F, and I thought it was fine in this temperature range...This is the common drawback to air pads over foam pads....Hope that helps