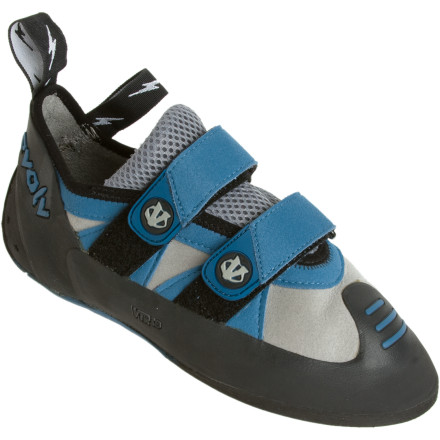 Detail Images
Evolv redesigned the Evo Climbing Shoe to be even more versatile for all-around climbers. A thinner, extended top toe rand offers additional support during crack climbs, while traditionally sharp edges help you gain footing on that nubby boulder problem. Super sticky Trax XT-5 high friction rubber grips even on the sloughy stuff, so you can focus on the send ahead.
Overall this is a pretty good shoe. I've used them for a couple months in gym climbing. I have to say these are far less sticky than my 5.10s were. I haven't decided if that's because of the rubber or because The sole is so thick I can't feel anything. I'm leaning toward the latter.
Pros:
• Fairly aggressive
• Don't stretch
• Good price (especially on sale here at Backcountry)

Cons:
• Smell
• Not super comfortable

My brother had these shoes, and I tried them a few times. First off, they were fairly uncomfortable (even after a year of breaking them in), but they do perform well. The biggest drawback in my mind is that these shoes stink. Terribly. It's so bad my brother didn't store them with the rest of the climbing gear, because the smell would make everything else smell like death.
This is my second pair of Evos...had to replace the first after one too many resoles. The shoe is great for climbing most anything from steep and overhung sport routes to moderate trade routes. Love the velcro and fact that they don't stretch. Rubber seems to still be sticky while lasting fairly long as well.
I climb alot and need a standard go to shoe that performs well on a variety of things, and this is that shoe for me. Good value, great fit, a bit of sprucing up with this new generation. Rubber is great, fit is nice, I size to .5 size below my street shoe for performance, and same as my street shoe for long routes and comfort. They soften as they break in and get more sensitive. Nothing too fancy, but they perform where you need them too, in an era of specialized shoes, I find I can do alot with these.