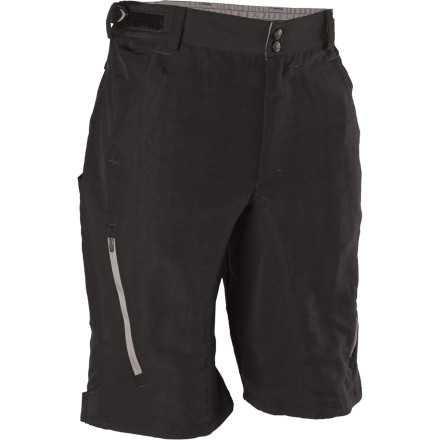 Detail Images
Endura built the Singletrack II Short to stand up to any abuse that you can throw at it. The Singletrack II sports double- or triple-stitching everywhere, a snag-free underside, and beefy Cordura construction, so you can be sure that you will give out long before it does.
Super-durable Cordura nylon fabric with Teflon HT finish offers tons of abrasion-resistance

Zippered mesh thigh vents allow you to cool down mid-ride

2 front and 2 back pockets for plenty of storage options

Smooth underside to avoid snagging or pressure points

My favorites!
Familiarity:

I've put it through the wringer
This is a great pair of shorts. They are very rugged,durable and look great. The Endura brand is by far my favorite line of mtn bike clothing. Its made in Scotland so it withstands the elements very well. Highly recommended.
Really nice shorts and they fit well (upsized 1 size like most people mentioned on the web to do). I'm usually a 33 waist so I got the size large and that would have been perfect. Probelm was the 2 waist snaps are terrible and barely will stay snapped closed. Bend over or twisting and they will pop open. At 6' and 170lbs I've go no real extra around the middle either. Bummer because I would have kept them for sure except for the snaps. Not paying someone more money to replace them either. Maybe I got a bad pair but I doubt it. Hard to rate something I haven't used so I'll give them a 3 star. I think with solid, tight closing snaps these could easily get a 5 star.
Well designed mountain bike short
These appear like a well made short and feel good to ride in, even for hours.

They are double and triple stitched everywhere and the materials appear very robust (although that also translates into a heavier short that will get heavier the more sweat and/or rain it absorbs).

The inseam length is a rad: they are not super long but come to knee cap when standing. When pedaling seated they fit nicely above and behind the knee and don't bunch behind. The Velcro adjusters on the hems are useful for keeping the opening tighter to your legs and out of the way of anything they might get caught up on on your bike.

The vents work; the front pockets are deep and roomy with magnetic closures (not sure on effectiveness of those) and there is a good sized zippered inner pocket in the left from pocket for anything you cannot lose.

As the reviewer previous to me advised, the back pockets are awesome. They are deep and off to the sides: really a great design.

Now, for the stuff that makes these 4 stars instead of 5. The previous iteration of the Singletracks were slammed for their lame snaps at the waist always popping. I have two pairs of these new Singletrack II shorts and for one pair the snaps were completely useless. If I just sat down they would pop. I took them to a shoe repair place and had the snaps replaced. Endura needs to fix that issue...it's unacceptable. For the cost of the replacements I should have exchanged these but at least this way I know I won't get another dud pair.

On the other pair I have the seam running up the backside was mis-stitched so there is a raw edge of fabric exposed. Again, quality control at Endura does not have the greatest rep, but even with this flaw I am sure these will stand up for years of abuse and it's just not worth hassle of exhanging.

Lastly, some of the big "endura" lettering down the left thigh is peeling off. I wish I could peel it all off. Either make it permanent or readily removable.

Sizing is bang on. I have read other reviews on these new Singletracks and many say to size up. Either their sizing is all over the map and mine just happen to be perfect size M's for my 33" waist or people need to measure their waist and stop basing their sveltness on the sizing of their Old Navy jeans.

So overall, minor issues aside, for the money I'd recommend these to anyone. They look good, fit well both on and off the bike; good for park or pedalling, and I'm confident they will last for many seasons.
These are tough enough for DH use, but fit more like an XC short. Perfect for the rider who does both on a shoestring budget. The vents are sweet, but the real story are the back pockets. They're placed far to the sides so they don't interfere with your saddle, and they're perfect for stuffing bars or gels into when you're not wearing a jersey or a pack with easy access. They look pretty normal off the bike, too, so you can ditch the clammy chamois after the ride is over and not look like dayglo-uberbiker when you hit the pizza/beer place on the way home.
Unanswered Question
Does the Endura Single Track II short that...
Does the Endura Single Track II short that lists on your site for $84.95 include the liner?