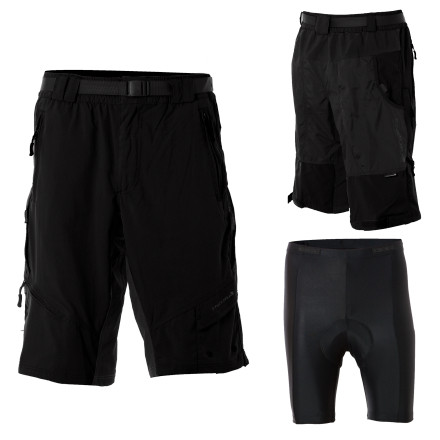 Detail Images
These are the baggy shorts you've gotta have. We think they're the greatest value going in baggy shorts. Less than $80 nets you shorts that do it all, just like the High Mobility Multi-Purpose Vehicle for which they were named. The Hummvee was contracted by the US military in the late '80s to replace the Jeep. Its capabilities for packing cargo, weapons, and personnel safely through rigorous terrain is renowned. Thus the naming of the Endura Hummvee Shorts is no coincidence. The bottoms are durable and have enough pockets that you can stow everything you need plus have a little room for your MacGyver kit for the unexpected. Hint: Always pack some dental floss and a paper clip.
The shell is tough and is made of three different grades of nylon. All are Teflon treated for serious water repellence. The front, sides, and rear pockets are made from ripstop nylon. The rear panels are from a tough Cordura-style nylon. The inside legs are made from a rugged, smooth stretch nylon. The various panels are joined via triple-stitching to withstand prodigious abuse, and helping hold everything in place is a heavy-duty spandex yoke across the back of the shorts.
There are two front hip pockets that are sealed via zippers. There are two lower-leg pockets as well. The left one is protected with a flap, the right one a zipper. There are two deep back pockets that Endura sees as map pockets. They're side-accessible, held together with Velcro tabs, and have stitched-on pulls to make access easier. The bottoms of the legs can be narrowed via Velcro straps as well. Each leg has a ventilation port covered by a zipper. Unzip on hot days. Keep zipped on cool days. Adjust as necessary.
Being a Hummvee, these shorts have many fail-safe devises built in as well. The two-inch wide waistband is elastic, and secured in front with a zipper fly and a snap. There are several belt loops that hold in place the included nylon belt that fastens with an adjustable quick-release buckle.
Inside the shorts is the Endura Clickfast 6-Panel liner. It's a cycling short with Endura's 200-series stretch chamois, and gripper elastic at the bottom hem. The liner can be unclicked and washed separately while a spare liner (also available from us) is clicked in place.
The Endura Hummvee Shorts come in Black and Olive. The medium have a 12-inch inseam. Small through XXL sizes.
Share your thoughts
What do you think of the
Endura
Hummvee Short with Liner
? Share a...
great shorts
Familiarity:

I've put it through the wringer
This is a great pair of shorts. They are very rugged,durable and look great. The Endura brand is by far my favorite line of mtn bike clothing. Its made in Scotland so it withstands the elements very well. Highly recommended.
I have a pair of these and they great!....
I have a pair of these and they great!. But what may I ask is the proper way to wash these and the liner? The instr inside are not clear at all...just a few small pictures that I cant make out...Help!
I find with all my mt bike shorts your better off turning then inside out and washing with a 'sports' detergent as it doesn't clog the fabric over time. I hang to dry.
I love these! They held up for several years and are LIKE NEW.

Hucknroll provides fast, responsive, and quality customer service. Order fulfillment is top notch, errors are corrected quickly, and the attitude of the entire staff give me the push to say "Shop Here!"

Thanks,

Joe
I am an Endura fan This is my second pair But the sizing confuses me. I am at best a large in most shorts I have a pair that is XL I have had over a year. They were a little tight. I bought this xxl They fit the same.I m working on the pound thing maybe a 5-10 pound loss will helpGreat pockets that zip The map pockets Ideal for a wallet.(wontloseit).Great material strong Huck You guys beat my local Portland shops .Which is hard to do.We are all about bikes in Ptown.tons of shops. but your price was better .add free shippingthat rocks great shorts great price
I got these shorts in large because they run small on waist size. My size was medium, but friend said go bigger. As for liner I had to sell them to friends, but bought other liners. These shorts are strong for durability and stitching. I like all the pockets they have to store stuff and side zippers help to vent air in summer.

I don't see much difference between this pair and singletrack shorts. Worth money to buy them at huck n roll since they put them on sale at a bargain price.
I wear around a 32-33 waist and the Large fits perfect but even if I lost a few pounds, they would still fit. There is lots of elastic in the waist and if that isn't enough, there is also a belt. When I wear the liner, they fit snug but not tight, without the liner they still fit, but much looser.

That click in liner is just so smart and those two map pockets are awesome. I put hand towels and my beenie in them while riding and totally forget I have anything in my pocket.

Probably the best looking and most functional mountain bike shorts that I own.
Sizing review for 3 styles of Endura Shorts. Get it right, and you'll love them!
I hope this review will help my fellow MTBer's...... I have all 3 pairs! I started off with the Singletrack short and fell in love with them! Basically, Endura makes the best shorts around for the money. The material (cordura) is super durable and it will be hard pressed if you could actually rip this material on the trails. Extremely comfortable and the use of pockets is impressive. There are vents on each side of the short to cool off during the summer, the back map pockets are the best which I don't think any manufacturer designs. There are other positive things other reviewers have already mentioned, so I won't go there. I bought the Singletrack over the Humvee at first as I already had a padded liner to compliment it, but paid the extra $10. for the nicer material used over the Humvee. After a couple of months, I found a sale for 20% off my purchase, so I became a whore and went for the Humvee and Singletrack 3/4! I just loved the 2-tone of the olive humvees and thought the black singletrack 3/4 looked good too. Now, I have one liner that convenient liner that snaps into 3 shorts! The bonus liner is of excellent quality. They fit well without being obtrusive, and they have a rubberized base to hold onto your thighs without crawling up. Just enough padding for epic rides.

Now for the sizing. 2 of the 3 shorts run small. I am 5'9" 158 lbs. and a 32-33" waist.....depending on what time of the day it is. :) I was lucky enough to try on a pair of size medium Humvees at a LBS and they were definitely tight! Nuthuggers! So I ordered size LARGE in all 3. The Singletrack and Humvee fit me well. They have little adjustment straps on each side that I was able to tighten slightly. There's a bit of extra room in the butt area but still, they fit comfortably. However, oddly, the Singletrack 3/4 was too big on me. Also, I also found a defect where the left pocket opening was smaller then the right pocket. So Competitive Cyclist (they are owned by Back Country) efficiently exchanged them for me to a MEDIUM. Arrived in a super fast 2 days! They fit perfectly! But I guess the smaller pocket is a feature of the Singletrack 3/4 because these medium size shorts has the same feature which I thought was a flaw. Bottomline, I LOVE all 3 shorts!

If you ride XC singletrack or AM, you deserve a pair! Invest in one of these and you will see why they are better then Fox, or any other brand. Vanity shouldn't matter, but these are just damn good looking shorts! I get compliments on the trail all the time!

Go ride!
I own the Humvee lite shorts in size medium and the liner fits decent (slightly larger than I prefer) but the outside short has inches of extra room that I find bothersome. I decided to try these regular Humvee shorts in a size small to reduce the looseness of the outer short, but I found that the liner on these shorts is disturbingly tight. I can get into them, but it is not comfortable and takes some wiggling. The outer short is fine. I decided to return them and get a different brand that has a size that fits me. It's a shame because the shorts seem to be of excellent quality otherwise.

Me: 5'7" 135lbs
I love these shorts! Lots of details like zippered side vents, well thought out pocket placement, removable liner and bomber fabric selection make them my new favorites. I'm not looking forward to the pile-up that could dent these! Left one star off due to how small they run and increased length due to sizing up. Definitely purchase one or two sizes up!
Shell is great, liner fit not so good
The shell on these shorts are probably my favorites to date for mild temps. They do seem to run pretty far on the small side. I'm 6'2", 195lbs, 36 waist, 32.5-33" inseam and initially tried on the L and they were really tight through the butt and thighs. XL fits perfect however. Inseam is just about perfect length for me, still gives a little bit of top of the knee coverage but doesn't get hung up while pedaling and no clam digger feel. Crotch doesn't get hung up on the saddle. Plenty of useful pockets (I love the map pockets). There are a lot of zipper pulls, but I'm willing to give up some fashion for the ability to easily open/close the pockets and vents w/ my gloves on.

Not sure how they'll fair when the temps and humidity start climbing past 85-90. The vents seemed to do a decent job of cooling things off in the early fall through winter when needed. The nylon shell material and construction seems to be pretty darn bullet proof and water/melting snow/mud seems to bead up pretty well on its surface, but doesn't seem like it will be very breathable.

I knocked off a star due to the sizing/fit of the liner which seems like it might actually match up w/ the size chart. Way too long in the crotch, a bit loose in the legs, and generally kind of baggy. Even w/ the shell Erkel'd up to my belly button there's still probably 1/16-1/4" or so of air between the chamois and my squishy parts. To me, a good liner should have a semi-compression fit and the chamois shouldn't be able to shift around. I generally wear bibs under my baggies as most of the liners aren't as nice as my bibs, but I was a little bummed w/ these since the chamois actually looks like it's decent quality and the Clickfast snap-in attachment system seems like it has potential to keep the liner and chamois in its proper place if the lycra was cut in a sensible fashion.
Disappointed with fit. Glad I read reviews before I ordered. I wear a 36-38" waist so I ordered an XXL and the waist was snug but ok. I could deal with that but the liner fits funky at the waist - it wads up & too loose at the lower cuff. The extra length of the outer wears on the knees after a few miles. The material is bomb but too much foo foo with all the zippers & pockets. I'm sending it back - so sorry Huck - you guys have great service! I'll keep buying from you guys.
Great great shorts. Durable and liner is comfortable.

I usually wear size large but ordered size xlarge. They fit me well. Waist 34 inseam 32. 6" 180lb.
Agree, order a size larger than you think. These are my favorite MTB shorts and the liner padding is great for long epic rides. Ordering another pair so now I have extra liners and two colors of the shell.
is the liner removable? and how long are...
is the liner removable? and how long are they?
Yep, removable using four sets of unobtrusive plastic snaps. They fall just above the hem of the outer shorts.
I don't normally write reviews, but the reviews on this product helped me make my buying decision, so I want to participate. As earlier reviews suggest, this product runs a bit small - I wear size 36 pants, which is normally L, but I bought XL and they fit perfectly. The padding seemed a bit thicker than I am accustomed to, but once on the saddle, it feels right. I like the finish, lots of venting, LOTS of pockets, and all zippered for security. My first ride in these was an all day mountain ride in Flagstaff, AZ - they were cool and comfy, I really liked them. After wearing them several times now, they're my favorite shorts for weekend, all day outings.
love these shorts except for;
Had this pair for two years now and have some feedback. This is my first purchase of nice cycling shorts. Super comfortable, never torn from hitting the ground.
After the first washing the material split and pulled away next to the lower inseam stitching. Now I admit they were washed on a regular cycle, but i thought this was premature . No help from importer, just advised to wash in delicate cycle, which i have done since.
Now, the rear triple stitching has worn thru on the back side, from rubbing on the saddle. I caught it just after it opened up on one side and was able to sew it back into place and add some stitching to the other back side seams to prevent any further failure.
Really like the style and comfort , but for $80 , I haven't decided if there worth it for two years of use
is the chamois only in the liner? is the...
is the chamois only in the liner? is the liner a spandex type or a loose mesh?
The chamois is inside the Spandex, and the yes, its a Spandex short inside the baggy one.
Order a size or two larger then usual and then enjoy.
These shorts are great, durable, and stretcy. They stick with you when getting behind the saddle and dont catch the seat on the return. The chamois is perfect and keeps you comfortable on days two and three when your back side can be rough,But it is not a over kill diaper.
Legs are tight so if you are quadzilla go up two sizes on these shorts
Great shorts - sizing is WTF?
I'm a true 36". Ordered a Large. They would not go past my knees. Order a full size up for sure, maybe 2 if your are on the upper end. The liner is over padded and fells like you dropped a deuce in your shorts, but I think they will pack down and be fine. The shell is great and will take a lot abuse I think. Size up on these!!
What is the inseam on these shorts?
What is the inseam on these shorts?
I wish I could tell you exactly but I can't. What I will tell you is that I am 5'7" and need shorts with a shorter than most inseam; I like it at knee or right above. These are one of the only shorts that I can wear b/c its a shorter inseam and don't look like capris on me!