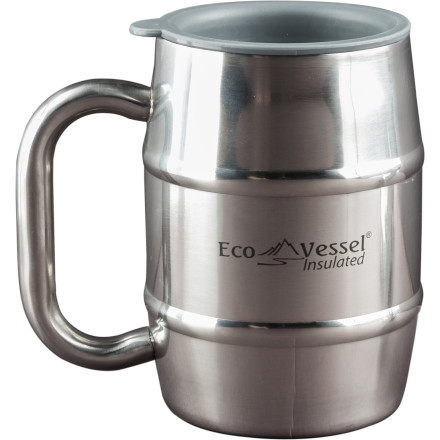 Colors

Community Images
Description
Coffee, beer, or coffee-flavored beer.
Coffee, tea, cola, or stout all stay the way they started when you pour them into the Eco Vessel Double Barrel Beer Mug with Lid. This stainless steel mug is fashioned like a beer barrel but isn't just for carbonated hops and malt. Hot coffee stays hot and cold suds stay cold, and you won't wear either with the open/close slider lid.
Stainless steel mug
Chemical-free lid, open/close slider
Works with hot or cold beverages
Random questions!
What makes this mug "Eco"? Is it made of recycled materials at all? I'm looking for a mug that can do it all on the trail! Liquids, oatmeal, Lucky Charms, etc. This mug looks great, but I'm not 100% on this one yet and I'm not sure I'm prepared to shell out $35-$50 for a mug (no matter what it's made from). Thanks!
Hi Anna, great question! All Eco Vessel products are made from the highest quality materials available. This particular mug is made from 18/8 Stainless Steel, so it's perfect for hot or cold beverages, and yes it can be used for soup, oatmeal, cereal, or anything else. While it's not made from recycled materials, it is 100% recyclable if you ever find the need to replace it with a new one (which we hope you don't!).
every morning in my cup!
Gender:

Female

Familiarity:

I've put it through the wringer
I love this Mug! I've had it for a little over a year and its been my every day go to mug. I have replaced about two shelfs in my house with this little devil. It is fully insulated! Which makes drinks taste that much more better! I'm a special kind of petty. I love my sodas ice cold and hot chocolate steaming hot! This mug never fails. A regular cup of hot chocolate or coffee will stay outstandingly warm for about a good two hours before it starts to chill out. Which gives me enough time to drink the whole thing since its about the size of two small cups in one. It has a nice slide back lid perfect for sharing with little hands and even when your on the go. the best part about this mug is I really use it all day. When its time to have some water or some soda even a cup of ice cold milk ill wash it and throw it in the freezer for about 10 min. The insulation freezes out and turns it into a frost mug. (with my inner fat girl voice) its perfect for a warm summer night good old fashioned root beer float.
I've dropped it once and it still looks brand new! I truly do love my little Eco vessel double barrel

** I've never put it in the dishwasher only because i don't believe in that kind of wizardry but i can imagine it wouldn't hurt it a bit. **
River worthy
Familiarity:

I've used it several times
Great cup to bring on the river. The lid is secure, the barrel is durable, and the handle is handy!
I give, I give!
Familiarity:

I've put it through the wringer
Finally waiving the white flag after a few weeks of extended use... I have abused this Eco Vessel mug and have no complaints.

Does it leak - not yet.
Does it smell - only when not washed out (somewhat regularly). Does it fit in a cup holder - not most, stop sipping and start pounding, meow!
Does it keep liquids hot/cold - beautifully and for a good amount of time (see above).

This poor mug has been water boarded by coffee, beer, Moscow mules, tea, bourbon, whiskey and doubled as a pen holder/paperweight in a pinch. The damn thing seems to live up to the hype. Most redeeming quality is the lid, very tight/snug and it doesn't give you the typical leak found in most lids.

Stop being a bro-brah wanna be with your hipster canteen/dinky cup and step up to a mug worthy of the abuse.
Barrels of Hot Tea and cold beer!
Familiarity:

I've put it through the wringer
So I got this mug right? and it's the best! I have a lot of insulated bottles and cups but this is by far my favorite! The mug keeps my tea hot and my beer cold! The lid is super handy as well it has a slide cover so that liquid doesn't come out when you don't want it to, especially when you are traveling in a car.

The handle is large so that any sized hand can fit it. Since it is double walled your hands will not get burned or get cold from holding the mug! Great all around design and use. Easy to clean and doesn't stink.I would highly recommend this to all my friends and customers.
You will be mine...... Eco Vessel Double Barrel Beer Mug with Lid; when back in stock. I wait.... patiently, for that day.
Best Answer
You should see them in April =)
Durable, doesn't hold smell of coffee, insulates well, and looks bad-ass. Can't go wrong.
Nice Mug
Familiarity:

I've put it through the wringer
Got sick of cold coffee and purchased this. Makes a great coffee mug in the morning. keeps it's contents warm or cold and is easy to clean. The lid helps with transporting, though I've found it pretty useless otherwise.
Lost the lid. dont care
Familiarity:

I've put it through the wringer
I use this as my go to for tailgating Saints and LSU games.



Rad mug. People ask about it a lot. No one tries to snag it.



And, at the local mall, they can engrave it for you! So, it has my name on it. BAM!
best gift for daddy
Familiarity:

I've used it several times
very durable and my husband love it.
Best Mug Ever!
Familiarity:

I've used it several times
Love that this mug keeps my coffee hot in the morning! It's easy to clean and very sturdy! And it looks nice too!
Double Barrel best!
Familiarity:

I've put it through the wringer
We go through coffee mugs like crazy, or did, until we finally bought the eco vessel double barrel mug. It is great. Cleans easily, keeps drinks hot or cold and just works the best compared to all of the others we have used.
Eco Vessel Double Barrel Beer Mug with Lid
Familiarity:

I've used it once or twice and have initial impressions
A great way to drink hot coffee in the a.m. and cold beer later. Hot stays hot, cold stays cold. Looks cool.
Keeps beer cold!
Familiarity:

I've used it several times
I have never put hot liquid in here so I can't speak to how well it keeps stuff warm but it sure keeps my beer cold! Great for keg parties.
What does the inside look like? Does it...
What does the inside look like?

Does it have ribs on the inside? Asking to find out how easy it will be to clean.
Best Answer
The inside has a smooth surface, with no ribs inside, so it will be easy to clean.