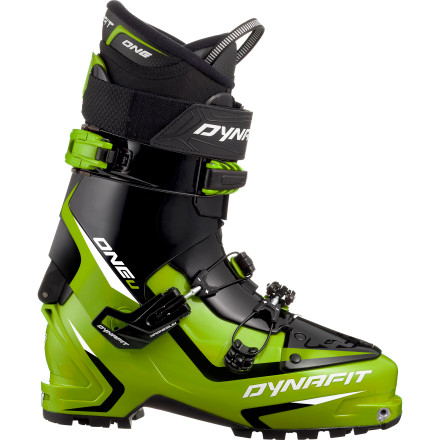 Community Images
The One U-TF Alpine Touring Boot gives you PU (polyurethane) performance in streamlined form for progressive flex at a light weight. And a thermo-formable liner, rockered rubber sole, and walk mode keep you going, far and wide, or lap after lap.
PU (polyurethane) shell for durability and a resilient flex
Weight for a pair: 7lb 4oz
Lightweight thermo-formable (TF) liner for superior fit, warmth, energy transfer, and performance
PU cuff and driving spoiler adds stiffness to the shell, holds heel in place, and features an adjustable lean angle
Magnesium Ultra-Lock System for quick, easy release connected to walk mode
15-18 degrees of forward lean, and 60-degree cuff rotation in walk mode, to accommodate whatever the movement
Compatible with Dynafit Quick Step-In or standard touring binding
Dynafit Pro, a durable, sticky rubber sole for sure, secure footing
Great, but soft boot
Familiarity:

I've put it through the wringer
I wear a size US 13 and have a very wide foot, 6'0" 200 lbs. For going uphill, these boots are great. The shell and liner have adequate volume and I never have hot spots and can go uphill indefinitely and be very comfortable. The problem for me is the downhill. I'm heavy and also am a charger of a skier. This boot skis fine on flat surfaces, when I get into bumps, the boot will blow out before my legs can absorb the terrain. If you're skidding corn and are used to skiing wide open flats, these boots will be fine, if you ski heavy snow in terrain (the pacific northwest) you may want to go with a stiffer boot. I ski a 130 alpine boot and these aren't even close, very soft every bump at speed is a blowout.
What is the flex on this boot?
Dynafit does not provide a flex rating, however they are calling it "medium" flex. One of our reps said it feels like about a 100-110 flex.


I wear size 8.5 US and fit into the 26's pretty well. Since it doesn't look like any 26's are on sale I was wondering if the 25.5 would work?
The 26 and 26.5 would be the same shell size! Looks like we do have a 26.5 in stock so that would be the right size for you!

If you had too much room in a 26, you could size down to the 25.5 - however, that would be a full size different since shell sizes are only manufactured for every whole size.

Hit me up if you have any other questions! Lfeasler@backcountry.com
Will these boots work with my Marker Barron bindings?
Yes, these will work great with the Marker Barron bindings.



Have a great season and be safe with proper knowledge and protection.



Send It!!!



Scooter
I would like to purchase these boots while they are on sale and wear a size 13 US shoe and mountaineering boot. I have a wider foot and like that these are 103mm last width.



Would it even be worth ordering and trying on a size 30? Does Dynafit make size 13 US AT boots or do I need to look at Scarpa?
will these boots work with "Tyrolia Adrenalin...
will these boots work with "Tyrolia Adrenalin 13 Alpine Touring Binding"
Hey,



These boots are compatible with the Tyrolia Adrenalin 13
Are these boots compatable with g3 onyx...
Are these boots compatable with g3 onyx bindings?
Yes, this boot is compatible with the G3 Onyx binding.
Unanswered Question
I have never skied in the back country,...
I have never skied in the back country, but I am gearing up for it. I have a pair of Atomic TM:EXs that I will be using, are these boots enough to handle these skis?
decent, but not for the cold days.
I`ve been touring these with my 187 manaslus for a little over a season now.

my impressions:

-light enough for really long hikes.

-also sufficiently compfy.

-stiff enough to move any ski slimmer then 100mm under foot.

but:

-the straps are really poorly manufactured. i had both of them replaced with stronger ones, after one of them just ripped off. you actualy have to pull on them pretty hard to fixate your feet.

- the isolation ist terrible. after 2 hours in -8 celsius, not only my toes, but half my feet are frozen.

looking back, the boots are ok but not the best i could have bought.
Unanswered Question
What is that last of this boot
What is that last of this boot
Unanswered Question
I have TLT 5 Mountains which fit great and...
I have TLT 5 Mountains which fit great and ski well. However I feel I might want a beefier boot for skiing stuff thats not pure smooth powder. I have a very skinny long foot. Even though the 5's are already pretty low volume I put the thickest (original) intuition wrap liner in them and still have an insole to take up the rest. Will the One be too much volume for me to fill? I wear size 30 in the 5's.
Is 29.0 going to be correct for the One...
Is 29.0 going to be correct for the One U-TF for a 10.5-11 shoe size? The only thing I can really compare it to is my Scarpa T2 Eco's with Intuition liners which are 29.5.
If you are closer to 10.5 then you are looking at the 28.5, 29 for the 11. Remember that if you are on the large side of 10.5 then I'd probably stick with the 28.5 as the 29 is the next shell size up and you may be swimming in it a bit. That being said you can fill up a fair amount of volume with liners.
will this boot fit fritschi diamir...
will this boot fit fritschi diamir binding?
Yes that will indeed work, just be sure you have the right size Fritschi for your boot sole length.
I need a wide AT boot. I have bunions that...
I need a wide AT boot. I have bunions that make my forefoot extremely wide. I have the One PX-TF but even with mods isn't wide enough for me. Is the only difference between this and the One PX-TF the shell material and does that mean that I would I have more luck punching/stretching the One U-TF? What are the widest Dynafit-compatible boot alternatives?
You can definitely punch polyurethane more than your PX-TF, but if you've tried and not gotten where you need to be with the PX-TF I'm not sure that is the route I'd go (we're talking minimal differences at the hand of a great bootfitter). If you'd consider a Black Diamond Boot, they will give you much more width and the Quadrant with an Intuition liner (the stock liner sucks) gets you decent tourability and very nice skiability. As much as I love the features of Dynafit boots (I'm considering trying out the Vulcan next season and have an appointment next week with my local bootfitter to discuss), I use the Quadrant now because it fits me out of the box.
I am trying out a pair of the Dynafit...
I am trying out a pair of the Dynafit Zzero4 U-TF. I was wondering how the flex and the last of the One-Utf compares.

Sandy, thanks for the response. Is there any option here in utah to demo the One-Utf?
Tom, The last on the One is a bit wider(@2mm), with more volume. The flex is pretty similar (@100-110). The One's tour ability is a whole 'nother world. Enjoy!