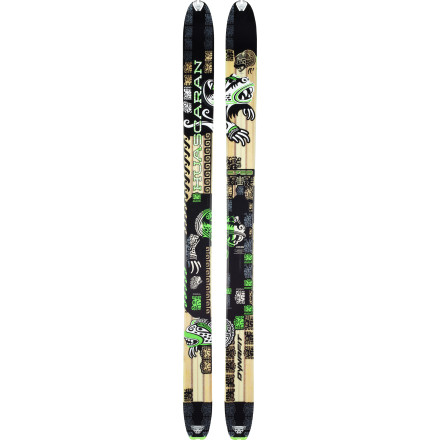 Videos

Community Images
Tourist-trapping mega resorts and carbon-spewing chopper outfits are the bane of your existence. Dynafit made the Huascaran ski to lead you far away from mass-marketed mountains to legendarily deep lines. This is the widest Dynafit ski ever produced, and it charges with the aggression of an ancient mountain beast and floats like a snowy owl on wing.
Starting at the tip, you'll find Dynafit's Scoop Rocker, a long, rockered camber profile that keeps the tip elevated so you can punch through choppy chunder and stay on top of light, fresh snow. Gently rising tail rocker allows you to release the tail so you can pivot to change direction quickly or scrub some speed after a long, fast straight line. Despite its girth, the Huascaran is impressively maneuverable. Three types of of wood and a pair of Isocore stringers make this ski feel lightweight and responsive, and the triple-radius sidecut shape gives you progressively tighter turns as you tip the Huascaran further and further on edge. You get solid big-mountain performance in everything from notorious ski-movie terrain to tight, storm-day tree stashes.
To make ascending smooth, a big-mountain ski like the Huascaran requires a few additional touring-specific features. The tail uses a pintail shape to make it easier to slide this stick into the loops on your pack for boot packing, the tip accommodates Dynafit's Speed Skin touring skin attachments, and the base is made of a lightning-fast sintered graphite coating. Add a pair of lightweight touring bindings, and this is a ski that will break trail and allow you to pick your way to any stash or line you can spot from the valley.
Compared to the rest of Dynafit's touring skis, the Huascaran is securely planted in the world of freeride touring. This is the only Dynafit ski offered in an Alaska-ready 196cm length, and it's the only one with a triple-radius sidecut and a fully rockered profile. The Dynafit Grand Teton is the only ski that's comparable when it comes to width; otherwise, the Huascaran stands alone as the biggest brother in a family of light-and-fast touring skis.
Scoop Rocker at the tip and low rocker at the tail
Cap construction with Torsion Box technology
Combination paulownia, bamboo, beech, and Iscore core
Fiberglass and carbon laminate with Titanal inserts
Triple Radius sidecut with Pintail-shape tail
KLICK touring-skin attachment and pintail-shape flat tail
Hi. I've seen a lot of questions asked from intermediate or advanced folks, but I'm fairly new to skiing, making the switch from snowboarding in order to join my mates in the back country and on ski mountaineering trips. I'm 6ft, 180lb and not fussed about going crazy fast. Should I go 177 based on my basic skill level?
Thanks
John
Hi John,

I'm the same height/weight as you and 177cm would be my choice for touring. Contact me directly at the phone/email above if you'd like a personalized experience here at Backcountry.

Ben
Unanswered Question
I am 6" and weight 200#'s. I like to make turns in all conditions and terrain. I mainly ski in Idaho so conditions can vary based on elevation. I was leaning towards the 186cm. Is that long enough?
How would this ski do in the north east (New York, Vermont, New Hampshire)? I'm an intermediate tele skier (expert alpine skier, making it easier for me to learn tele), I'm getting into backcountry skiing, but still do quite a bit of resort skiing. I also head out west once a year. I'm a big dude at 6-4, 240 lbs, so I can power a bigger ski easier than most. I'm a fairly aggressive skier. Any recommendations if this ski would work well for me?
This ski probably isn't the best choice for you. It's alright for the backcountry conditions we encounter around VT and NH, but it's not great as an everyday ski on lifts. At your height and size, I think you will overpower this ski and be left wanting more.
I am 5' 9", 165 lbs., expert. Leaning towards the 177s, in part because my non-touring powder ski are the Armada Bubba 188 and it might make sense to balance the quiver with a slightly shorter ski. That being said, I love the Bubba 188s and worry that I might find the 177s a bit short. Thanks for the help.
If you liked the Bubba in a 188 cm, I would get this in a 186 cm. Are you looking for a ski similar to the Bubba? Just something lighter to tour in? This would fit that ticket but, I wouldnt get something that much shorter unless you wanted a serious lightweight ski mountaineering ski. Unless you plan to make some more turns and ski a bit slower you will find the 177 cm's to be short.
6'2", 195lbs expert
Familiarity:

I've put it through the wringer
Loving the 196 length. I'm skiing in the PacNW on these and they rip. Super light weight, fat powder ski. It's just getting to be volcano season and I'll take them up there no doubt! I love the quick ease of the Dynafit skin system as well.
6'2", 195lbs expert skier. plan to use...
6'2", 195lbs expert skier. plan to use for touring in PNW and volcano summits in spring. usually ski 188-192 length range on other boards...so a bit torn w/ these length options. any thoughts on 186 vs 196 would be appreciated - or alternate ski options that might make sense. thanks!!
Best Answer
196! Open it up based on your height and weight. Although Volcano summits? This is a powder ski. If you want to stay on Dynafit, give a look at the Grand Teton.
6"2', 148Ib expert skier. 177 or 186? I...
6"2', 148Ib expert skier. 177 or 186? I have the stoke in the 178 and love it but am thinking of going longer with these. Suggestions?
You would be safe to stay with the 177 length in the Huascaran, you won't know and we won't know what could have been. But you would be well rewarded for stepping up to the plate with the 186. As an expert skier you will appreciate the float this ski will bring in the 186 with a scoop rockered nose and low rocker tail. But you won't be sacrificing much maneuverability either, thanks to the triple radius sidecut you can turn that impressively wide girth in an impressively tight radius. Again, you will be happy with this ski in either length but I think you will be especially pleased with the advantages of the 186.
6'0" 145 lbs expert skier. I own the 186 cm Huascaran since 2 months and it's the perfect setup for freeride alpine touring. The 186 cm lenght is nimble and agile enough for short turns in steep couloirs or between trees but features plenty of grip and stability at high speed in open big mountain. Very happy indeed...! Do I wish 177 cm ? No way !
6'3", 200 lbs. Intermediate skier (at this...
6'3", 200 lbs. Intermediate skier (at this point). Looking for boards that are fun&forgiving to ski in powder, can pick through trees but still be stable if I want to open it up. 177cm or 186cm?
For an intermediate skier with your size and style I would recommend the 186cm Dynafit Huascaran.
Skiing trees on a 177 Huascaran and a TLT Mountain with Speed Superlight bindings. Perfect package and great fun!
Bought time!
Familiarity:

I've put it through the wringer
I should have done this last year. This is one of my all time favorite skis. Carves, surfs, slays ice and hard pack. Turns on a dime with no effort. Pow, chop, crud, rails. boot pack or skins. This ski simply rocks my snow world. Liked it so much I bought both a 177 and a 196. 177s are play toys. 196? Warp speed sleds. Dare to ride them that long. Tech bindings on both. Could be my one quiver ski for the NW. It isn't but it could so easily be the ONE for me. Could not be happier with a ski. Which is hard compliment to come by!



Never seen another pair on the hill. Too bad as they just have no clue what they are missing! Ugly graphic but it eventually grows on you. Some of my best runs ever last winter were on this ski. Grateful!!
Here's a close up of both the base of the Huascaran and the KLICK touring-skin attachment located at the tip. This is where the Dynafit skin can quickly be clipped to the ski.
Here's an image of the cross section of the Huascaran.

You can see the paulownia, bamboo, beech, and Iscore core.
I'm looking to hang up my split board/snowboard...
I'm looking to hang up my split board/snowboard setup this climb season/next resort season and return to skiing. I plan to do a roughly even amount of ski touring/ski mountaineering and resort skiing and I'm looking for a one ski quiver. Performance in pow is important, but if I give up something I'd rather it be that than PNW crud crushing, edge-holding ability or weight. I'm looking at the Hang5, Huascaran and Revert... any advice?
The Revert seems out of place with the other 2 skis? Both fatty, backcountry powder skis, where the Revert is more hard snow capable at 95 underfoot vs 115+. At 50/50 resort / BC skiing, I might look for a different ski with a narrower waist. Although I love my Huascarans, I wouldn't ski them on the resort (although you could) unless I had to.I have ON3Ps that I ski in the resort. I don't really think a one ski quiver exists. If I HAD to stick to one ski, I might look at the K2 Coomback. At slightly more weight, it would slay the resort a little better, but still be a great Ski mountaineering tool. My advice - save your money and get both!
I own bith the Hang5 and the Huascaran. Both great skis. If you plan on packing them far get the Huascaran. It is lighter. If you are going to spend much time on lifts...for sure get the Hang5. Ammazing ski for what you are asking. And why I own a pair.
Cool name, even better Ski
Gender:

Male

Familiarity:

I've put it through the wringer
While this is my first pair of light, backcountry powder skis - I absolutely love them. Sure, there are lighter skis out there, but they will be below the 110mm width. I finally made the switch from heavy, beefy Duke bindings and paired these with Dynafit Radical FT bindings, what an amazing set up. I just look at this ski and its awesome graphics - it makes me want to get out there ! I am 6ft and went with the 186 - a great fit. I could have gone 196, but I do some tighter tree skiing and jump turns in chutes, so I went 186. Besides, I don't even think I could fit the 196 in my car or on my sled ski rack! Those would be very long! Not worth the extra weight either. My absolute favorite pair of skis.
What length Hauscaran would you recommend...
What length Hauscaran would you recommend for a 5'9" 144 lb female, "expert" skier (per your Men's Sizing chart). To be used primarily for AT, in a variety of conditions, though primarily (hopefully) for powder...
I'd go for the 177! Unless you just want to charge like crazy and feel good driving the 186... which would be cool too.
I'd probably go with the 167cm. I am 5'10 165lb and really liked the 177 in these skis for what you are describing.
177 sounds right to me as well.
My suggestion is a 166 as well
The Mighty Huascaran
Gender:

Male

Familiarity:

I've used it once or twice and have initial impressions
Me: 22 years old, 5"10 165lbs. PNW. Advance Intermediate.



Current Set up: 4FRNT CRJ 180CM with Radical ST, 179CM Klint Prime with Marker Barons



I took the Huascaran out to Stevens Pass in WA on 1/29/13 with 11" past 24 hours. The Huascaran is an extremely lightweight ski considering how fat it is, around 8lbs. I was very impressed by how such a light weight ski handled the cut up crud on the backside of Stevens Pass at Mill Valley. It didn't take long for me to get accustom to the length of the ski and found the ski to be fairly stable at speed and loved to charged. Since the ski is meant for backcountry touring there is a speed limit in the crud but performs remarkably well. I was able to find some deep untouched powder in some gladed trees and the ski never had tip diving and stayed up on top of the snow very well. For being a big mountain backcountry ski it performed way better than I thought navigating the gladed trees. The Huscaran has plenty of girth for powder but stays remarkably nimble among the trees. If one was doing super thick tree skiing I would size down but the Huascaran is really meant for speed and charging soft snow, and it excels at that. The ski has some pop and is fun to get air with it. The ski was surprisingly quick on the hardpack and windscorn ridges and was decent at it. The lack of significant camber and girth makes the Huascaran uncomfortable to carve for extended times but when you need it the ski is very quick to give it. Overall I am very impressed by the Huascaran and Dynafit surprised me with how versatile the ski is. For a pure backcountry pow ski I would definitely replace my CRJ but it lacks some of the versatility for a resort ski that the CRJ offers. Anyone looking for a backcountry powder ski that wants optimal float and an energetic, driving ski should considering the Huascaran!