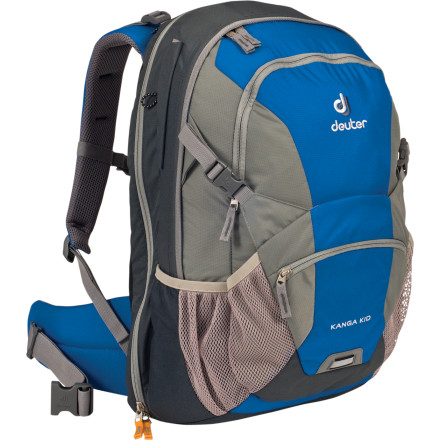 Detail Images

Community Images
Sometimes, walking is fun and exciting, and you get to play in the dirt and chase bugs. But sometimes, you just want someone to carry you home on their back so you can rest. Unfortunately, the Deuter Kanga Kid Carrier is not designed to carry adults(yeah, looks like you're walking, pal), but it will keep your kid feeling good when its time to be toted.
Can be used as a sturdy kid carrier and as a 20L backpack
The Aircontact back system is breathable and hollow-chamber foam pumps fresh air around your back
VariQuick customizable height adjuster lets you get a perfect fit
Adjustable five point child safety harness keeps your baby-cargo safely in place
A breathable, height-adjustable seat means more comfort for your little trekker
A reflector patch with a blinky, light loop helps make you visible
Compact design fits in an overhead bin
Unanswered Question
Where is it made?
Kanga lets your child walk
Gender:

Male

Familiarity:

I've put it through the wringer
We've had the Kanga Kid for six months and got it when our daughter was 18 months; we also own a Deuter KC III. The Kanga is great for trips around town, shorter hikes, play dates to the park. It's a day pack that unzips to hide a kid-carrying backpack with a full safety harness. It lets you indulge your budding young walker and their new found independence streak. The pack is small and nimble; has a ton of storage; is compartmentalized to keep items organized; and carries your child comfortably.

There is a big difference between the KC I-III and the Kanga in terms of how the child rides. In the Kanga your child needs to be awake and have good upper body stability – they love how they can look around, lean to the sides, and really interact with the world. The clever Deuter folk have made the back system work to handle an active child on board and still be comfortable. However, they can't nap in the Kanga. One of our favorite features of our KCIII is that Ali loves to sleep in it.

So the Kanga is more of an on-the-go pack. It's great for buses, small cars, moving in-and-out of stores. I definitely recommend the sun shade. Ali absolutely loves this pack and gets fired up when we bring it out – she loves being able to walk on her own and then ride, and it makes for great day hikes and trips.



One note about sizing: I'm 5'11" and my wife is 5'5" and the pack fits both of us well. I'm near the upper height limit for the pack. If you're much taller, make sure to try it on first to see if it's long enough to carry the weight on your hips. With our KCIII, I feel like a much taller dad could fit the pack, but the Kanga isn't as adjustable for taller folks. Have fun with the Kanga, it really let's your child explore.


I prefer the Kid Comfort II
We purchased the Kanga Kid for our 5 month old. We liked the ability for it to double as a diaper bag and the smaller size given its lack of an external frame. However, it is not nearly as comfortable for the wearer as the Deuter Kid Comfort II for longer hauls, and our daughter (who is tall for her age), couldn't seem to find a comfortable sleeping position. Also, it is built to be worn by shorter adults (it fit my wife well at 5'3", but there was no way I was going to wear it at 6'3"). I would recommend it for short hauls around the city for infants, but if you're going to spend this much, you might as well upgrade to the Kid Comfort II, which is an amazing and adjustable pack.
I have an older year of this pack and it is great. It's a lot smaller and lighter than most packs and still has quite a bit of room for extra stuff. Comfortable and Durable!
We bought this carrier for me to carry my daughter. I am 5.10 and unfortunately this backpack won't adjust enough for my height. If I loosen the straps, my daughter is hanging too far off my body and all the weight is on my shoulders/neck. I can't get the weight on my hips. The backpack is great, but not for tall people
Worthy replacement for the Baby Bjorn
When our one year-old son got too big for the Bjorn, we started looking for backpack carriers. We have a large dog and do lots of walking on a daily basis, so we wanted something sturdy, light, and not too bulky. We ordered the KangaKid since it looked like the kind of thing we wanted (and because backcountry.com has such an easy return process if we didn't like it). We have not been disappointed. It's pretty easy to load our son into the pack; if only one of us is home, we sit it on the couch, get him secured, and then sit in front of the pack to put it on. Everything adjusts easily so we have been able to trade off between me and my husband without too much trouble. It's not too heavy, our son likes it, and there's a decent amount of room in the pockets if we ever decide to carry more than just him. And for those of you who care about where products are made, you might be interested to know this one is NOT made in China.
This vs the Kelty KIDS 2.0 or 3.0 backpack...
This vs the Kelty KIDS 2.0 or 3.0 backpack carrier?
Definitely the KangaKid. I find the kid harness more secure than the Kelty version, and the pack more comfortable. The overall pack is more compact, and the child carrier portion can be stowed away.
I have a new trick up my sleeve!
i have made a lot of investments for Lucy since she arrived (8 days late!) and the KangaKid is by FAR the best one in my bag of tricks. Lucy started riding in the KangaKid at about 14lbs, when she had good head control, and she loves it. I use the bag for farmer's markets, hikes (it is really comfy, esp because Lucy is now almost 20 lbs!) , and I used it for travel through the airport at the holidays. The backpack is a great diaper bag! It has great zip pockets, in all sizes, and is easy to organize for the one reach action. The best part of the Kangakid is that the straps are easy to adjust, I can wear it and then my husband can use it with little fuss.