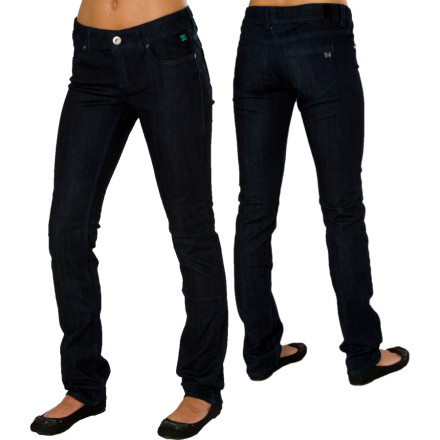 Detail Images
These fit tight in the legs and loose in the waist. I used some Downy Wrinkle Releaser spray along the seams to loosen em up a bit, so they're ok I guess. It's been hard to find grey jeans this season lol.
i got these in the grey in a 26 and there a little big but doesnt bother me. the crotch is really low though, and im the kind of girl who doesnt want to look like a granny at 14 years old! i guess i should have gotten a 25 but they didnt have it in the grey which is my favorite color of the three. the colors pretty true to the picture to. recommend em... but get the right size or maybe even a size down if you like them skinny all around
so cute. They are skinny jeans- they should be tight. my only issue is that I am a regular length and these run a little long. Overall I am very pleased with the dark indigo rinse, they did not look cheap.
They feel like regular denim skinnies, meaning they have minimal stretch where it could be useful (especially when crouching). Order a size up as they do run a tad small although a large size may give a bit of butt sag. Length is long, but looks great with sneaks'. The black is dark and keeps it colour when washed in cold water.
Might have to return these and that sucks cuz Its a waste of my money. I have some 26 DC's that are a little loose and these are way to tight.