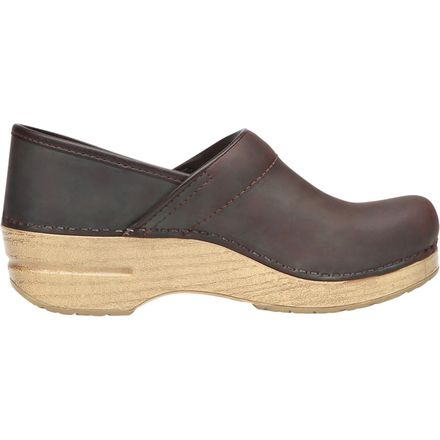 Detail Images

Videos
Description
An all-around winner—the Dansko Professional Oiled Casual Shoe.
Everyone needs a pair of comfortable, durable clogs for work, play, or just plain kicking around the house. The Dansko Women's Professional Oiled Casual Shoe fits the bill. Designed to follow the natural contours of your foot, this shoe accommodates most foot types, and its instep collar cushions your arch so you can walk in comfort. The Heel Counter acts as a natural shoe horn, allowing your heel to move up and down as you walk, without causing blisters. With an ideal amount of shock absorption and flexibility, the outsole propels your foot forward as you walk, making long distances more manageable. The oiled leather material promises durability. Protect your feet, legs, and back when you're on your feet all day with the Dansko Professional Oiled Casual Shoe.
Horrible customer service
I ordered these for my wife almost a month and a half ago when they came the shoes were to small so I sent them back through a regular post office I filled out the paper work that came along with the shoes for a return but I did not know that I had to get online and actually print out a return slip. So here it is almost two months later and according to Backcountry they still haven't received the shoes. Now I am out of $119.95 and nobody knows what happened to my order. At this point all I want is my money back so that I can go somewhere else.
Dansko Professional Oiled Clog - Women's
I never go without owning a pair of Dansko clogs. They are the only shoes that keep my plantar fasciitis in check and keep me pain free. Love them!
Dansko Professional Oiled Clog - Women's
Great clogs
Familiarity:

I gave it as a gift but have feedback to share
My wife loves them. She goes through a pair every couple of years.
I ordered these shoes after hearing wonderful reviews, but they were not for me. The heel was too big and my toes were pressed up against the front. The shoes were hard and heavy. They may work for some but defintely not for me.
Heel too big and foot slips out
Heel too big and foot slips out
Not sure what happened but the pair I got don't quite match up. They are both sized the same (39) but the right shoe is about 3/8 inch wider than the left, which means it doesn't quite stay on my foot. That's a problem coming from Dansko, not the good folks at Back Country!!
are these shoes are slippery and oil...
are these shoes are slippery and oil resistant?
not slippery. they just look oiled.
Unanswered Question
Looking for serial number 709553917
Looking for serial number 709553917
I originally got these for work back when I worked in a restaurant. Like everyone else has said, very comfortable when you are on your feet for a long time. However, they are probably the worst shoe I can think of for outdoor pursuits. They make it very easy to turn your ankle and are pretty clunky in general. I can't imagine hiking or doing any remotely precise footwork in these. Also, not sure who is getting compliments on these. I mean they are alright looking, but nothing special. More appealing for the baby boomers I guess.
Thank you Backcountry for having the best price for my very first Dansko clogs. I have been shopping around forever and was thrilled to come across them through your site. The clogs are amazing and just exactly what I was looking for. They are comfortable and perfect for my very active lifestyle!!
I love my Danskos because I can wear them with just about anything and they work, i mean they look good.. They can even look like dress shoes or not... I think you should treat yourself to a pair and see for yourself.
Women's Dansko Professional Oiled Clogs
The product was just as described. I have worn these for years and am always completely satisfied with the product. This was my first time to order from backcountry.com and I am very pleased with the service. The product was shipped to me immediately so that I received them within a few days. I am a nurse, so I would recommend these for anyone that stands for many hours on a daily basis.
How do with rain and snow?
How do with rain and snow?
Becca,
These are pretty durable I sported them all winter in SLC, and they didn't disappoint in wet parking lots. If you are worried about the leather getting soaked through, then I would treat them w a leather-proofer like this one:

http://www.backcountry.com/outdoorgear/Nikwax-Fabric-Leather-Spray-Footwear-Treatment/NIK0046M.html
I have 4 pairs of Dansko and do not have a bad thing to say about them. They look cute with trousers, skirts, jeans, or shorts. In addition, they are extremely comfortable and durable. Can't lose on a pair of Danskos.
My daughters have been wearing Danskos for years and I finally got a pair and now I see why they love them. Very comfortable.
If the shoe fits, this isthe one to wear!
I ditto the suggestion to try on a few more pairs if the first pair you try on is the right size but not a completely perfect fit, as they can vary some, even the left from the right in the same box. It is worth it to get that perfect fit--the shoes are fantastic if you are on your feet for extended periods (e.g., healthcare shifts).
Can I order these in "narrow" as Dansko...
Can I order these in "narrow" as Dansko makes narrow as well as regular width?
I received the answer - No. thanks.