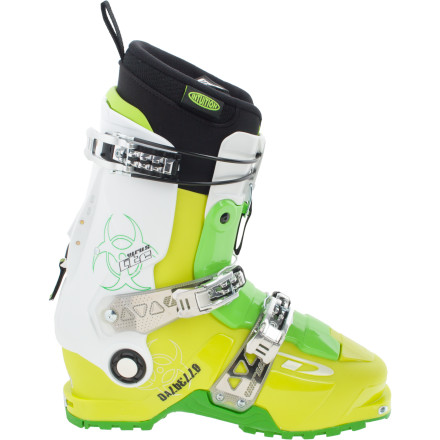 After some serious testing and guidance by freeskiing god, Glen Plake, Dalbello crafted the Men's Virus Lite Touring Boot so freekiers and backcountry enthusiasts could have a bomber boot that slays both the uphill and the downhill. This ultra-lightweight boot delivers all of the high tech fit, function, and stiffness you've been looking for. The walk/ski mode mechanism on the back cuff and a two-piece, Bio-Stride tongue allows full articulation while touring so you can cover more ground with less effort and less resistance.
Intuition ID Thermomoldable liners help keep those little piggies from the cold and ensures a superb fit
100mm last provides a semi-narrow fit and optimizes control of these new fat skis
Totally new mold design features the Dalbello three-piece shell construction for improved articulation
Bio-stride tongue releases to permit backward hinging for a longer, less inhibited stride and locks down to create a single tongue with maximum support during descent
Ultralight aluminum buckles and composite materials help you preserve precious energy
Top buckle clasp is positioned on the side and out of the way of boot-snagging rocks and ice
Low hinge cuff design allows freedom of movement that follows your natural leg motion
What do you think about this product?
Have questions about this product?
Virus Lite -- Almost Perfect
I have used this boot for two seasons with dynafit bindings, I love them. The upside is they are stiff enough to drive pretty much any ski, extremely light for the stiffness but yet still pliable in extreme cold. Downsides...the dynafit inserts are not particularly rugged and dont have guides like the dynafit boots. No canting..no micro adjustable buckles. I fiddled with the bootfit for two seasons and I settled on surefeet insoles with dalbello heel cups from an old pair of protons. The heel pocket is a bit too roomy for my foot shape but the heel cups eliminate that. YMMV depending on your foot type. After all the extra work, the boots ski great with salomon sentinels and dynafit ft12. Also used them on a pair of rossi bc125's, worked very well for light AT. The boots were a good match for either, just fit is the key so I recommend to make an appt with a bootfitter.

I would give it a 5 star if it had different buckles and canting. I bent one buckle that dalbello replaced under warranty. Small issues in the scheme of things, because the walk mode is great, it's light as hell and the boots ski wonderfully when fitted. My first pebax boots, now it's hard to go back to anything else. FYI, do not use in alpine bindings..unpredictable release, AFD or not.