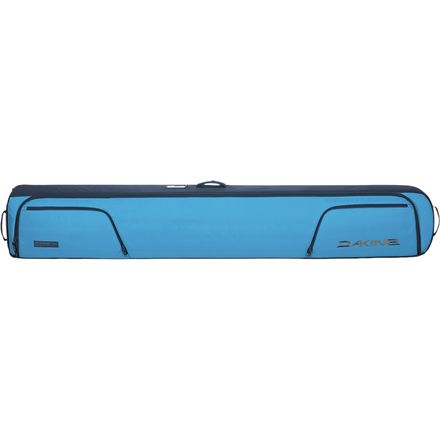 Colors

Community Images
The Dakine Fall Line Double Ski Bag safely guards two sets of powder sticks for your next Alaskan ski trip. A thick layer of padding throughout protects your planks from the dings and bumps of travel while two large external pockets house your ski boots.

175cm Fall Line Double fits a maximum of two pairs of skis that are up to 175cm in length, ski poles, and boots
190cm Fall Line Double fits a maximum of two pairs of skis that are up to 190cm in length, ski poles, and boots
High-quality urethane wheels and dual end carry handles make transport to and from the airport or hotel a cinch
Lockable zipper cars keeps preying fingers at bay while you travel
600D polyester and 600D recycled PET fabrics offer solid durability, resistant abrasion, light protection from the elements, and eco-friendly good vibes
Full padding throughout offers superb protection for your babies against the dings and dents of travel
Two external pockets house your ski boots
Unanswered Question
Does this bag have internal straps to hold the skis firmly to prevent edges from grinding on the other half of the set? In looking at previous reviews, there appear to be conflicting stories of no straps (11/24/2015 and 12/11/2013) and straps (02/03/2014). Thanks for any help.
Unanswered Question
This has sturdy wheels?
Hello, I have 2 pairs of skis, 175 and 180cm, I will take them both rarely, reading the review, I wonder if the 175 cm long bag would be long enough ? Thanks
Hi Bruno, I think this question may have been answered already in responses below. There is one really detailed post in Dec 2014
Nice size, burly zips
Familiarity:

I've used it several times
Needed to replace a ski bag and thought about going a little smaller this time around.. the baggage fee has always been a factor but with 185cm's its just something you have to plan ahead for. I was able to put two pairs of skis, poles, and two outfits in with my boots. I don't use the boot pockets. Can even get my skins, pons, and axe inside without going over weight but length is already the issue so fill it up if needed. No internal straps which does not pose an issue for me. No exterior straps which i would like to see but no biggie.. Had this in my wish list till it dropped 40 bucks over night.. pulled the trigger and haven't looked back since!
Unanswered Question
Would I be able to fit a pair of skis and a snowboard in this bag? I like to ski and ride so this creates a problem when I travel to other mountains.
i have a pair of 174cm skis. i like to pack as much gear as i can in my ski bag for trips - should i go with 175 or 190 bag?
Your 174cm skis would definitely fit in the 175cm bag - plus this is made to carry 2 pairs of skis, so you would have a ton of room to pack other stuff in there. You could go with the 190cm bag if you plan to buy longer skis in the future, or if you really want to maximize your storage potential. Some airlines might charge more for the bigger bag, so maybe check that out if it's a concern!
How many pairs of boots will this bag carry? Thanks!
Nick, It will fit one pair of boots, one boot in each outside pocket. If you only put one pair of skis in there you can probably fit another pair.
can i fit 2 pairs of 191cm skis in this bag? I am assuming i can fit the extra cm but i want to be sure.
Best Answer
Garret,



This fabric will stretch a centimeter or two just fine, so you're good to go!



More questions? Let me help!



Emily Jenson

Expert Gearhead

801.746.7587

ejenson@backcountry.com
Big and burly
Familiarity:

I've used it once or twice and have initial impressions
One trip so far. Seems like great build quality. Tough fabrics, zippers, wheels, handles. Packed with 180 Converts, AT Boots, Poles, Skins, and Mountaineering Boots. I still felt like I could have fit another pair of skis if I had wanted. I really like the boot pockets too.
Unanswered Question
Will this bag fit 196 Praxis Protest or should I go to the concourse?
I design, build & travel w/rockered pow skis (~150mm underfoot) and this bag can carry up to 3 pairs (but only if the bindings are off and skis are stacked on the bottom of the bag). If your bindings are removed, you can also go down a bag size-- that is, if your skis are <189cm [as you pull the tape tip-to-tail] -for the 175cm max bag-- although Dakine still probably recommends the 190cm bag--or the 'Concourse'. Threaded inserts are the only way to go when you're trying to transport a quiver. Part of my issue with the bigger ski bags is the excess bulk & unneeded weight. Most pow skis are under 193cm, so the industry's current bag sizing is planning that you to juxtapose the skis so the bindings don't touch; thus creating a longer displacement in the bag. But if you remove the binders and stack them like a deck of cards, then...



The goal is to not tip the scale when you're at baggage check-in. The Dakine Fall Line Double ripstop cordura weighs ~8 lbs. versus most bags at 12-17lbs. -And then you add you're gear on top of that. Do the math, unless your airline has no weight limit, you're paying extra...



By packing better, I can use the Fall Line to fly up to 3 pairs of fat skis, 2 pairs of poles, boots, backcountry gear, all the ski clothing and all the accessories needed to fly anywhere in the world. Honestly, 2 pairs of sticks is enough tho. -And the bag is well-cushioned and proportionate then, with enough room for that stupid gift you picked up in Tokyo--or a handmade aikuchi sword... which can't go in your carry-on.



Snowboarders can remove their binders and pack for trips so easily. And the reason why is binding inserts on their boards. Skiers are over it; tired of lugging their gear loaded into bags in awkward, janky positions. Pow skis hardly fit into most ski racks; why would they efficiently pack into travel bags when they're mounted? If you're like me and have highly rockered skis, or simply want to pack better for trips, checkout www.bindingfreedom.com.
I am shopping around for a ski bag and found the patterns very difficult to see. Here are a few I was interested in.

Really liking that Glacier Colorway now I can see that it's a topo map!!
Gets the job done
Familiarity:

I've used it several times
I've used this bag for one trip to Europe and two trips to SLC, and it kept my skis and boots nicely protected from the baggage handling and TSA cretins. Durability seems good, and the wheels are great for the long walk from the long term parking lot. My only complaint is that I wish there was an intermediate size... the 190 has about 8" of flop on my 174cm skis, but since I also have a pair of 178s I didn't want to go with the 175 length.
Does this bag have a shoulder strap?
Does this bag have a shoulder strap?
No. This bag does not have a shoulder strap. Just carry handles on the bottom, middle and top.
I've never wanted a shoulder strap with my wheeled bag.
How do you actually put the skis in the...
How do you actually put the skis in the bag? Do they go in base down under the loose flap. According to person at Dakine they say don't lift the padded section that moves, place on top of the padding and use the Velcro to secure. What extra Velcro?
usually you want to lay the skis on their side (put together just like you would carry them, or keep them in the garage) with the tips toward the top, bases together, and topsheets facing the outsides of the bag. Once you have all the skis in there that you are packing, there are straps on the sides of the bag that you would put over the skis and velcro together to keep the skis snug and prevent them from moving around.
Sweeet
Familiarity:

I've used it several times
This bag is awesome. I can fit three pairs of skis in this bag and some poles and jackets and clothes no problem. Wheel are super burly and the pockets on top are super useful.
Could this bag fit one pair of skis and a...
Could this bag fit one pair of skis and a snowboard?
tara,

While the DAKINE Fall Line Double Ski Bag will fit two pair of skis, I wouldn't recommend it for snowboards at all because of its narrow width. With the right board I imagine you could make it fit, but generally this bag is going to be too narrow. More often people find a better fit for a mixed setup by putting skis and snowboard in a snowboard bag, which gives you the added benefit of room for your other gear.
Dakine - Can't Go Wrong!
Familiarity:

I've used it several times
I've had a Dakine backpack for 5 years and only had a buckle broken from a gnarly fall. My friends have used this bag for our trips from the Midwest to Colorado and Utah, never having a problem. I enjoyed the Hood color selection a lot and had to pick one up. Will easily fit my 2 pairs of skis, as well as clothing.
Really Nice Bag! Really Nice Bag
Familiarity:

I've used it several times
Great bag! Fits both my everday ski 180cm and powder ski 185cm, 2 sets of poles and could fit boots (never put boots under plane!) Great look and excellent quality!
The Only Way to Travel with Your Skis
Familiarity:

I've put it through the wringer
This bag is awesome. Used it for 2 months on an extended trip. Put all the sharps in this bag plus lots and lots of Pro Bars. The bag never ripped, everything was safe even after a few flights. I did wrap my bindings in a towel just because they are precious and expensive. Totally expected my ice axe, whippet, and pickets to go through the bag at some point and that never happened (did not use guards). Bomber bag, we also fit 2 pairs of ski boots in the external pockets.