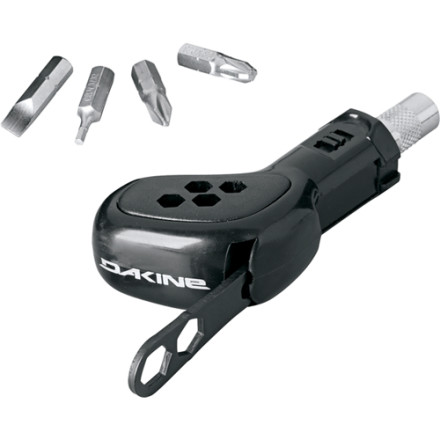 This tool does the job its designed for. Small, compact, and perfect to take up with you for those emergency tweaks during the riding day. I decided to change from normal to goofy on my board and forgot to install my binders properly (basically, they were back to front) - a quick run down the slope, found a work bench, and corrected the issue then and there. Took the tool up with me every day; you'll never notice it's even there. :)
Do all of the accesories fit in the tool?...
Do all of the accesories fit in the tool? do they stay put well?
yes the top end of the tool screws off and that is where all of the bits fit. The metal long piece fits on the side of the tool. Its a great tool because it is relatively small but also has a really great shape that fits a hand really well to give you maximum leverage.
Nowhere to put the fifth screwdriver tool tip. It stays in the tip of the tool as the picture shows, leaving it open to tear a nice big ol' hole in your pocket, or stab you in the spleen.
perfect tool to take with you in your pants or jacket on the slopes for quick adjustments
sturdy and simple. fits well in pocket. fits my needs very well.
would this work with a board that have est...
would this work with a board that have est bindings on a burton?
, ☃bcs_badge_alumni_label☃
Quality Tool
Really solid tool, good to put in your pack when you are boarding especially in the backcountry and need to adjust or fix. there are 5 different heads to the screw driver, I like it becuase the holder of the different peices seems tight so you don't have to worry about them falling out. Especially in your pack when you have other things that can be scratched and such. Its worth it if you don't have one already.
I have the older model of this tool and it comes in so handy. It has most of the screwdriver heads you will need to do adjustments on your board
Good tool very solid works flawlessly