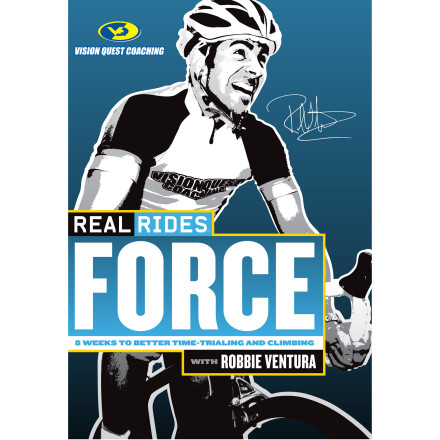 Though Aristotle once described force as anything that caused an object to undergo unnatural motion, it's better described as an influence that causes an object to accelerate. This Real Rides "Force" Trainer DVD offers an 8 week training program to help you take your climbing and time trialing to new levels. And as unnatural as climbing and time trialing can feel when your form isn't sharp, focused improvement of the sort you can get from Real Rides DVD series is a huge plus.
You'll start the program with a full threshold test to determine your baseline physiological data. The progressive training schedule is structured to get you from those baselines to new levels without missing steps to build fitness you can count on when you sign up for an event. Robbie Ventura, ex-US Postal Service professional, narrates, coaches, and rides with you. As such, the DVD includes on-bike video footage. For these shots, you'll see a dashboard with Robbie's power output in watts, his intensity level, heart rate, cadence, speed, and ride time. These numbers are there as a benchmark for you to ride against and compare your personal figures to.
The Real Rides "Force" Trainer DVD takes you onto the road, up Wisconsin's tallest hill climb for repeat threshold efforts. Portions of the DVD are also filmed inside Robbie's Vision Quest training facility while you work through the 8 week program. It's a perfect tool to help you get fitter and faster. That said, to get the most from the information in the Trainer DVD, we recommend that you train with power, whether using a powermeter on your bike or trainers that measure power such as the CycleOps Powerbeam or Pro Indoor Cycle. You can create custom training sessions and ride to the DVD soundtrack or toggle it off and listen to your own music as you train. It includes How To Train bonus videos as well. (61 minutes)
Share your thoughts
What do you think of the
CycleOps
realRides Force Indoor Trainer DVD
? Share a...