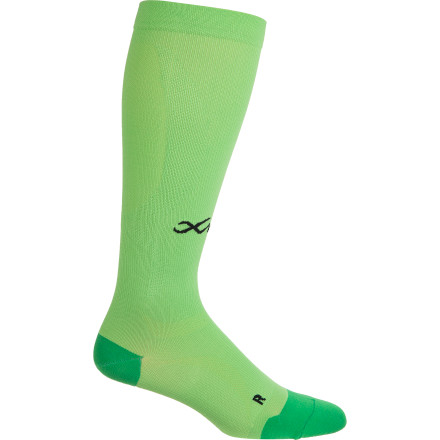 Perform under pressure thanks to the CW-X Ventilator Compression Support Sock. From your toes to your calf, these socks offer gradual compression that reduces the build-up of lactic acids, so your muscles require quicker after a long day on the trail. Lightweight synthetic materials breathe easy, while mesh ventilation on the top of the sock allows heat to move away from your skin. CW-X shaped these socks with a flexible toe box, and in order really drive your performance home, a unique web of materials offers additional support to your ankle and arch.
I don't wear compression socks while running probably a vanity thing, but I love them after a long (20+ mile) training run. I throw these on after my shower and wear them all day. They stabilize the ankle ankle and help in calf recovery. They are really tight fitting but that's what you want in a compression sock.
Unanswered Question
How many mm of compression are these...
How many mm of compression are these socks??
Great Socks
Familiarity:

I've used it once or twice and have initial impressions
I've bought a few pair for my mom and she loves them. They are very comfortable socks and the compression helps with circulation.
Left on a backpacking trip with a mild case of chronic tendonitis So far, eight days down (and up) the trail no tendons problems. Walking for now up to 15 miles a day in mixed terrain. A happy customer.
Great fit. Feels "light" on your leg and foot as though they were a second skin. Ventilation is ok but not great - my feet still sweat. Somewhat tough to get on if you have rough skin on your feet (don't most guys?). Provides some muscle "spring" but not the same feeling as when you wear the CW-X Compression Tights. At $25 I'd buy more pairs, at $40+ probably not.
Unanswered Question
Anyone have a recommendation between the...
Anyone have a recommendation between the CW-X Ventilator Compression Support Sock and the CEP Skiing Compression Sock? I plan to use one for downhill skiing. Thanks
These target compression perfectly: they're tighter than other comp sox where you want it but not tight at all elsewhere, so your calf doesn't feel like it's been stuffed into a sausage casing. This is important because too much compression everywhere can mess up your gait and head you straight for tendonitis city. The ventilation works: you don't roast in very hot weather. And they wash fine in the sink and dry fast, so you don't need several pair to use them daily. I'm glad I shelled out for them.