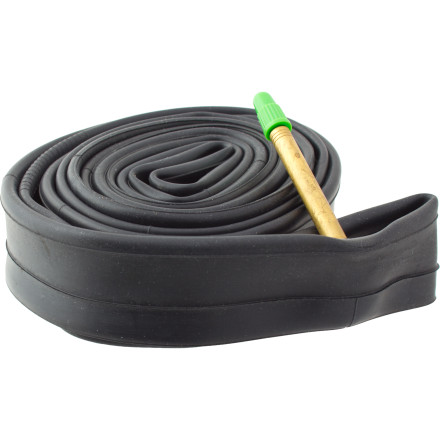 Re-stock your race day supply bag with a 4-pack of the Cutter Premium Cyclocross Bike Tubes. The generous 48mm valve stem is long enough for most deep CX wheels, so you're never without the right tube, no matter what the course is expected to throw at you.
Doesn't hold air
Familiarity:

I've used it once or twice and have initial impressions
Sometimes when things are inexpensive, they are a good deal. Other times they are just cheap. The latter is my experience with these. I threw them in on an order on a whim, thinking why not. How bad can they be. I tried one and it never made it out of the garage. I changed the tire in the AM, went down for my lunch ride to find it flat. Figuring it may have been a pinhole or a loose valve I added a can of Vittoria tire sealant. That didn't work either because before all the sealant got into the tube, the whole mess blew up. I decided instead of trying another new tube, I'd grab one of the patched up tubes I keep around for times like this. Several hundred New England winter miles later, the multipatched tube is still holding air, and three new cutters are sitting on the work bench.
Buy these tubes IF you LOVE FLAT TIRES!
Familiarity:

I've used it several times
I bought these a while ago when they were on sale for ~$10.00 and then bought another 4 pack when CC was selling them for $1.99.

Needless to say, I think there was good reason for these deals as these tubes suck!

I have changed more front and rear tires with these sometimes after not even riding them. I even bought two next Maxxis Mud Wrestler tires to make sure there was nothing remotely hidden in the tread of the other tires.

I've gotten flats on the road, gravel and a couple overnight, when I've changed them in the hopes of making my morning ride and to wake up with no air in my tube.

As a cyclist the one thing that sucks but goes with riding is changing tires/tubes - however, if this is something that you Actually Enjoy doing then and only then would i recommend these tubes.

If you are like me and prefer to spend your time riding - don't bother with these crappy tubes!
A bargain...
Familiarity:

I've put it through the wringer
4 CX tubes for $6 bucks. Uh, OK. They work as tubes should. They hold air, and fit inside the tire. For the money, they're unbeatable...
Sweet Tubes
Familiarity:

I've put it through the wringer
I know it is hard to get excited about tubes but these tubes have a great feature that makes them awesome. They have a removable valve core so you can easily add sealant to the tubes. Here in Utah the goathead capital of the world if you ride cross you ride with sealant or you walk. Nicely done.
perfect
Familiarity:

I've used it several times
these are great tubes for everyday use on the road! super strong, and light weight..
Cheap, solid, good.
Familiarity:

I've put it through the wringer
Tubes, especially cx tubes, should be bought cheap if you can get them. At the cost per tube you get these, the price is right and a steal. I bought a ton of them!
Are these schrader stems ?
Are these schrader stems ?
No, ya can see by the picture it is Presta garbage.
great value; no problems
Familiarity:

I've used it several times
Tubes are nice quality for the price; for me, they work well for every-day road biking
I have had very good luck with these tubes. I use them in a light touring bike and I filled them with sealant. The removable valve core is a nice feature. Still have not had a flat yet.
I ride my bike 10k to and from work daily, and was going through tubes pretty quickly. Bought these because the price was good, but its been 2 months since I put them in and haven't had a flat yet. I ride 50/50 paved trail/gravel road to on my Felt F4x and have been very pleased. Also tour around Europe with the bike, and the cobble stone has not caused these problems either. I also became meticulous about checking the PSI, so maybe I just got smarter.
700c tubes for wider tires can be tough to come by on this site and elsewhere, and these fit the bill. I've had these out twice on rough and rocky trails inside of 32c Vittoria Cross tires at 50 psi, and no pinch flats so far. the weight of the tubes is noticeable on long paved climbs, but the added durability over a lightweight tube is worth it.
I always hear a mixed batch of reviews on cutter tubes. Personally I have nothing but good things to say.
I have put around 200 miles on the first tube of the 4 pack I bought (to replace the stock tube that popped within 50 miles of use.)

Just inflate slightly so the tube takes its shape, let some air out, inflate some more, wait a few minutes, and inflate completely and you are good to go!

*Top off the air pressure now and then to prevent blow outs.
Do these have removable valve cores?
Do these have removable valve cores?
Best Answer
Yes, they are removable.