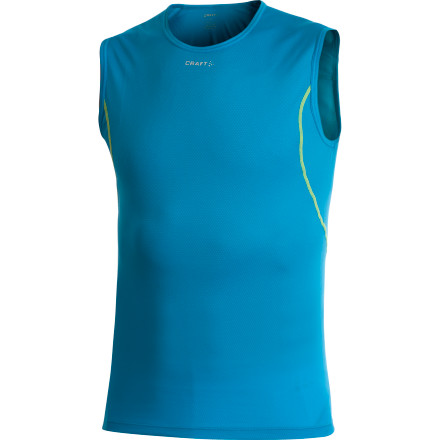 Detail Images

Community Images
Craft designed the Men's CooL Mesh Sleeveless Shirt to help you stay dry and comfortable on the road. ProCool fabric wicks moisture away from the skin so you don't sweat out while you ride. The ultra-thin fabric also provides protection from jersey seams and tags so even if you're not wearing your best jersey, you will feel like you are.
Used this base layer for the first time this weekend and am happy with it. The size chart was accurate and the fit is comfortable. I will can't wait to see how well it works when the weather gets warm.
Great baselayer for a reasonable price.
Familiarity:

I've used it several times
I looked for a reasonably priced base layer for a while and this one is an awesome base layer without getting ripped off.

I have used it <10 degrees and in the 60s and like everyone has said about base layers, keeps you warm and cool when needed. Great stuff, don't hesitate to buy!
Breath very well and comfortable
Gender:

Male

Familiarity:

I've put it through the wringer
I have been using Craft COOL Mesh Sleeveless Base Layer for cold morning ride love the tight fit and very comfortable. It breathe very well in warm weather even when sweat so much after long ride and steep climb. Still feel very soft after few washing and very comfortable for all day wear.
Not a cyclist,Don't even play one on tv. But...
I'm not a cyclist. Not even close. But...where I work gets extremely hot & humid in the summertime. So,I was looking for something to help with the sweat & heat.

It's not hot here yet,only in the 60's but I figured I'd try these out now and see how I like the feel/fit. So far(today was day 1)so good.

I've always worn 2 t-shirts but with this under my t-shirt it's way more comfortable. Can't even tell it's there.

I'll update my review later when it gets hot & humid here.
But for now...I like them :o)
overall worth the purchase
wore this base layer all summer long, works pretty much as described, only issue i have with it is after a couple wash cycles some of the threads have come loose, just be careful and follow wash instructions. Otherwise great product. I have the medium and it fits great, I am 6'1" 175lbs.
Material is too course for me to be worn next to skin. Good sizing. Quality build. Also, for me adding a layer never makes me cooler.
Beat the Heat with Craft COOL
Learn how to stay cool when its HOT!
I wear these for every ride now
I've tried riding with and without these in a broad range of temperatures. Bottom line - I'm more comfortable in these than with just a jersey, and the wicking makes a tremendous difference in all temperatures, helping with both comfort and energy level. These have performed great for me, and I've switched over to wearing them on all rides above about 40 degrees. (Colder than that and you probably want something with sleeves.)
I love this base layer. I wear it under my jersey no matter the weather. It tucks in to bib shorts well and gives your upper body plenty of protection from rough material on the bibs. Also, since not all jerseys are pro level, mositure wicking, and supremely comfortable, the base layer provides an ultra thin barrier that keeps the jersey from sticking to you. Unlike some base layers the neck line is high enough to protect from tags, but low enough that you are wearing a turtle neck.
When riding with bibs, its pretty common after 30-40 miles for the straps to irritate the nips or shoulders. This is just thick enough to keep that from happening and does a great job at wicking sweat away and keeping you cool on those warm days. A+
I bought this because I saw the boyz from CSC and SAXO bank wearing Craft and I love this new Superlight. It fits like a glove and is way softer than the others I have tried!