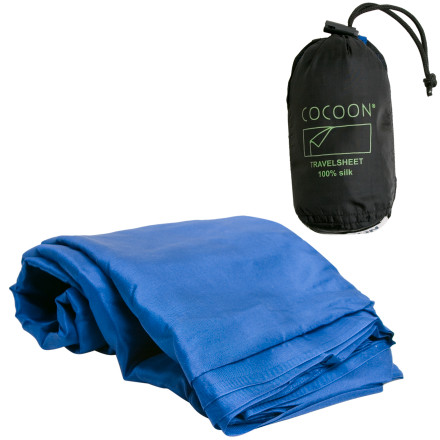 Detail Images
Treat yourself to a little luxury with the smooth, oh-so-cozy Cocoon Silk Travel Sheet when you sleep away from home. This Cocoon Travelsheet weighs in at an incredibly light 6.3 ounces. The feather-light Silk Travelsheet packs down for an easy, out-of-the-way alternative to your bed when you're traveling or just caught away from home for an evening. Rely on the silk fabric for natural odor–resistance and great wicking properties on long stretches of sleeping away from home.
Nice and cozy. Compact and light weight. It's great for warm weather when you don't need a hot sleeping bag.
Great Purchase
Familiarity:

I've used it several times
The silk travel sheets feel luxurious and they are very warm for the weight. I'm using them on a sleeping pad with a blanket on top as I crash on a floor in Alaska for 2 months. They are nice and roomy and easy to get into and out of. I thought the velcro might be annoying, but I don't even notice it. I highly recommend them.
Unanswered Question
What type of silk is this and what weight...
What type of silk is this and what weight is the silk (not the weight of the whole sheet)?
Great Cocoon. Crappy stuff sack.
Familiarity:

I've put it through the wringer
I've used this cocoon everywhere I've gone since I got it about a year ago. It's been backpacking, on river trips, and from Morocco to Spain and back. I've really enjoyed it. It's really comfortable and has held up really well.



That being said, the stuff sack started fraying after the first time I used it and now it doesn't really work anymore which is a total pain in the ass.
Lightweight and comfortable
Familiarity:

I've put it through the wringer
Caveat: I am 4' 11". Husband is 5' 8".

We both bought the bags for hiking portions of the GR11 in the Spanish Pyrenees. Used them for 15 nights. We both really liked the bags. We wanted something very lightweight and portable since we had to backpack between the refugios (huts). Since most had bunk-style bedrooms with uncertain sanitary conditions, we used these bags to separate us from the supplied bedding, blankets and pillows. I really liked it and found it comfortable and convenient. Packed up quickly into its tiny stuff sack. Used a dry sack with my clean clothing as a pillow, which fit nicely into the pillow compartment.
Hi, From where do I find this Cocoon 100...
Hi,

From where do I find this Cocoon 100 % Silk Tracel Sheet in Shanghai China?



- Pirjo Suomalainen -

pirjo.suomalainen@live.fi
Hey Pirjo! Thanks for your question. Backcountry.com does ship to China and the brand Cocoon can be shipped outside the US. Here is how you can calculate shipping costs;



First, add the item or items to your cart. Then proceed to checkout (don?t worry?proceeding to checkout doesn?t make you obligated to purchase anything). Enter your address in the billing and shipping fields. Once you change the country, the page will show you the shipping charges.



Hope this helps!
I have carried my Cocoon on every world trip (1-2/yr for 2-3 months/trip) except Japan recently (perhaps the MOST 1st world nation) for last 10-12 years using it in the most questionable accommodations ( EX: an Orwellian near-abandonned, soon-to-be torn down ancient hotel in NE China and a "6th World" tiny room in Hong Kong's Chung King Mansion (not) ) solely as 'peace-of-mind' insurance. Pleased to hear that it will continue to serve me on the Camino Frances.

Without repeating , I agree with all other positive comments in reviews/responses.

Scott , Jackson Hole, Wyoming, USA.
Good purchase
Familiarity:

I've used it once or twice and have initial impressions
I just got this liner. I was pleasantly surprised at how small and light it was. Rolled up, it is about the size of a pop can. Smaller than some other silk liners that I have seen out there. I do like the opening on the side, however it only opens about 1/2 the way down, so you can't stick your feet out. I found it to be pretty roomy (I hate when my feet feel all cooped up). I like that it has a pillow case cover too.
First of all I've not had a chance to test these liners on the road. However, when my wife and I received them we unpacked them, opened them up and tried them on for a test run on our bed.

The quality of silk seems very comparable. The S2S does claim that it's "rip stop silk" the Cocoon does not. Upon inspection the S2S appears a little studier but texture and feel are the same.

I'm 6'2" at 230 lbs. and both liners measure within an inch or so of the other. Once inside the room is the same. There was plenty of room for me to move around and the length more that adequate. The built in pillow insert on both is a great idea and seems to perform the same function on both.

Now I would like to make some clear distinctions between the two. The Cocoon has a built in side opening down one side with a Velcro closure which makes for easy entry and exit, the S2S does not. The S2S is sewn all the way up. This makes getting into the cocoon a breeze and the S2S a big hassle. Compare it to getting into a sleeping bag where one would zip open 24-36 inches or so on the side and the other had no zipper at all. This should give you the idea.

The second key difference is the stuff sacks that come with each liner. The Cocoon has a traditional stuff sack with the spring loaded closure. I was able to stuff the liner back into the sack just like a sleeping bag without folding and also by folding it back into a shape like it came initially. Remember silk is very slick so folding is more like sliding and I believe the "stuff it in" method is more effective.

The S2S comes with a stuff sack that has a two way zipper. I found this not very user friendly. The reason is that one cannot stuff it like the Cocoon so it seems to need the folded approach. Also, once the liner is in, closing the zipper presents a challenge. Not only is it difficult to get it closed even with two zipper pullers but it's very easy to "snag" the liner in the process. Not very comforting to have ones' $70 liner snag and tear, maybe the rip stop silk will save it, I don't know.

In summary, we are sending the S2S back and getting another Cocoon. We'll use them this Summer and after the trip I'll hopefully give an update on the travel worthiness of this product. At this time I would give the Cocoon 4 stars and the S2S a 3 star minus because of the design.
what are the actual dimensions of the sleep...
what are the actual dimensions of the sleep sheet? i am worried about feeling claustrophobic.
Hey Jane, the dimensions are 86 x 35 in and add around 9.5°F.
Can you sleep two people in these...
Can you sleep two people in these sheets?
Does the velcro closure on one side go all...
Does the velcro closure on one side go all the way down the side? Or just part way? I like to kick my feet out sometimes....
no, the velcro closure doesn't go all the way down. There is one small velcro "button" that keeps the sack closed and is at the top. The opening goes about half way down the side, and the rest is enclosed. I just stick a leg outside the bag if I am too warm.
Smarter.com says it is 37.46 but when I...
Smarter.com says it is 37.46 but when I click on it, the price jumps to 48.71. What is happening? Also, does it have Velcro closures or not?
Best Answer
Do not trust 3rd party sources on the internet. They are often not updated well.
Great bag liner. I thought my Helium bag was great, with the silk mummy liner, the bag is now fantastic.
Fantastic product. Plenty of room and feels so good. I stayed at a less than "one star" hotel and I was grateful to have this sheet. In my bag, it hardly took up any room, about the size of a shaving can.
is it a single layer, is it a fitted twin...
is it a single layer, is it a fitted twin sheet
, ☃bcs_badge_alumni_label☃
Best Answer
The Cocoon Silk Travel Sheet is not your typical flat sheet that you would find in the linen section of a department store. It does lie flat but it has a double stitched seam on one side and an opening on the other with a velcro closure. It also has an insert at the top that acts as a pocket for your pillow. It packs down VERY small. Its full dimensions when laid out are 86" x 35" (220cm x 90cm) and it weighs just 6.3oz (180g). When you stay somewhere where you do not trust the sheets this is a great item to have with you. I know international backpackers that use a variety of hostels in 3rd world countries who refer to these as "Bed Condoms." While I don't know how effective they are in preventing the spread of disease, the Cocoon Silk Travel Sheet definitely offers some degree of comfort and peace of mind. While it can be used to add warmth to a sleeping bag (the tag clams it adds 9.5F or 5.3C). The Cocoon Silk MummyLiner that Josh is referring to below http://www.backcountry.com/store/COC0009/Cocoon-Silk-MummyLiner.html does not have a velcro side or pillow insert. It really is just a liner for a sleeping mummy bag. A true bag condom. ;-)
Please advise the care of the travel sheet....
Please advise the care of the travel sheet. Washing instructions, please............
, ☃bcs_badge_alumni_label☃
Machine wash, gentle cycle; No bleach. It is not suggested to tumble dry. Lay flat or hang to dry and it will dry relatively fast.
i'm confused...Josh says this is a flat...
i'm confused...Josh says this is a flat sheet. Rob the Rep says something about double stitching on the seams. is it an insert for a sleeping bag (ie sewn shut on the seams)or just a flat sheet like any other (albeit in silk).
This is not a flat sheet. See another question on this topic rom danabaggxxxx, the description as a "bag condom" is a pretty good one. It is really a sleeping SACK not a sleep SHEET.
is this sheet a flat sheet or does it...
is this sheet a flat sheet or does it really turn into a cocoon type nest?
Cocoon is the brand, this is a flat travel sheet, what you want is the cocoon liner:http://www.backcountry.com/store/COC0009/Cocoon-Silk-MummyLiner.html