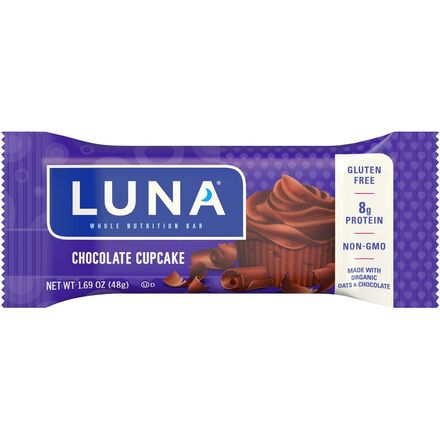 Colors

Detail Images
Description
We tested this product for you while at the office. We tried saving you one but, well, we were hungry.
Whether you are running out the door to pick up the kids or running your first marathon, the Luna Bar has the energy you need and the taste you want to keep you going till your next meal. Known as the women's line of Clif Bar, Luna Bar is entirely natural and 70% organic – no high fructose corn syrup here. It is low in sugar and high in fiber, helping you feel fuller longer without a sugar crash. The Luna Bar tastes like a guilty pleasure without any of the impending remorse. And for all of you men out there: No, you will not grow breasts if you eat one.
They may be "specially formulated" for women, but these bars just plain taste great for anyone. All the benefits of the Clif Bar you are used to, but in a slightly lighter feeling (less of that brick in the pit of your stomach) more flavorful option.
Great bike snack!
Familiarity:

I've used it several times
When I do long bike rides; I want solid food. This is a great snack, easy packaging to tear open on the bike. Lemon is my all time favorite!
As I carry a few Cliff Bars in my pack on any given hike you can guarantee my wife has a few Luna's in hers. They are organic goodness! Every so often I get to try one & they are delicious!
Great for Guys and Girls!
Familiarity:

I've put it through the wringer
Ok, so these are definitely marketed at woman, but as I guy I find just as good, and they are certainly edible by both sexes. I buy them mostly just to get a flavor change up from regular cliff bars, the lemon zest and coconut chocolate being my favorite. Great for snacking on while backpacking or eating in the middle of a trail ride for the extra energy push to get you home.
Very sweet, but delicious. My roommate swears by the lemon, and I can't say I don't munch one down every now and then
I am planning many long hikes this summer so I decided to try these energy bars out (this is my first time making such a purchase appart from my school day granola bars). I was swayed by all the positive reviews so I went ahead and bought two boxes: one oatmeal rasin and one peanut butter cookie. I tried both out this week and what a disappointment. These taste like cheap toxic candy bars. Sure the ingredients are all "organic" so I guess you can do as they say and not feel guilty, but they still contain 14g of sugars for each 48g bar, ie more than a fourth of these is sugar (no surprise really given how they taste). So what if its organic evaporated cane juice and organic brown rice syrup instead of corn syrup.

I must say that its not that I am a health nut against sugar. I love me a nice slice of cake, brownies, muffins etc. I just would never consider taking those as meal replacements. I also usually only get the great tasting bakery or homemade stuff not the horrible supermarket sweets. The last is unfortunately what these Luna bars taste like. I would therefore recomend that you try these out before purchasing two boxes as I did. I also think that people should show a bit more critical thinking towards the whole "organic" therefore healthy propaganda.
They tasted pretty good and kept me going. Prefer the taste of the clif bars over these.
They tasted pretty good and kept me going. Prefer the taste of the clif bars over these.
They tasted pretty good and kept me going while hiking.
I tried my first Luna bar (lemon zest), and wow, was it ever tasty...!! It actually tasted like lemons, and didn't upset my stomach. The only problem is thry taste so good I want to eat them like candy.
I know it has been said for a long time that these are for women only so I avoided them when my wife told me how delicious they are. I finally tried one and she was right, they are good. Low in sugar and almost 10 grams of protein.
expiration date less than a month away
I ordered some of these, got them last week, opened the box and discovered that the expiration date on these is less than a month away. I'm glad I didn't order more than one box.
Where's the Chai Tea flavor?
These are really good bars; as others have said, they are not gender-specific, just marketed that way. They are smaller, lower in calories, and less dense than the regular Clif bars, so they make for a nice change. When dayhiking, I will bring Clif bars, and my wife brings these. At rest/snack breaks, one of us will open a bar and we will share it. That way we get the variety and benefits of both types of bars. Our favorite flavor was the Chai Tea flavor that I cannot get anyywhere anymore, well, anywhere I want to. So now I settle for the Iced Oatmeal Raisin, the White Chocolate Macadamia, and the S'mores, but they are all actually pretty good.
Equally yummy for men and women!
I concur with Matt, these aren't just a ladies bar, they are great for men who are comfortable with their masculinity! It's not like they are packed with estrogen and going to raise your voice and make you grow woman parts or something!!! They are delicious!!!
I found out 3 weeks ago I have gestational diabetes. After meeting with a dietician, I learned I had to drastically change my diet and eating habits. I am allowed to have 3 regular meals a day, but my grains/breads/cereal carb limit is only 45 grams per regular meal. 2 hours after a meal, I am allowed a "snack" and my carb limit is 30 grams. I can not go over my limits and am not allowed to combine snacks and meals in order to have more carbs as this will raise my blood sugar. I love these bars for my snacks. They allow me to keep my work routine and eat my snacks throughout the day, have something nutritious, and be satisfied with the flavor and how filling they are. I am losing weight on this diet, even though I am pregnant, and I am never hungry. My husband is on the diet with me and has already tightened his belt one notch and his pants are getting baggy in the butt! I would recommend it to anyone!
These are the perfect lil' snack when your on the go. I got the s'mores kind, they were great.
I love these bars. They have great nutritional value (I especially love the vitamin, fiber and calorie content) and taste good too. I ordered the Peppermint Stick from backcountry.com but my absolute favorite is White Chocolate Macadamia Nut.
Healthy snack for boys and girls
Clif bar markets these to women mainly because of the boost in folate and calcium, which I've heard women need more of, and they are about 70 calories less than the OG Clif bar. But don't let this fool you. They are a super nutritious snack for everyone and taste great! The OG Clif can feel kinda heavy when I'm just sitting around and want something to munch, but the Luna bar digests really easy. I like to eat one about an or so before I leave work to go for a run.
These don't taste like energy bars, they just taste awesome. I ate them for breakfast for seriously about 6 months straight. They're a great snack for a hike, or as a light meal when you're stuck at your desk or in the library. It's hard to believe the caramel nut brownie is good for you, it tastes that good.
these bars may be for women but they taste a lot like the powerbar harvest bars. I will buy them again.