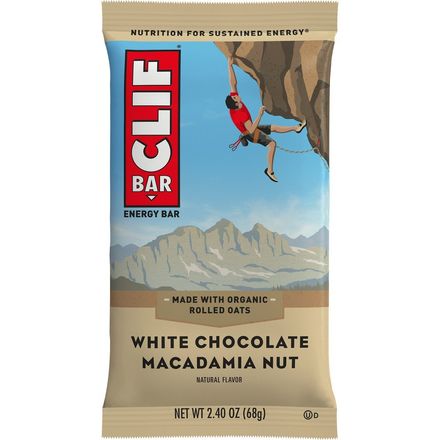 Colors

Detail Images

Community Images
Description
Fuel your fire.
Instead of snacking on dried deer turds and pine needles, try eating a Clif Bar. It's moist, tasty, and packed full of nutrients like protein, fiber, potassium, and essential carbohydrates, so it'll fight off bonks when you're hiking, climbing, skiing, boating, working, or just about anything else. Maybe you won't get quite the trail cred you would snacking on poop and trees, but the tradeoff is worth it.
250 calories per bar
12 pack
Assorted flavors
Share your thoughts
What do you think of the
Clifbar
Clif Bars - 12 Pack
? Share a...
Could you do something different?
Familiarity:

I've put it through the wringer
Clif bars are not worthwhile. Ive had them on adventures for the last 10 years of my life, and refuse to buy them any more. They dont taste very good, and every single flavor has the same base, which means they all taste the same. Considering Pro bar is relatively the same price with better ingredients, why would you buy this product? That, and Clif bar, the company that started based on being a food product to climb with just dropped all their climbing athletes. Brilliant!
Never leave home without it!
Familiarity:

I've put it through the wringer
Whether I'm spending the day on campus, collecting highway feature data for the DOT, or summiting another 12,000 footer in the Uintahs, I wouldn't dream of leaving these behind! They'll do in a pinch for a meal, and they've gotten me through more than one sleepless night of studying.
The flavor variety is wide enough that you can always find one you like, and the 12-pack boxes ensure you won't run low. All in all they're one of the best investments I've made in my travels.
Always in my vest, jacket pocket, pack, car, kitchen cupboard for a reason. ClifBars are packable nutrition that digest relatively easily and taste great. Haven't met a flavor I didn't like yet, though the iced options are more dessert like than others. If you are burning a ton of calories these are a great way to replenish.
Carrot Cake for the win
Familiarity:

I've put it through the wringer
The carrot cake flavor is my go to for a quick on the trail snack. Theyre good flavor, have a fair amount of protein and a ton of carbs to keep you moving.
So..
Familiarity:

I've put it through the wringer
If I had to live off of 3 things for the rest of my life, it would be: chocolate cake, mashed potatoes, and carrot cake Clifbars. I mean, check out the nutrition in that combination!

But seriously. Anytime I find myself adventuring in nature, I throw one (or three) of these bad boys in my pack. Not only do they give you the nutrients to keep your Kreb's Cycle in check, but they legitimately TASTE GOOD. I can't emphasize how ridiculously delicious the carrot cake ones are. Did I mention how good the carrot cake ones are?

NOM.
yum yum
Familiarity:

I've put it through the wringer
Delicious and full of calories to keep you going on the trail. My snack at work.
Bony Babs, Clif!
Familiarity:

I've put it through the wringer
Clif bars have been my go to snack for a few years now, opting for a quick dose of granola and organic ingredients rather then a candy bar or a bag of chips. I have tried many many different flavors and have yet to find one that I do not like, and eat them while hiking, biking, snowboarding, working, anytime really.
Great energy & easy to digest
Familiarity:

I've put it through the wringer
these bars are fantastic. they offer sufficient energy/substance, feel heavy enough to satisfy hunger, but digest easily enough to go unnoticed during activity. the chocolate chip is very "sweet" in my opinion, while the peanut butter flavor is perfectly balanced between salty/sweet. consistency is fairly dense, so have plenty of fluids available while eating. took 4 of these on my first century ride and they got me through without any problems.
Delicious nutrition.
Familiarity:

I've put it through the wringer
I eat these things a lot. Whether it's for a quick breakfast, pre-run, post-run, bedtime snack, these things hit the spot. They aren't super heavy on the stomach, have a reasonable amount of protein and fiber. My favorite flavors are the Sierra Trail Mix, Oatmeal Raisin Walnut, and Blueberry Crisp. Those flavors taste like they aren't trying to taste like desserts, like the Fudge Brownie does. That one's not great. My only gripe is that they're a little high in sugar. That's it.
EAT ALL THE CLIFBARS!
Familiarity:

I've put it through the wringer
Delicious, nutritious, oh and delicious. Actually Clif bars and I have a bit of a love-hate relationship. Love in that they're completely amazing, hate in that when I order a whole box I have a hard time containing myself from eating several at once. They're great, end of story. Expand your horizons and try all the flavors!
Tasty Treats
Familiarity:

I've put it through the wringer
I have tried a bunch and my favorites are blueberry crisp and black cherry almond so far. Toss a few in the pack, jacket pockets, and the glove box and im set for a few months of easy snacking and a nice surprise when i find one I forgot about.
Small but good
Familiarity:

I've put it through the wringer
These bars are a little small but they taste pretty good and are filling enough to hold you over for a while. They are less expensive which is nice for bars like this. Between Clifbars and Powerbars I am set on all my adventures