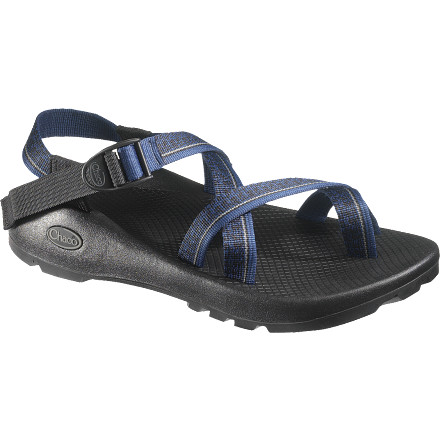 Detail Images

Videos

Community Images
Description
The Chaco Z/2 Sandals sturdy your foot like a hiking boot for summer hiking and hanging out.
The Chaco Z/2 Unaweep Men's Sandal is perhaps the most secure sandal on the planet. Its Unaweep outsole is 20% lighter than Chaco's previous sandals, and it's ideal for activities that demand solid footing in or out of water. The Z/2 sandal's strap configuration offers an adjustable toe loop that adds a measure of security to your foot, making them incredibly stable. Whether you're a river rat who needs a super grippy sandal or you just want a sturdy, great-looking pair of sandals that will last ages, the Chaco Z/2 Unaweeps will last for years.
Good sandals, worth owning
Familiarity:

I've put it through the wringer

Fit:

True to size
I've tracked these things through Europe, mountains, canyons, and rivers. They work well. I usually keep the toe strap down under my foot unless I am doing aggressive hiking. It also took a while for my foot to get used to them. I had to put up with some blisters when I first started using them, but they work great now. Get a pair, it's worth it.
Flip flopped my opinion on chacos
Familiarity:

I've put it through the wringer

Fit:

True to size
Used to think they were too expensive and ugly. Planned a trip to Central America and decided I better sacrifice fashion for a show I could wear in all conditions I would encounter. Over time in Costa Rica, once I had them dialed in, I grew to love them for their function and looks even. They remain my everyday single quiver until it gets too cold. Haven't had any serious complaints, but lets dive in to the pros and cons



Pros: Function, quality materials, looks, compliments galore, can walk on water... oops I mean in water, grippy vibrams, backcountry exclusive color scheme, value



Cons:Virtually nonadjustable once worn in dirty conditions for multiple days. maybe I need more man strength, but they wont budge now, not the greatest torsional qualities.



Summary: Buy them if you are going to be outside when the weather is 32F or above.. just make sure you get them adjusted correctly right away so you don't get stuck with straps out of position when they stop adjusting.
Great Sandal!
Familiarity:

I've used it several times

Fit:

True to size
These are great, burly sandals. If you are looking for a sandal to wear more than just occasionally in the water, these aren't for you (strictly because of price) but if you want an everyday sandal to wear in the water, around town, and everything in between these are for you. They are super comfortable and provide great support when walking. I like how the toe loop keeps your foot glued to the sole (there is some heel lift but it doesn't cause any blister or negative affects). It takes a little bit to get used (day or two) to but the toe loop is great.

I wear a size 11.5 in Vans, Nikes, Keens, and Solomons and the size 11 in Chacos fit perfect.
All you NEED in a Water Shoe
Familiarity:

I've put it through the wringer

Fit:

True to size
I love my Chacos and my boyfriend was in need of a good boat/water shoe to use when fishing and guiding out of his Clacka. I told him to look no further than Chacos. These things are the best. They grip in and out of the water, dry quickly, and are durable. They are versatile with enough stability to hike in but giving enough to where they grip rocks or whatever sort of foothold you have to leverage from when rowing. Don't ignore the hype, people! These things are worth their weight in gold and you will never regret snagging a pair for your next water endeavor.

I put true to size on these since he normally wears an 8.5-9.0 and went with the 9. That said, depending on what you are into you could want more or less material under your foot. Where he is constantly in/out of the boat and can risk stubbing his foot and also needs a solid platform these do fit larger on his foot. If you are looking to use these more for hiking and just as a recreational water shoe, feel free to size down for a tighter more streamline fit
not good - at least for my foot
Familiarity:

I've used it once or twice and have initial impressions

Fit:

True to size
decided to try the Chaco's for a change after so many positives. Not a fit for me. I wore them for about an hour walking the dogs and got a horrible blister on the outside of my right foot next to where the heel piece connects to the sole.

Gave them to a friend with the same shoe size and ordered a pair of Teva Terri-fi sandals. Great fit and no problems.

I cannot hate on the Chaco - but they just did not work for me. I wear a size 13 and have a moderately wide foot with kinda broad heels.
He loves 'em!
Familiarity:

I gave it as a gift but have feedback to share

Fit:

True to size
Got these for my boyfriend after he saw how much I've enjoyed my Chacos over the last 2 years. He initially ordered a size 12 since he normally wears an 11.5 and thought his big toe should have more room than he actually found necessary. Backcountry was super helpful with the return (even after our dog destroyed the original packaging) and got him the right size very quickly. Overall he's been loving wearing them as his only summer shoe and is geeking out over his new tan lines.
One sandal to rule them all
Gender:

Male

Familiarity:

I've put it through the wringer

Fit:

True to size
Whenever I wear these hiking, everybody asks "€œhow can you hike in those?"€™ My reply, "€œhow can you not!"€ Chaco has designed something that is the perfect shoe for summer. I wear these all summer because I can do anything in them, and I do mean anything. Approaches to the crag are made easy with these because of their durable Vibram sole that has fantastic traction, much better compared to the Yampa sole (Unaweep aka-the workhorse€). When I wear these hiking I take advantage of the fact that they are sandals, when you come to a river crossing you can just charge right through it, and cool off. In fact the Chaco sandal is the choice sandal for river guides. The foot bed in these is actually certified by the Podiatric Association of America. It is incredibly comfortable with great arch support. Many friends of mine have used them when they travel because they are so comfortable to walk in for extended periods on time. Overtime the sandal begins to form to your foot; you'€™ll never want another sandal again.
I love these sandals, the nylon straps are soft and I have had zero issues with them cutting into my feet or causing blisters. The coolest part of the straps is not only the many color variations, but the killer tan line that develops after prolonged use. The tan line is a dead giveaway of someone who loves them just as much as I do. They are very adjustable, and will fit almost any size foot. When sizing the Unaweep, base the size you need off of arch support, the length is not crucial unless your toes are hanging over the end.
There are a few drawbacks to these sandals, as with anything, it isn'€™t perfect. They are heavy for a sandal, compared to their little brother, the Yampa, they are noticeably heavier. Also when hiking you have to mind your steps, because of the open toe design you can stub your toe, if you plan your steps this is easily avoidable. Dirty feet is another drawback, especially if you live in a dry climate, or a really wet climate, you will have to do some serious scrubbing after a week long hiking trip. Some of us like those dirty toes though! :)
I use these almost every day and will continue too until the durable sole has worn out. I recommend these sandals to anyone who doesn'€™t want a conventional hiking shoe, beach shoe, or walking shoe. The versatility of these sandals is what makes them so great, and why I will never get rid of mine.

Love the sandals hate the stench!
Familiarity:

I've put it through the wringer
Love the sandals hate the stench! Have only had the sandals for a couple of months this summer, love them! However I think I have to get rid of them, walked through wet sand once which allowed water in the cracks where the sandals adjust and boy do they stink! I've washed a couple times and they are fine but as soon as they get wet again the stench returns. For example last night went to waterpark with kids, got shoes a little wet and today they stink terrible.

Unless anybody has some ideas on how to fix my wife will make me get rid of these.
Follow up.
Familiarity:

I've put it through the wringer

Fit:

True to size
Well I just came back from a colossal camp trip with my sons. We all had a brand new pair of the Z2's. We took them hiking and through the Rio Grande river, even took them canyoneering and a little rock scaling. Needless to say they took a beating but not our feet. The sandals are amazingly comfortable and built to last. I came home and ordered a pair of the Z1's. They do run close to size. I wear a 9.5 in all shoes, these are perfect in the 9, the 10's were too big. If you are on the fence about theses sandals get them, I'm pretty sure you wont be disappointed.
Tanks for your feet, without the boom.
Familiarity:

I've put it through the wringer

Fit:

True to size
Love the Z/2 and use it as my approach shoe most of the time since I hate putting my toes back into prison after the climb. I wear a size 10.5 runner and the 10 fits great.
Love them
Familiarity:

I've put it through the wringer

Fit:

True to size
I have 3 or 4 pair of chacos and just bought my brother a pair. I love the footbed on them. The straps (especially the toe strap) can be a bit uncomfortable at first but just takes some getting used to. It's a great feature once you do - gives your sandals a good solid feel. I've done everything in them from backpacking to river trips to hanging out around a fire.
Officially Converted
Familiarity:

I gave it as a gift but have feedback to share

Fit:

True to size
My husband was unsure about using Chacos, but I knew he'd love them so I ordered them anyway. From the second he put them on to the first hike, he couldn't say anything bad about them. He's officially a Chaco guy now!
Good not perfect
Gender:

Male

Familiarity:

I returned this product before using it

Fit:

Runs large
First and foremost I want to say that this company kicks some serious a** with its customer service. 10 outta 10. I tried these on in the store and was happy with the fit, unfortunately when I got them they were running big. That being said these folks took great care of me and set up the exchange for a smaller pair with no trouble. I will be ordering my gear from this site for a long time to come.
Same As Always
Gender:

Male

Familiarity:

I've put it through the wringer

Fit:

True to size
This is my 3rd pair. You wont find a better river sandal out there. Works great for those side hikes and around the boat. Just don't forget to bring the salve on those longer trips, because your feet are going to dry out!
Built to support you and your pack too.
Familiarity:

I've used it several times

Fit:

Runs large
There are no other sandals I've felt I could hike for days in, with my pack on.



The great arch support and very thick durable soles are made solidly, with just the right slight flex. I've tried them ones without the big toe loop, and this Z2 style is more solid and stable underfoot, especially through running water. The tops are patterned to be grippy when wet and also comfortable, not leaving lines in your feet. Where the chord passes into the sole is tight enough to not let sand in, or even to allow water squeaking.



I recommend males buying one size less than closed toe shoe size.




Great do-everything sandal!
Familiarity:

I've put it through the wringer

Fit:

True to size
I love these sandals! I use these mainly for floating the river and going cliff-jumping, but they also do very well on hikes. I like having the extra toe-strap. I can use it to really secure the sandal if I am doing something that requires a little more foot control. I can also put my foot over the toe-strap if i am wanting more of a comfortable feel. Great all-around sandal. Chaco sets the standard!
Wide option for women.
Gender:

Female

Familiarity:

I gave it as a gift but have feedback to share

Fit:

True to size
I bought some women's keens as a gift, but they were too narrow for her wide foot. There weren't any wide in women's available so I tried mens. She's a size 9 in women's, so I got her the 7 in mens and they fit great! I showed her how to adjust them, by pulling the straps through the sole, and she's in love. She said she wore them all summer.
My go to Shoe!
Familiarity:

I've put it through the wringer

Fit:

True to size
If its above 45 degrees out, these are on my feet. I have worn them for everything from backpacking trips on the AT, music festivals, days on the beach, to shopping around town. They go on my feet as soon as I take off the bike, running, or kayaking shoes. (Sometimes even ski boots if its not bitter cold!)If you want a pair of sandals, these are them. Yes sometimes they take some getting used to, but trust me they are worth it.



They are easily adjustable by just pulling on the webbing one way or the other and once you get them adjusted to your feet, they fit great. Sometimes the webbing gets stuck but just get them wet and it will loosen things up!



Also they last forever. I have own a pair of these that are at least 7 or 8 years old and they are still in great condition. I just upgraded to a new pair only because I won them in a contest. They old ones are still kicking. I will add, that the Z/2 is the way to go. Yes it may feel weird at first to have your big toe surrounded by a strap but they stay in place and make long mile days a lot better.



Everyone of my paddling, hiking, biking, kayaking, skiing friends own and wear their Chacos religiously. If you want to fit in the outdoor world, you better own a pair of Chacos!



But.......



I will add that I do not recommend these as a go to shoe for whitewater kayaking. A lot of people starting off show up in these. Yes they work great for hikes along the river or other water based sports but for whitewater, get a close toed shoe that has a sole specifically made for walking on wet rocks and that will protect your foot when moving around on rough banks. I like anything from Astral or the Five-Ten Water Tennie. DO NOT where Chacos in your boat if you plan on doing any whitewater kayaking other then playboating at the local play hole or running less then class 3 rapids.