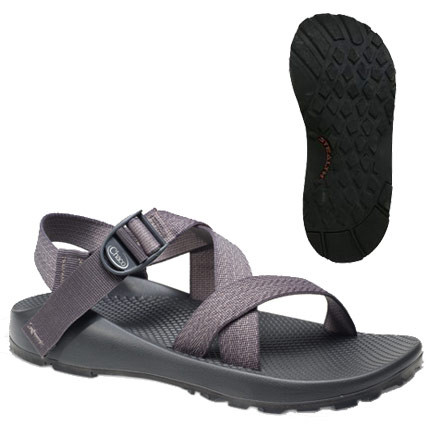 Detail Images

Community Images
photog Pete McBride exploring the Grand Canyon in Chaco z/1s
photo: Kim Havell
I have had my pair since they introduced the stealth rubber sole as an option (and when they were stil offered in colors other than...black). I have put these through the ringer as approach "shoes", have done 30 mile days in them (not recommended), and they served as my basic summer sandals. After a few years of pretty intense use, the only complaint I have is that the straps are beginning to cut through on the insides of each ankle due to sand and gravel build up in the webbing holes. I will have them reslung as soon as the straps give out and hopefully they will be around for a good bit longer. Overpriced, but you can find decent deals out there.
After over 10 years of hiking, sailing,...
After over 10 years of hiking, sailing, canoing, and skydiving in my Chaco Z1 sandals, the strap is breaking. Oh, My! I am in mourning.What is the difference between the Diamond Stealth Sandal base and the Unawrap base (which is what I think I now have).James
James,The Stealth base uses Stealth rubber (a lot more sticker not as durable). The regular base is very durable and the rubber has good enough traction for must applications (a nice hiking lug pattern). Unless you using it for an approach sandal or are down in the river rock, go with the regular sole.You might consider making a shrine and dipping your old pair in bronze...Mahalo, Sumo
Diamond steath/z1 better than unaweep/z2
I had a pair of unaweep z2's before these. I have to say I am happier with these z1's. They are just as stable (the toe strap on the z2 is more for style imo) and the diamond stealth sole is just plain awesome. I was afraid it would be REALLY soft and wear down after a few weeks of pavement walking, but that has not been the case.
Great sandal. At an awesome price. They will last a long time just as long as you take care of them. I usually wear a wide but these in a med. are great. Don't pass up the great deal!
I have been a Pro River guide on the Rio Grande for over twenty years. I've tried every sandal imaginable. When I started boating, wool socks and canvas tennies were the hot ticket. By far, the best sandals around are Chacos. No velcro! On the river, the velcro gets clogged with sand and is rendered useless. I don't understand the problem the other river guide had, I guess getting a lemon is possible anywhere. if you're going to use them on the river, get the diamond stealth sole. Off the river, get the Unaweep. The diamond stealth wears down fast on concrete, etc. The strap system on the Z1 is the best out there. Having swam various rapids with them, they have never come off my feet. I can't say that about most other sandals. In fact, some other sandals didn't come off my feet. Only half the sandal became detached, leaving the sandal flopping around your ankle while you're swimming for your life. The Z1 design also lets you use wetsocks in the spring. Much better than booties! And when you get off the water, switch out the wetsocks with fleece socks. Enough blabbering, Chaco Z1's rule!
Best sandals I'll ever need
These sandals are the best I've ever owned. They're great for walking about town but excel for the outdoors. The strapping is comfortable and secure - All round a great design. They are wide enough for those with big yeti feet which is ideal. They do look good and chunky but it's the comfort and the feeling of robustness that's more important to me. Very happy feet on this fella!!
Secure fit and stylish, but heavy!
These sandals are fashionable and the orientation of the straps results in a very secure fit. I prefer the Z/1 over the Z/2 as the lack of a toe loop allows one to wear them with a pair of cozy socks after crawling out of the tent on a cool morning. The footbed has ergonomic curves which will keep your feet happy and also keep your foot from sliding around. The back of the sole has a ridge on both sides which keeps your heel in place, but feels strange if you are used to relatively flat-soled sandals. While fit and style makes these sandals great for wearing on less technical ventures, I cannot recommend them for longer treks, especially if you are an ounce counter like myself. A size 12 sandal weighs 16.4 oz - that's 32.8 oz per pair! You can actually find light hiking shoes that weigh less than this. Bottom line: If you are in to fashion and looking for a cool pair of outdoorsy sandals, Chacos offer supreme fit and durability. However, if you are a weight-conscious hiker, you can find a much lighter sandal and may want to look around a bit more.
more for style than functionality
as a river guide on the colorado river, i depend on my sandals, i have never owned a pair of Chacos that have lasted more than 2 weeks. the soles usually delam or the webbing breaks. the only thing Chaco has going for them is their customer service. bottom line great as a fashion statement, but not a good technical sandal.
Athough I had to return the product I ordered, everything was done to try and insure satisfaction. The level of customer service was execelent!
I was so excited that they weren't discontinued. The Hikers Haven in Town went under many years ago and that's where i bought my first pair. I loved them but in mid Sept the nylon broke since i'd beed walking on ripped soles for some time it was bound to happen. The shoes i'd wear in the snow were runined. So i set about finding out if they were still made no matter where. My new ones aren't the same the part where your foot sits is grey not black like the old ones and the actual shoe is bigger even though i ordered the same size as before, and being a women i don't want a bigger shoe it doesn't say anything flattering about me, plus my foot doesn't fit in it the same way the arch is off and since i've always had foot issues that's not good in a shoe i had planned to wear till the snow flys. I won't wear them as much and since i didn't throw out the old ones i still manage to wear them instead since the old ones are simply a better shoe even though the left one is broken.
Nice sandal, but what's the point?
Chaco Z/1s are serious sandals, without a doubt; the soles are burly, great traction, pretty comfortable, etc. However, I question the whole concept of this sandal. First and foremost they are HEAVY, surprisingly so for a pair of "sandals." My size 12s weigh 2.41 lbs, which is more than my Keen Newport sandals (2.23 lbs) and even more than my Keen Targhee II hiking shoes (2.19 lbs)! You hear about people using these on strenuous day-hikes and even backpacking trips, but I question the wisdom of having my bare feet, especially toes, exposed and vulnerable to everything a backcountry trail has to offer (rocks, roots, holes, critters, UV rays, who knows what). The straps can chafe on extended walks so these sandals haven't cornered the market on comfort, either. Thus, I can't quite get the point; they are too heavy to carry just for camp shoes and too unprotective, unsupportive, and uncomfortable for serious hiking and/or backpacking...so where do they fit in? Even if you're an ultralight fanatic why wouldn't you wear a very nice light hiking shoe (like the Keen Targhee II) that actually weighs less, covers your whole foot, has an equally high-performing sole, and offers no less (arguably more) support and comfort? Hmmmm....if I'm missing something someone please educate me.
, ☃bcs_badge_alumni_label☃
Super light sole
My street shoe is a 10.5 but a 9 fits way good in this sandal. I use it for everything! They fit way snug for hiking so your not having to deal with blisters. The straps last forever just make sure to clean out the dirt.
These sandles are the best sandles I've ever owned for outdoor use. They stick to wet rock better then anything I've tried. I used them on a 5 day fly fishing trip where I was rock hopping over dry and wet areas all day. Things things stick like my climbing shoes do on dry rock. The strap adjustment system is pretty well designed, though the buckle did make the top of my foot sore after 3 days. All and all I would suggest these Chacos to anyone wanting a good solid outdoor sandle. (I bought my son a pair and he says the same)!
The best I've ever owned!
These things work great on rock either dry or wet. I spent 4 days fly fishing on a river wearing these sandals and am SO happy with their performance. They stick on wet rock like you can't believe! The buckle did start to annoy me a bit but not enough for me to want to remove them. The strap adjustment system is well designed and works great.
I recommend these sandals to anyone wanting a sandal that can perform in many different conditions.
The new Diamond Stealth Sole is awesome, the gription is amazing, just doesn't slip!