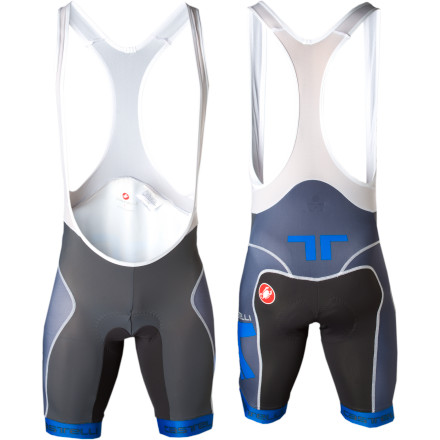 Detail Images
In the realm of relentless, grinding climbs, the Mortirolo is one near the top of the list. It has an average gradient of 10.5% for over 12 kilometers. It's a crushing climb by any standard and is touted by many pro cyclists as the most difficult climb in any of the three Grand Tours. The Castelli Mortirolo Bib Shorts capture much of the subtle splendor you'd expect from a name like Mortirolo.
They're part of Castelli's Podium collection, and they're styled to match the rest of the Mortirolo lineup. What you'll get is a contemporary design, but one that is timeless to ensure your kit will still be just as stylish next season.
The Mortirolo Bib Shorts are built with a seven-paneled design to mimic the muscular shaping of your legs, and Castelli uses flatlock seam construction to ensure a sleek, comfortable fit without irritation. One detail that we really like is the low cut front panel that facilitates natural breaks if you're an over-the-top kinda guy. And if you prefer it out-the-leg, then it's worth mentioning that these bib shorts don't use gel grippers on the leg cuffs. This makes them comfortable and super easy to get on and off. Castelli uses a doubled lycra cuff here instead. The bib straps are stretchy mesh and disappear underneath your jersey.
The Castelli KISS3 pad features triple-layer, multi-density foam to absorb road vibration, and it offers a velour elastic antibacterial surface fabric to reduce the possibility of saddle sores. The seamless construction ensures no hot spots or irritation and provides an anatomic molded shape.
The Castelli Mortirolo Bib Shorts are available in six sizes from Small to XXX-Large and come in three colors -- Acid Green, Black/cyan, Black/grey. Please check the dropdown menu for availability.
Contemporary, timeless design ensures your kit is still in style next year

Four-paneled, flatlock-seam construction offers a sleek, comfortable fit without irritation

The Castelli AC (Active Cushioning) pad features triple-layer, multi-density foam for vibration dampening

AC Pad offers a velour elastic antibacterial surface to reduce the possibility of saddle sores

Seamless AC pad provides an anatomic molded shape to eliminate the bulky feel

great looking bib but.....
Bought a size L and overall happy with purchase but I have one criticism: the straps of the bib are too narrow and not wide enough. I feel that they bunch up. Perhaps this is because I should have purchased an XL. However, they fit nicely everywhere else. Very comfortable to ride in them and feel like a 2nd skin. Love the fact one can go the bathroom without issue. Colors are versatile so they go well with a variety of different jerseys. Very happy with purchase.
Good sale price but the pad is nothing to get excited about.
These were my first pair of bibs and for the price, at least the "regular" price ($219.95), I wasn't blown away. I'm a standard medium but I followed the advice from the other reviewers and bought a large. I'm 5' 8", 160 lbs, 38" chest, 31" waist. On my build, the waist fits great, the straps feel snug but don't dig into my shoulders, and the legs are good and tight. I've always had a problem with leg grippers digging into my thighs so I was specifically looking for something more like a band. Even with these, it's still a little tight but not uncomfortable. Sizing up to an XL would definitely be to big. The material is very thin (beware of Velcro!) and breathable; a plus for the summer months in the SE. My only complaint is that the padding seems a bit lacking. I was starting to get hot spots around my sit bones after 30 miles. Usually when an item is made exclusively for a company, something is changed to make it more of a "value." These shorts are designed a lot like the Free Aero Race Bib Shorts but I'm guessing they used a lesser quality/older seat pad. Not all of the seams are flatlock but I haven't experienced any chafing from them. Looks great with my Louis Garneau MTB Equipe Jersey (LGN0314) for an extra road kit.
i am a lanky 6'-4" . 230 pounds (i don't...
i am a lanky 6'-4" . 230 pounds (i don't look it) with a 35 to a 36" waist ... i used to wear 3xl (7) . i am now more comfortable in a slightly tighter bib - 2xl (6) . i don't have any castelli bibs but i want to try a pair ... anyone my size ? what do you think 2xl or 3xl (i hear castelli runs 'small')
thanks :)
Jeff
Im the same as you size wise and run the 3xl in the bibs.......body paint was to snug for me and some castelli bibs are low at the front
I prefer the velocissimo and the podium out of the ones I own !
hope that helps
thank you : win4845091
how about inseam length - i prefer a longer short . probably because i am tall ... any comments on length ?
thank you !
happy riding
Pretty good kit except...
The main problem I had with this kit was really the lack of details for the matching colors. The bottom is at least 2 shades lighter than the top. Other than that the chamois was very comfortable for me only my commute to work. Again sizing was ok for me. Cool for my first set of matching kit.
Great shorts - colors not as described
These are great bibs. Would have given them 5 stars, but for 2 issues:
1) As a kit, these don't match the jersey very well. The colors aren't really black at all, but more of a gray. The pictures - on this site and mine - make the front and side panels look darker than they are. They're definitely a bit lighter than shown.
2) The front does dip down pretty low. I tried on several jerseys with it & they all were at risk of flashy a little skin if I stood up or took a deep breath.
...had to return them because the fit was a little bit awkward. I got a size L, which was definitely my size, the right tightness without affecting my ability to move or my circulation. The straps were placing too much strain on my shoulders (long torso?) and the front opening started a bit too low for my liking (this does not happen with the other bibs I own). When pairing it with a XL Castelli jersey from this same kit, it would show some skin if I were to stand straight and I did not find that nice. Maybe it was combination of both the jersey being too short and the bib being too low. As far as the padding, It seemed adequate even though I did not have the opportunity to test it in a ride.
Fit is the same as all podium bibs and the chamois is excellent for me. It is less bulky and smaller than the aero race or body paint, but more comfortable, again for me. The leg opening is tight and does not have gel grips which is a nice feature. I always use castelli sizing and get a tight comfortable fit. 6', 155, 30" waist, skinny and all mediums fit fantastic. These are a very nice looking tight bibs and not obnoxiously castelli branded. I use these on rides from 30-100 miles and on a trainer as well.
I had a pair similar to these in a medium and I felt like they were a little too tight so when I purchased these I went with a large. Definitely a perfect fit and they are still tight like I wanted just not cutting off circulation. I'm 6ft and 160lbs. The chamois had to be broken in but after about 80 miles on them they felt great. Definitely looking to purchase another podium style in the future but unfortunately the bormio isn't available.
Got these on bonktown for a little over 100 dollars. Nice chamois and good fit--I'm about 195 lbs and 6'3" and I took an XXL. The shoulder straps felt a little uncomfortable when I put them on the first time but you don't really notice it in the saddle. The bibs are incredibly low cut in the front, which seems weird at first but makes peeing pretty amazing.
Wow! Full zipper provides ventilation....
Wow! Full zipper provides ventilation. Sounds great, might resolve that stinky sweaty problem, but wouldn't I risk an indecent exposure citation?
Not in Europe, they're much less self-conscious over there . . . but here in the US be careful if you ride around any minors!

I'm not even sure where the "full zip" would go on a Free Bib-there is so little fabric in the front as it is.
True to size...I'm 5'9", 150lbs. Padding is thick and comfortable. Great for long rides.
I'm 5'9 155lbs and I wear mediums in PI and took a chance with mediums in the Castellis. The are a little tight in the legs, but the length is about right. I think a large would have been too big. Compared to PIs, there is less padding in the front of the chamois and more in the rear. So far, I really like them.
the fit is nice and styling right on...my only dislike was the amount of padding in the chamois....way to much. I actually removed all the padding and us the bib for outer layer. Otherwise nice fit.
These Shorts are awesome! Definitely the best bib shorts I have had. The material and padding is great. Order one size up. I got the matching jersey with it and the outfit looks awesome!
First off, these were my first castelli purchase and my first pair of bibs, but I have been beyond impressed with them. I don't even bother with wearing my old bike shorts anymore. My experience is limited, but I strongly recommend these. You will definitely want to size up. 5'6" 150 and went with mediums.
These bibs are super comfortable. The material is soft and flexible and the non-grip leg bands are amazing. As other reviewers have said the cut is quite low, but not so much that my stomach shows or anything. I'm 5'11 and weigh about 215 pounds. I wear L bibs in pretty much every other brand and the XL fit great. Only 4/5 stars because I was expecting a little more out of a bib that retails for over $200.
Love my first Bib Shorts!
I never wore Bib Shorts before and I was apprehensive to purchase my first one... I mean, Rick Steiner? I'd look like a professional wrestler in these things! However, after one ride, I can see why cyclists wear these instead of any other type of pants.

I saw at a local cycling store Bib Shorts selling for double the price and half the quality. I got these off Bonktown for $109.99 and they were definitely worth it!
Excellent high end shorts
I bought my first pair of bids 6 years ago and now think that bibs are the only way to go. One of the drawbacks to bibs is when you need to wizz. The Castelli bibs have a lower cut in the front so whizzing is easier than any other bibs I have owned. The fabric at the bottom of the leg is more comfortable than rubber gripper types and do a fine job of holding the shorts in place. The chamois is first class. My wife teases me that the lighter colored fabric in the front points to your "you know what". Maybe that's why I bought them.
Awesome shorts at a price that can't be beat!
Ok so I've only been on one 40mi ride with these but I can already tell they are of high quality and much more comfy than lower end gear! For $100 and some change these bib shorts (on bonktown) are a great deal, you would get crap spending that much at a bike shop or any where else. Love the chamois!

I'm 5'10", 160lbs and the mediums are pretty tight but fit well. Definitely euro sizing but a large size would have been big on me
My new favorite bibshorts
I absolutely love these shorts. They are Italian sized. I'm 192 and 6'2" and I typically wear L in Pearl Izumi and the XL Castelli fit me race tight. I rode in them 110 and miles this weekend and I fell in love with these shorts more after every mile. They conform so well that I hardly knew they were there.