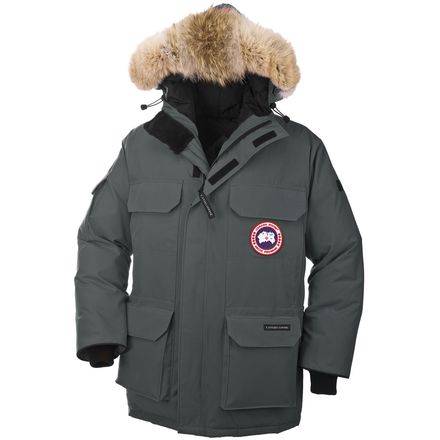 Detail Images

Videos

Community Images
Description
Canada Goose: Ask Anyone Who Knows.
The Canada Goose Men's Expedition Parka is the original, undefeated champion of extreme cold-weather utility jackets, and its quality and warmth are simply without question. After over 20 years of use by the National Science Foundation at Antarctica's McMurdo Station research facility, the Expedition Parka has proven its worth in the harshest, coldest environments on the planet. With its Teflon-coated Arctic-Tech fabric protecting the super-high lofting, 625 fill-power duck-down insulation within, this parka is designed to let you operate in total comfort, well into sub-zero Fahrenheit conditions. Four front cargo pockets and two sets of fleece-lined handwarmer pockets provide space for every glove, hat, and instrument, with room to spare. These, plus a down-filled hood, freeze-proof genuine coyote-fur ruff and interior snow skirt are just some of the features setting the Expedition Parka far, far apart from its many imitators.
I am a student in Switzerland. I wish to purchase a Canada Goose Expedition in white color, but I see on the list that you are out of white color for L size.
I would like to know if you ship the product to Switzerland and
are there any ways(such as other web page, Getting more stocks) to get White color of L size.
Jiho,



We do ship to Switzerland, but we cannot ship Canada Goose to Switzerland. Some brands restrict us from selling their products internationally and, unfortunately, Canada Goose is one of them.



Email me directly, if you have any other questions.



Emily Jenson

Expert Gearhead

ejenson@backcountry.com

801.746.7587
Canada Goose Expedition Down Parka
my boyfriend is 6' tall, and 135lbs, he is super skinny! What size do you think I should get for him?



WY
Hey Weiyi,



I would recommed going with the Medium in the Expedition Down Parka but he might better suited with one of the slim fit Canada Goose Parkas like the Langford (Item # CDG3340) or the Chateau (Item # CDG0101). Feel free to contact me directly with any more questions about Canada Goose.



Kyle - Expert Gearhead
Excellent parka
Familiarity:

I've put it through the wringer

Fit:

True to size
I work in northern Maine and Minnesota, so I needed a warm coat for this winter....I'm 5'10" and weigh 225 but have a large abdominal wall hernia from a botched operation...the distribution of your weight is important....I bought a XL and it fits well but is certainly not too big across the middle.....the coat itself in spectacular...my only issue is the zipper....since it's a Canadian product, the zipper is "backwards" for us in the US...and for whatever reason, I have a heck of a time getting the zipper slider to mesh with the lower chain teeth...it sometimes takes me 3-5 minutes to get the darn thing zipped up....when the temperature finally moderates, I'm going to send it back and see if the zipper is malaligned somehow, but I worry that it just might be my "hamhandedness"...otherwise, great product!
I bought this jack for my grandpa ~ he always wear size Xl in China but i knew the amercian size is bigger that chinese one , so i bought this jack on size M unforunte still a little be bigger ~ bad luck far away for return ... So i just bought a other one ~ YOu qiang ren xing we call this situation !b
Love it, but kinda embarrassed
So, after discovering what this brand was, I brought the Expedition PBI Special Edition. (Royal Blue)This thing is a beast. It was the only one that fit me; I'm 6'2" and three hundred pounds, so I stand out. Here's the thing, I realized that everything that everyone wears are like the normal understated jackets. I am literally the only one in my city with this damn things. 900 bucks is a lot and most times people can tell that something is well made, but not know the cost. This thing is well made, and you can tell it cost a lot of big bucks and that's were my embarrassment comes in. Yes, it keeps me warm. Yes this will probably be the last winter jacket I buy. Yes I'll probably pass this down to my kids, but it is FAR from understated.
I ordered a Medium size based on the sizing chart (after reading the many reviews and responses regarding sizing issues) ............. based on my experience ................ you can use the "sizing chart" ........... HOWEVER ORDER ONE SIZE SMALLER.



So now I will have to send back the medium and wait for the small as I freeze in Chicago ................. anxiously waiting to try whether a small actually fits properly or whether it will take another reorder to properly fit..............currently not pleased with the process of relying on the sizing chart when so many messages have been posted that the product "runs large"



Other than the sizing issue I am very pleased with the quality and warmth of the jacket.
heres the deal about sizing
Familiarity:

I've put it through the wringer

Fit:

Runs large
after plenty of tries and research and owning 5 goose jackets ive come up with a sizing chart that could help..i'm 5'11 170 i wear medium in clothing

for a good fit

the loose fitting like exped-resolute should downsize 2 sizes (xs for me)

for the regular fit like chilliwack downsize 1 ( small for me)

for the slim fit like banff-langford-chateau true to size (medium for me)

if you want to multi layer or like a loose fit then just upgrade 1 size

ex small for exped-resolute

medium for chilli and large for banff-langford-chateau

hope this will help!
Best Jacket Ever
Familiarity:

I've put it through the wringer

Fit:

Runs large
Love it, period !!!
I purchased the XL Expedition and it is huge. I normally wear an XL in everything, and yet most of my jackets still fit tight, as I have a big chest. If I pull this jacket together at the front and continue pulling it across me (past zipping it), it overlaps by about 1 foot past the zipper. I sent it back and I am awaiting receipt of a Large. After reading other reviews, I'm scared that I may find that the Large is also too big. I really hope not, but I just couldn't imagine having to go down in size further. I guess I'll find out soon, as they received the one I sent back this morning. I'm really looking forward to getting it, as I can't stand the cold temperatures, and this is one incredibly warm jacket. I did stand in my driveway for well over an hour at less than 10 degrees just to test it out the night I received it, and there wasn't even a hint that it was cold out. I only wore a short sleeve t-shirt to try it out. Actually, when I took it off, I felt the inside of the jacket and the inside of it felt like it just came out of the dryer. I think it will be well worth the $'s once I have one that fits properly.
6'1", 210# = size small (seriously)
Familiarity:

I've used it several times

Fit:

Runs large
This is turning out to be one of the top 5 purchases I've ever made. It's an amazing product, but there are plenty of reviews about that. I really struggled with size, and here's how it netted out for me.

I live in UT so I was able to go to the Backcountry warehouse and try on both the large and the medium so I could make sure of fit. I was blown away that the medium was too big. It would have been ok if I was planning to layer quite a bit under the coat, but that's just not necessary. I ended up ordering the small (they didn't have it in the UT warehouse) and it fits great.

I'm 6'1" tall with a 44" chest (I wear a 44 regular suit coat) and I weight approx 210#. Again, the small fits great.
Excellent quality!huge size!
Familiarity:

I've used it once or twice and have initial impressions

Fit:

Runs large
I love it!but it is too big.
Another size review..
Familiarity:

I returned this product before using it

Fit:

Runs large
I'm sending my second try of this coat back and am going with a different model. The quality is excellent, no issues with workmanship, but this coat is HUGE. I'm 6'1'' 194lbs., got the large originally, and it swallowed me. Sent it back got the Medium and while it fit in arm length, it's still just a mammoth of a coat. Bottom line the coat is very bulky, even with the right size, you will look like Cartman... I live in Fairbanks, AK and will definitely use the warmth, I just think there may be another model that suits me better. Also, for all the Alaska people.. no return shipping help on any gear from Backcountry. The first coat I returned cost $30. This one will probably be the same.. Good luck! I rated it 4 stars because this is the coat for somebody, no doubt. Just not for me.
2015 CANADA GOOSE EXPEDITION PARKA
Size Matters
Familiarity:

I returned this product before using it

Fit:

Runs large
Ordered this coat online and was so excited to receive it. The quality is exceptional and the order arrived very promptly. Unfortunately however, I had a problem with the size. I am a big guy and normally purchase coats that are XXL. Per advise from previous reviews, I decided on the XL since it sounded like the jackets run large. When I went to try on this beautiful coat I immediately enjoyed the soft down interior and comfortable cuffs. Unfortunately, this jacket was HUGE. I would have to probably try size L --Maybe even M-- next time. I
Warm Coat for the Bitter Cold
Gender:

Male

Familiarity:

I've put it through the wringer

Fit:

True to size
This coat is excellent for extreme cold and very low wind chills. I've had the coat for a year and live in Upstate New York. The temperatures have been at zero and below, with the added bonus of 20 below wind chills. The coat works very well and is sized for layering (i.e. underwear, shirt, sweater, fleece, then the coat). The hood is excellent and the Velcro closures work well.
Great jacket for living in the polar vor
Familiarity:

I've used it several times

Fit:

Runs large
Where to start. First a big thumbs up to backcountry. I was wary on the size I should get. I was hoping to use it for an upcoming trip. I was purchasing on a Wednesday and leaving on Saturday for my trip. The person I worked with hooked me up with free return shipping should I have an issue. On Thursday it arrived, 1 size too large. I spoke with another rep who gave me express shipping on the next size down. Mind you I called Thursday night EST. He had the replacement at my house Friday morning ( I have no idea how they pulled that off] The backcountry staff are great. Now for the jacket.

First off its a warm jacket. I asked a friend who did research work in Antarctica her opinion. She said go small on the sizing as you wont need any additional layers. She was right I basically wore a t-shirt under it. Avg temp where I was hovered around 10 degrees F. On the sizing, you're going to want to trend towards the smaller size. According to Canada Goose I'm an XXL. I ended up getting the XL, but I could easily go to an L. Not sure why their sizing isn't "true". Anyway it's kept me very warm, has lots of pockets and seems very durable. I'd highly recommend it.
This jacket has everything. I am BIG. 330 Pounds plus. Had to send back several competitive products. This was the most expensive by far but worth every penny. So impressed I bought a comparable Women's model for my wife who is also delighted with the purchase.


Unanswered Question
I need to get two Expedition jackets (one...
I need to get two Expedition jackets (one Men's S, one Women's XXS) in Sunset Orange. Is it possible for you to special-order them for me? There isn't a broad range of colors available here...