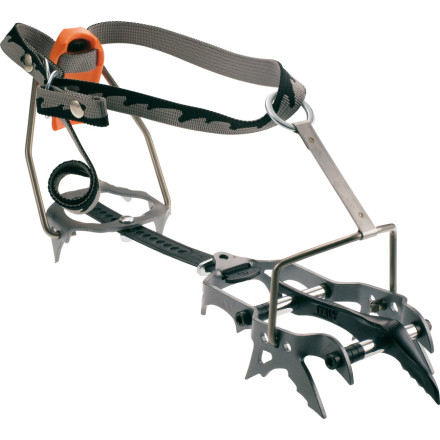 The CAMP USA C Comp Crampon's aggressive design handles the steepest ice and mixed climbs with ease. Forged steel construction takes years of abuse, and the front point can be replaced when you wear it down to a nub. CAMP added a small secondary point to this crampon's mono-point design to give you better purchase on ice without compromising mixed climbing performance.
Front point adjusts by length, angle, and orientation, and it can be fitted as a dual point, depending on the type of climb
Vertical framed forefoot creates a powerful platform for moving up the ice
Small inner spike and optional heel spur allow better options on overhanging ice; heel spur sold separately
Crampon case included
What do you think about this product?
Have questions about this product?
Sweet for all things non-alpine
I have a variety of crampons depending on the activity but when I'm ice cragging or climbing non snow mixed lines this is the one I grab, Vail, Loch Vale, Ouray, Camp Bird. The front point is accompanied by to small side points which give you stability when you need a little more grip but don't empair on the front points ability to grab at the smallest flakes or cracks when dry toolings. Also the frame is super rigid and I haven't had any issues with bending or flexing no matter how hard I crank on them. The only reason it doesn't go to the Alpine is the small heel and no bailing plates.