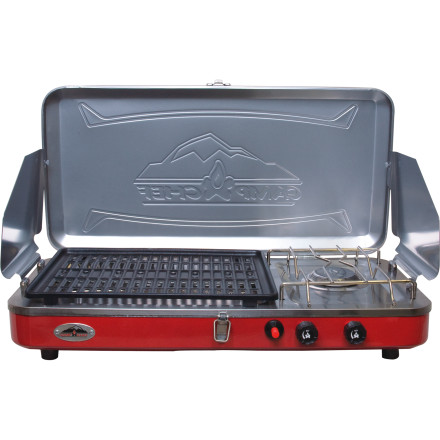 Detail Images

Community Images
The Camp Chef Rainier 2 Burner Grill/Stove Combo lets you grill up some tasty, juicy morsels of flavor on one side of your stove while you stew up a pot of steaming, hot deliciousness on the other.
The elongated, 8,000-BTU burner under the grill and the 10,000-BTU standard burner give you plenty of heat to sear your steaks just the way you like them
Stainless steel drip tray makes it easier to clean up all that meat juice
Push-button ignition means you won't have to mess with matches
Micro-adjust valves let you get the perfect temperature; your camp food might turn out better than your at-home food
Non-stick aluminum grill is easy to cook on and easy to clean
The sturdy carrying handle is built in to make packing and unpacking simple
Cooking like you're almost at home
Familiarity:

I've used it several times
This stove can make you feel like you're almost cooking at home on the BB!Q or stovetop. It burns really hot, ignites very easily, gives you the ability to grill whatever you want and is reliable. The steel closure is a great feature to keep the stove from unfolding when you don't want it to. The propane hook up is pretty easy to connect as well. I would definitely recommend it to step up your car camping game.
I just took it car camping this weekend and have to say I love it. Easy to use, light and easy to pack. The ignition is consistent. Def. has a lot of heat to it, so stay on the lower setting. Worth the money!
Solid Stove, Compact Car Camping Stove
Solid stove overall, packs down easily and it does what it's supposed to do.

Lights easily, sets up quick and the flame control seems relatively consistent. Glad I picked up the grill/stove version, you can keep coffee brewing on one side and breakfast on the other. Non-stick works fine in my experience and haven't experienced the flaking mentioned below.

Only complaint is that the fuel line / threaded interface can be a bit of a PITA to get right the first couple of times. Operated plenty of stoves previously without issue, but this one appears to be a touch finicky.
I purchased this stove for a week long 4 wheeler trip. The stove is very compact and can be used in many ways. I have used the stove for many spur of the moment cook outs and have not been disappointed.
I took this stove up to Yellowstone for a 3-day camping excursion and it performed excellently. It's small size makes it very packable, but it still cooks like a backyard grill. It was very easy to clean up after cooking and super durable. I will be taking this bad boy on many more camping trips to come!
Picked up this stove last week and took it out for testing on a 4 day trip in Acadia National Park. Overall an alright stove.. It cranks out plenty of heat. Cooked chicken, burgers, dogs, bacon, eggs for two all with no problem. Flame control was pretty easy. I'd recommend using the lowest setting for most food types.

The stove performed well with the exception of two things. The electronic ignition system is unreliable. It actually lights a flame maybe 50% of the time. I've found myself using a match most of the time to get it going. The instruction manual states that if the stove doesn't fire up in 5 seconds, to wait 5 minutes and try again. But when you're hungry after a day of climbing who wants to wait any longer than we have to for a hot meal. So make sure to have a secondary ignition source.

The second issue with this stove is the non stick surface on the grill portion. It works very well as none of the meals cooked stuck to it. However on the last morning of use a portion of the non stick surface came off and exposed the metal underneath. Seems odd that after 3 days of use the non stick surface would come off. It could be an isolated incident. I'll be contacting Camp Chef direct to see about a replacement.

Other than that not a bad set up.