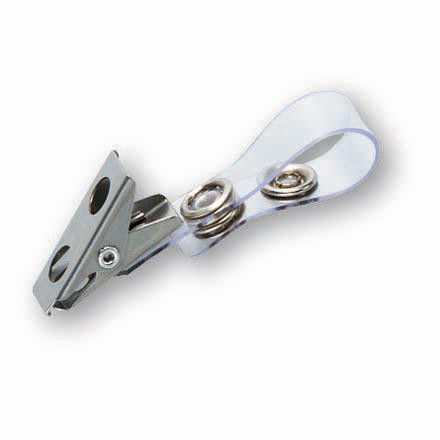 Description
Look ma, no hands!
The CamelClip holds your hydration packs's delivery tube near your mouth by clipping onto your clothing or a strap. Hydrate while on the move with this handy clip.
Does the job....but pointless.
Familiarity:

I've used it several times
It is not necessary at all, but just a neat feature.
This is a great thing to hold your tube in place but you can find them much cheaper without the CamelBak name on it. I have seen them at discount stores for about a buck.
Better than the new ones!
I have been using CamelClips for years. After buying several of the new plastic ones I was disappointed - they work OK on some applications but this "older" metal clip design is much better. I even called CamelBak and told them about it. Buy them while you can.
It doesn't look like the picture. Good to have since they don't make the other tube clip for my camelbak (the one with the wider strap). Every time i buckle my boots, the tubes always happens to squeeze itself between my chest and my tights and the gatorade starts to leak out. Now that I have the clip, it doesn't happen anymore.
Design change makes product WORTHLESS
The metal clip is now made of black plastic. This clip DOES NOT WORK!!! Do not purchase this new clip! you will be wasting your money.
Yes you can find it in the bins that are at the exit of convention centers, but still very useful. Way better than the black plastic clip which is good to keep the tube on the shoulder straps of the backpack, but with the clip, you can choose the place you want, and cherry on the cake, there's a bigger amplitude of movement for the tube which rotates around the metallic clip
Whether you can find this at WalMart or not, this clip is a lifesaver! It kept my hose/bite valve in place so that water was always available. My husband didn't buy a clip, and I was constantly handing his to him. Well worth the money!!!!!
Um, isn't this the same clip that's on my...
Um, isn't this the same clip that's on my security ID badge at work?
Almost all of the Company I.D. badge clips work perfectly. I have seen them at large discount stores and Office Max and Office Depot sell them for around a buck or so.
I have a drawer of these! Maybe I should market them as superior to Camelback and price them at a 400% markup!!! Huhmmm$$$$$$
These things cost about 10-25 cents at Walmart...
But I typically just let the hose hang lose through some elastic band down my shoulder strap. I guess in my particular situation I could have done without.
This camel clip works well for keeping my bladder hose from going backwards across my bag where I cant reach it. Still haven't played with it enough to get it in the right spot where I can drink at ease, but not have the hose in the way. A nice accessory to experiment with.
, ☃bcs_badge_alumni_label☃
small yet important
Nothing is more annoying than your hydration hose hitting you in the face when running or mountain biking. For such a cheap price it is definitely worth it.