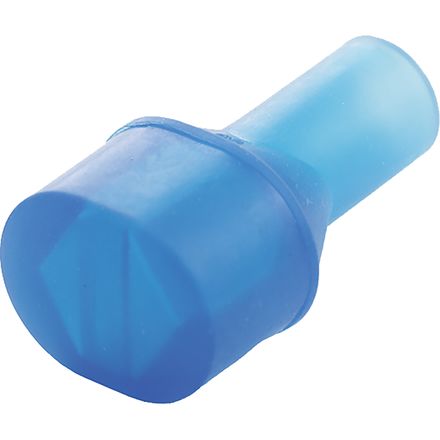 The new Big Bite Valve Mouthpiece delivers Hands-Free Hydration and is ideal for high-performance situations. It has the same feel and simplicity as the original with more than double the flow (100% more water with each sip). Fits any standard CamelBak 3/8-inch (10mm) delivery tube.
Decent durability
Familiarity:

I've put it through the wringer
Picked up a couple of these to replace the aging bite valves on reservoirs that my wife and I use pretty regularly. I'm happy with how long these last before starting to get funky or leak - we had one that started to leak after about 4 years and another that fell victim to an over-zealous rodent on a recent backpacking trip. These are easy enough to clean - I usually just rinse with hot water, only occasionally use soap, and make sure to take them off the hose to fully dry. I've gotten mildew in them on occasion, but a quick flush with soapy water takes care of it. They have a bit of a rubber taste when brand new but I've found that it wears off after a couple uses.
Can this mouthpiece fit the Nathan Sports...
Can this mouthpiece fit the Nathan Sports Intensity race vest? I am reading differing tubing diameters online...it appears that my Nathan tubing is 10 mm OD (eyeing it w/ a ruler)...but I've read CamelBak's tubing is smaller. Can you verify that this mouthpiece will fit 10 mm OD tubing? And has anyone successfully used this on a Nathan Sports race vest?
Best Answer
Lindsey, I put a Camelbak valve on the tube of my Nathan HPL #020 hydration vest and it works great. I just pulled it off an older Camelbak reservoir I had when the Nathan valve broke. (The Nathan valve is a DAKINE valve and, in my opinion, is pretty worthless.) The Camelbak valve I put on was not the Big bit valve. It was one with an insert that slides into the tube. It works great so I am guessing the inside diameters of the Nathan and Camelbak must be pretty close - close enough that the Camelbak valve fits snuggly with no issues.
Get a new one
Familiarity:

I've put it through the wringer
My brothers Big Bite Mouthpiece broke after a few years of extended use and needed a replacement so I got him this one. Works great! Put some "special" lube on the hose and let it slide right into the mouthpiece and let it dry. ;)
I had a camelbak for several years with the bite valve and it worked great for a few but right as I hitting the trail a while back it broke. It kinda cracked in half like it had been soaked then dried one too many times. not sure if I didn't follow some sorta maintenance thang, but anyways I recommend a valved mouth piece. PS it leaks after a while as well.
May or may not be an improvement
I got this thinking it was better than the one that came on my new Camelbak, but I think its the same. No big deal, not bad to have an extra.
Even though camelbak bladders work so well, eventually the mouthpiece will wear out and leak. Instead of buying a whole new camelbak reservoir, this big bite valve mouthpiece is the perfect solution. I recently carried an extra one with me on a week long hut ski trip.
If you use your camelbak a lot, the mouthpiece wares out and starts leaking... this solves that problem perfectly!
Bite valve seems completely sealed shut
Just got a Camelbak Groove water bottle and the bite valve seemed to be completely sealed shut with no opening. Tired to bite on it, and suck out the water like you're supposed to do, but nothing...slit it open with a knife, but that was a very bad idea because it caused the bite valve to leak water when turned upside down. Returned the whole bottle, and got a new one. Same problem! This time, however, I took the bite valve completely off, and soaked it in a glass of very hot tap water (not boiling, just hot from tap) for about 20 seconds. Then I squeezed it together, and voila, the bite value opened right up! Now I love my new Camelback Groove water bottle--delicious, filtered water!
Weather you have a hole in you valve or its just old and gross this is a great thing to have.
Sometimes you need to replace the mouthpiece because you somehow got a hole in your old one and it is leaking all over the car and on the trail! Buy this replacement mouthpiece so you don't have to buy a whole new bladder! Use some adult lubes to easily slide the mouthpiece onto the hose. You know how its done! ;)
I just bought a new camelbak 750ml bottle...
I just bought a new camelbak 750ml bottle with the flip valve. When I took off the plastic on the bit valve I see that the bite valve has no slit... is this a defect that commonly happens? Am I supposed to cut this myself? I dont' have the receipt and already took off and threw away the tags, washed it and filled it with water before I notice so not sure I can return it now.
Bite valves come that way, just chew on it carefully and it should split open normally.
This is a great improvement which allows for more flow. Works on any standard CamelBak tube.
I have a question. How much is this product?...
I have a question. How much is this product? Can I buy it on this site? And where can I find a pck of like 5 of these? I can only find singles and they are $6.00 and that seems like a lot of money for 1 Mouthpiece.

Thanks
Jesse
Jesse, I have only seen them in single packages.
Good question. I'd much rather buy a few at a time and save on packaging and price.
Jesse, here is the item number for a 3 pack on this site..Item # CAM0478 ,for $11.95
Simple, Solid, Mouthpiece
Great replacement. I have found that if you are using these in cold temps this is a lot easier to clear ice from than the bite valves with a open/close switch on them. Overall great and Simple replacement.
This is why Camelbak dominates
I have used a lot of hydration systems, camelbak and non-camelbak. There are two things that keep me coming back to camelbak over and over.
1. Non-leaky Bladder
2. Their bit valves - These things have to take a lot of abuse before they will leak and I don't feel like I am going to suck myself into the bladder when I am trying to drink. The wide mouth allows me to drink comfortably, which is a huge advantage if you have ever used a bite with poor flow.

This is the only way to go when looking for a bite valve.
"The Standard" in bite valves
Pretty simple bite valve. Works well. Plastic does not taste funny. It's hard enough not to bite threw and provides an adequate life span. No complaints. Added bonus, it is easy for the dog to drink out of too.
Is the mouth piece screwed on?
Is the mouth piece screwed on?
Best Answer
Just presses on. Use a drop of dish soap as a lubricant and it'll slide right on easily. Rinse out the valve and tubing with some warm water when you're done to remove any excess...totally safe, dries completely, and no slimy residue or lasting taste at all.
Dude, just spit on the tip, it goes in easy. Unless you have the cover, which takes some jamming.
Long story short, often times when you're doing a paddling endurance races you need to hook a drink tube to your water source that can stretch far enough so that it will go in your mouth and let you paddle without having to hold it in your mouth while you bite down and drink. The Platypus does not allow for this b/c it's a more tough bite valve to bite down on and requires that you hold it in your mouth at a specific pressure point in your teeth so that you can actually apply enough press to get the water out.... if that makes sense. Basically I couldn't drink without using my hands with the platypus valves. These bite valves are more soft and allow for you to just put the valve in your mouth and then go hands free. I don't like the hydrolock ones b/c you have to suck a little harder.
Replaced one I lost when I left my Camelbak bladder out to dry. Valve works better than the one on the Platypus Bladder.
How do you get CalmelBak big bite valve...
How do you get CalmelBak big bite valve mouthpiece "on"?? On the tube? or 90-degree bend in CamelBak's Ergo HydroLock? I've tried to push the mouthpiece on the tube and the 90-degree bend, dry and wet. But it will not work. I've tried twisting the bite on the tube....but it seems it will not work. How do you put on the mouthpiece on?
Best Answer
I had to work with mine for a while and after a lot of frustration and a couple of big, deep breaths I just wiggled and twisted it enough to get it on there. They're great once they are on but they can be a pain in the hiney to get into position. Keep in mind that it won't work directly on the tube.
you might try putiing it in hot water until it softens up. that has helped with tubes in the past.
As Phil posted in another question, soap works great as a lubricant and washes off easily.