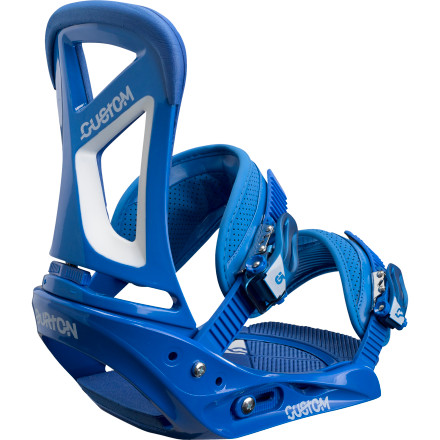 Detail Images
If you haven't heard of (or ridden) the Burton Custom Snowboard Binding, then you obviously haven't been riding long. That's OK: better late than never. The Custom has been around for years and Burton has been making constant improvements the whole time. The mid-soft flex is just right for park rats, pipe junkies, all mountain riders who want a playful, surfy feel, and folks who are just starting or just hitting their stride as snowboarders.

Super-tough, lightweight polycarbonate Adjustable gas pedals allow you to dial in your toe-edge response while reducing toe drag
Rotatable highbacks allow you to dial in heel-edge response and enhance tweak-ability
Telescoping straps let you get your fit exactly right for greater comfort and response
Winged highbacks give you greater leverage for spinning, pressing, and buttering
Living Hinge highbacks eliminate hardware and let you adjust forward lean and rotation independently
Progressive flex construction targets flex specifically for optimum response without grabbing
True OTT highback padding eliminates pressure points
not my cup of tea
Familiarity:

I've put it through the wringer
just wont hold up to the abuse i give them outside of the park. if you are just getting into snowboarding (not really any big air) than these will be just fine. but for pow or anything besides groomers (not super fast) and jibbing, you will find these bindings somewhat lacking in support and stiffness. the ratchets held up fine for me and the binding stays together very well. i just wish they were a little stiffer.
Super flexy but didn't like them
These bindings were not at all what I was hoping for. They are way too flexy to ride all mountain and the ratchets were always difficult to get down. The ratchets also come loose on every run and you have to constantly tighten them back up to where you want them. Would not recommend these
Just bought these, hope they're good. Like their looks on my board, they click in,on the back, which is a pain to close. Their amazing though
A solid, straightforward binding...
There are no gimmicks involved in this binding. It seems like the only time you give too much thought to your binding is when they are giving you trouble. You will not have to worry about that with these binding, they are just a functional piece of hardware that you can chuck on your board and enjoy!
Definitely a good set of bindings overall. I got the 2 years previous model and I like them for the most part... I ended up trading them out for a set of Union bindings mainly because I wanted a toe strap style of bindings as apposed to over the top of the foot style. I did have one minor issue with these and I think it could be attributed to me being new to the scene but I had an issue with right toe/lower strap ratchet stripping out the plastic part that you insert into the ratchet. I could never seem to get it tight enough. That was my only beef with these. Again, I think it was partially my part.
i have been riding for 8 years and these are my favorite by far. I got em last year and they are my first set of high backs. these things have some much control and adjustability. these things are great for the price and recommend them to anyone
Surfy, reliable, and capable
For the progressing rider looking for a soft, surfy and playful binding. The Custom features trickle down tech in the form of FullBED cushioning and the Primo Capstrap combined with ergonomically canted hi-backs enable it to ride comfortably at any ability level, in any condition.
Burton Custom Binding Lab Testing
A glimpse into the abuse Burton bindings like the Custom endure in Burton?s testing lab.

Enjoy!


Burton Bindings: Lab Testing
A glimpse into the abuse Burton bindings like the Custom endure in Burton's testing lab. Enjoy!
Surfy, playful, and capable
For the progressing rider looking for a soft, surfy and playful binding. The Custom features trickle down tech in the form of FullBED cushioning and the Primo Capstrap combined with ergonomically canted hi-backs enable it to ride comfortably at any ability level, in any condition
Works well
Gender:

Male

Familiarity:

I've put it through the wringer
These are the beefier standard issue Burton bindings that have been around forever. Flexy and lightweight. Great for learning and park. [Almost] everything is toolless, which is nice. Not the most responsive bindings but gets the job done decently. You will feel the need for an upgrade soon after (or slightly before) your first switch tailslide