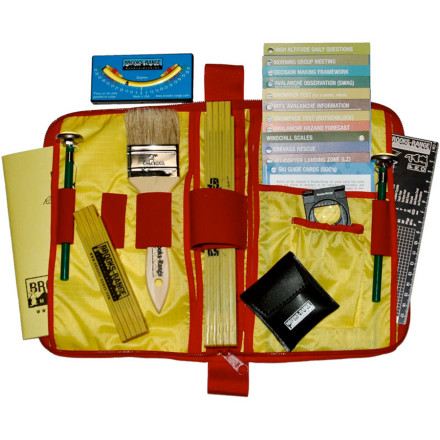 Colors
You know how to dig a snow pit, examine its layers, and see how they stack up; get into the nitty-gritty pro-level and geek out with the Brooks Range Pro Snow Study Kit. Measure the incline, watch the temps change, get a close-up view of snow crystals to see how round or grippy they are, and in general level-up your knowledge with long-term study. It's not just safe; it's science.
Fieldbook #311 allows you to write under any condition regardless of temps or wetness
Ski guide card set includes 15 cards covering backcountry safety, planning, avalanche-avoidance, and rescue
Slope meter gives an accurate measure of slope angle
2in snow brush helps clear out a snow pit
Folding magnifier X10 for up-close and personal crystal examination
2x Dial Stem thermometers provide a clear, easy way to recognize temp gradient for documentation
Snow crystal card pro features 3 textured grids for examining snow crystals and doubles as an inclinometer; backside has snow-pit-accessing 'prompt legends'
100cm and 200cm folding ruler gives precise pit measurement
Snow study organizer pro is a large, zippered organizer with pockets and loops for all these tools and more
Perfect Starter Kit
Familiarity:

I've put it through the wringer
Has all the tools required for an avalanche course, something all the other kits lack such as 2 dial thermometers and a 8 times loupe.



Case is great, fits everything perfectly nothing falls out when you open it. extremely compact so it fits in my regular pack no problem.



Buy this kit if you are doing an avalanche course and you wont need anything else except a snow saw (garden saw).
This kit has pretty much everything but the case is not great (loops don't necessarily fit the products, some are too big and some are too small). Constantly gear would fall out when I unzipped the kit (lost the altimeter). The crystal card is great, has amazing legend for analyzing the snow-pit.
Just want to learn more about snowpack? This Snow study kit has everything you need and it comes in a waterproof case. Go get your snow nerd on!