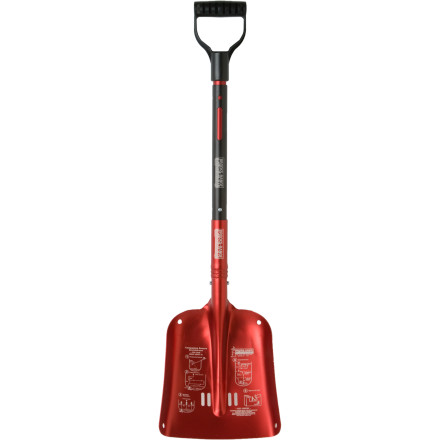 Detail Images

Community Images
With the longest shaft of any backcountry shovel, the Brooks-Range Backcountry Longneck Pro Shovel gives you the leverage you need when you perform a rescue, dig a pit, or fortify your camp. This shovel is also recommended by the AIARE (The American Institute for Avalanche Research and Education). The Pro's aluminum blade has the strength and durability needed to shovel out a victim, deadman holes allow for use as an emergency anchor, and the two-piece shovel shaft can double as stretcher bars with the Brooks-Range Mountaineering Rescue Sled.
best on market
Familiarity:

I've used it several times
got a custom with shark tooth blade, rescue slots and engraving to make it super unique. The rescue sled feature is the coolest thing I have seen in a long time and it might just save you or your buddies' butt if something goes wrong. 6 stars for sure
USA made, customizable awesomeness
Familiarity:

I've used it several times
I just picked one of these up as a new second that someone had monogrammed. Mine came with two additional stretcher bars inside the shovel, which I'm not sure that the normal ones come with, but otherwise the same burly blade, 4-option handle, etc. I love my Voile telepro but this brings it a level up. And with dozens of color options you can't mix it up with a friends, which is a nice benefit if you want to keep your shovel for life.
This is certainly the strongest avi shovel ive owned or seen. Great construction quality and breaks down to a reasonable size. Some people would complain its too large, but when you actually need it, it wont break and will move snow faster than anything else, and to me thats whats most important. Get it, it could save you or someone you care about's life.
These shovels are absolutely awesome.

I have a Backcountry Pro Compact with a D-handle, not to be confused with the Compact-Pro. Yes, Backcountry sells four different Brooks Range shovels that look almost exactly the same, but the kicker is, Brooks Range will customize your shovel to your needs. Shark-tooth or straight edge? Long-neck or compact? D-handle or T-handle? Full size or compact blade? They have a full range of colors and do the crazy Chaos anodization if you want to be extra rad, bra.

My Brooks Range shovel has the best blade strength to weight ratio of any shovel I've owned. The shaft can be used with a pair of skis and poles to make a rescue sled. The handle can be locked at 90º if you're digging laterally. It's completely customizable. They'll even monogram it for you. And all of the options (except a $3 charge for monogramming) are available for the same price!

Seriously. Look past the hype of the big brands. Brooks Range makes these awesome shovels in the USA to keep your butt safe in the backcountry. Get one for yourself. Then, get one for your skiing buddies. After all, if you get buried, you'll want them to have the best shovel available in their hands when they're digging you out.