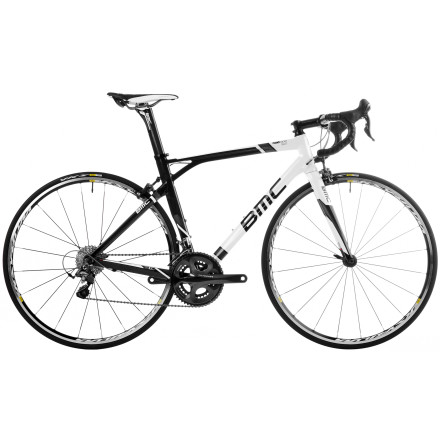 Detail Images
Whether you're upgrading or looking to purchase your first race-level bicycle, the BMC Road Racer SL01/Shimano Ultegra Complete Bike strikes the balance between quality and budget. Even better, it leaves some scratch for new gear, too. With full carbon construction, the SL01 provides stiffness under power, while still remaining compliant for comfort over the stage. BMC has packed this frame with technology, so it effortlessly accelerates, turns with precision, and dampens road imperfections. Top off those riding traits with the smooth-shifting Shimano Ultegra group set, and you're riding atop a machine that's more than race-worthy.
BMC uses its latest carbon manufacturing processes in order to fine tune the Road Racer SL01's tubing for weight, strength, and aerodynamically optimized profiles. These minute modifications allow stiffness where it's needed without causing the Road Racer to ride like a spine-jarring jackhammer. Take a look at the down tube and seat tube. At the bottom bracket junction, they're as wide as possible. Ditto with the chainstays where they connect to the bottom bracket. In fact, they're as tall as the shell -- it'd be impossible to go any larger. This translates directly to an efficient power transfer to the rear wheel.
The Road Racer SL01 also employs BMC's Integrated Skeleton Concept (ISC), where the seatstays join the seat and top tubes in a distinctive manner. Aside from screaming 'BMC' in a peloton, this design ensures that road shock is transferred into the axis of the top tube, sending stress to the strongest part of the frame -- the streamlined head tube. Here, a tapered, integrated headset houses an oversized lower bearing for the compliant, yet stiff BMC SE48 SL TP carbon fork to spin around. This combination gives the Road Racer SL01 excellent steering precision for confident tracking through fast corners.
The Road Racer SL01 has been paired with a complete Shimano Ultegra 6700 component group, including a 50/34 compact crankset and a 12-30t cassette. Other details include Easton's EA30 alloy handlebars with an Easton EA70 stem. Mavic provides the rims, hubs, and spokes naturally culminating in the Mavic Ksyrium Equipe S WTS wheelset. They're stout enough for everyday training, but aero and light enough for race day. These wheels have been mated to Mavic's new front- and rear-specific clincher tires, the Yksion Griplink and Powerlink.
The BMC Roadracer SL01/ Shimano Ultegra Complete Bike is available in the color White and in seven sizes from 47 to 60cm.