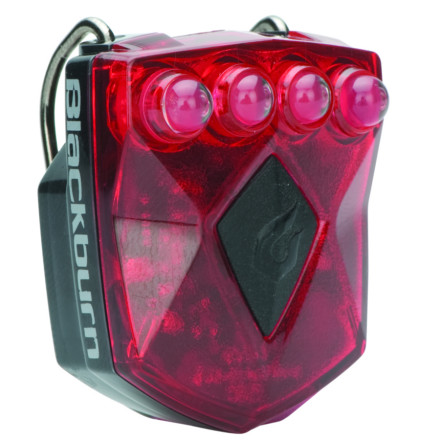 Attach the Blackburn Flea Rear Flasher Light and be seen by even the blindest most mole-eyed drivers on the road. Four super-bright red LEDs keep you visible whether in steady, flash, or chase mode. Blackburn's innovative charging system uses any standard 1.5V battery to charge the Flea Rear Flasher Light for up to twelve hours of operation (flash mode; steady mode equals six hours), making it easy to charge up at the office or at home. The convenient hook-and-loop strap attaches easily to a seatpost or your helmet, or any part of the body you want to show off, and removes easily for stashing in a pocket or messenger bag.
Compatible with Solar and 1.5V chargers (available separately)

What do you think about this product?
Have questions about this product?
Blackburn Flea Rear Light: Works well as a light but has some issues
Ok, so the light itself functions as it should and is plenty bright and visible. It has a good strap to place it on your seat post and once positioned it will stay in place. Now the downside. When the light is charged via your USB charger, it apparently picks up too much charge. So to keep the battery optimal the light will then begin flashing (there is no way to turn this off) to try and run the excess charge off. There are two ways to deal with this. First, you can leave the light on for about 20 min, then you can turn it off. Otherwise you just have to let it flash until the charge is low enough and then it will stop. Either way it's extremely annoying.

I did email Blackburn about the issue as I assumed that the light was defective. It took them almost two weeks to return my email and I was given the above explanation. I was told that this generally only happens if you leave the USB charger on past when it is optimally charged (there's a light that lets you know when it's done charging). However, I have been very careful since learning this to remove it immediately. Despite doing this the light flashes every time.

I am definitely keeping the light as it serves the purpose. But it is irritating none the less.