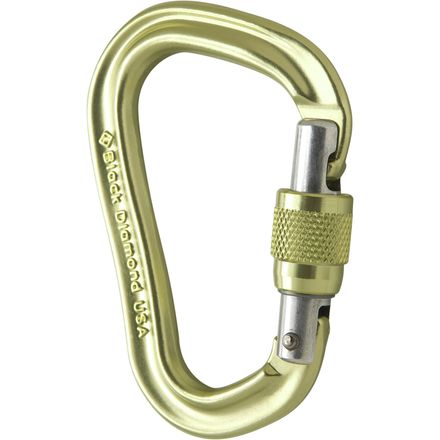 Colors

Community Images
Description
Don't stop at your rack when it comes to lightening your gear. Grab the Black Diamond VaporLock Carabiner to shave even more ounces.
The Black Diamond VaporLock Carabiner checks in at an ultralight 51grams (1.8oz) for climbers who want to make their gear as light as possible. In addition to weighing incredibly little, the VaporLock Carabiner also includes a keylock gate for snag-free operation. Black Diamond gave this locking 'biner a basket wide enough to allow you to use a Munter hitch on ropes up to 9.4mm during climbs where even the belay device seems excessive (or you dropped it).
Solid Biner
Familiarity:

I've put it through the wringer
I have several VaporLock Screwgates that I use primarily for building anchors on multi-pitch routes. I love the size and they lock with ease. They're definitely my go-to locker for pretty much everything besides rappelling and belaying–I prefer a Twistlock RockLock with my Reverso.
Obviously the VaporLock Screwgate harness will protect you, but so will every other locking carabiner. I like that it's large enough to loop my Gri Gri through along with anything else without concern. The action of the screwgate is good as well.

I think the Vaporlock is a great value for a locking biner that you'll use everyday.
Solid
Familiarity:

I've used it several times
What more can I say? Black Diamond makes great products and this carabiner is no exception. I have been using these for the last several months and there's nothing to complain about them. I've always preferred the screw gate lockers as opposed to the auto locking mechanisms because of tactile memory. The threads are not to short where you feel less safe and not too long where you feel like turning that lock forever. I will continue to purchase these as my go to locking carabiner for years to come. The only downside is that you don't get to choose what color the sleeve but that is very minor.
I've been using BD gear for years, because it's durable and trustworthy. This piece is no exception! It's a great carabiner that is secure, not too large or too small, and without feeling like a leaded weight. The locking mechanism is super easy, love the security.
Great carabiner
Familiarity:

I've used it several times
This is a great size. Not too big, not too small. The action is smooth.
Nice and Secure!
Familiarity:

I gave it as a gift but have feedback to share
The VaporLock Screwgate made the final cut into my husbands climbing gear set up. The carabiner is solid without being too heavy, and the locking mechanism is great. I feel much more comfortable with a few of these in our gear!
Great Value
Familiarity:

I've put it through the wringer
This lightweight and strong beaner will definitely be a great all around tool. Over a year with it now and minimal signs of wear.
I see no reason to purchase this piece of gear. It saves a whole 5 GRAMS over the positron screwgate 56 grams. There is a negligible difference in size over the positron locker. It is advertised as pear-shaped rather than the positron off-set D shape. Hardly noticeable difference in geometry in terms of usage. Its 21 KN strength is weaker than the positron locker's 25 KN. So, my question is: WHY WOULD YOU EVER SPEND AN EXTRA 6 USD FOR THIS CARABINER? I did. And I still don't know why... People that say it is perfect for anchors: You really prefer saving those extra 5 grams per carabiner over the extra 6 USD per? If so, you are BD's favorite customer.
My anchor carabiners
Familiarity:

I've put it through the wringer
I now have a total of 3 of these bad boys. Perfect for anchors.
Great improvement weight wise over RL
Familiarity:

I've put it through the wringer
This is the weight conscious version of the Rocklock. Its great, although I do find that with some Auto-locking belay devices like the Smart and Jul that the RockLock is far smoother.
Initial impressions
Gender:

Male

Familiarity:

I've put it through the wringer
January 2015: UPDATE: I used them round my crag in Austin and then out in Yosemite for 9 days of climbing. I have no replaced all my heavier large biners I mentioned below with these. LOVE THEM.





Original review: I bought these after a long-review of the different locking biners available. I have some BD positrons which are small and great for extending anchors, but heavy. I have some BD rock locks which I use primarily for belay. Like it but very heavy. These all worked fine when all I did was sport climbing. Now that I am hooked on trad and multi-pitch, as I added to my rack, I knew I had to think about weight. The VaporLock is what I landed on due to size, flexibility, and especially weight. I have used them belaying, anchoring, and extending anchors with slings and like it so far.
lightweight, durable, easy tu use
Familiarity:

I've put it through the wringer
great allround biner.

lightweight but not as much as the petz 3D but cheaper
My new favorite
Familiarity:

I've put it through the wringer
Due to its design, the gate opens wider than most lockers and is smaller and lighter than most. I personally hate twist locks and the screwlock is very smooth and has never bound up on me. I've used these building anchors and have one that has become a permanent attachment to my Grigri.
This locker is awesome. Lightweight, small for racking and just the right size for anchors. I mainly use it for anchors while top roping, but I have used it to belay. This would not be my first choice in a belay carabiner, just due to its smaller size. I prefer the BD Rocklock because of its size, and it allows for a munter hitch in an emergency. Great carabiner to always have on the sling.
Lightweight and Great
Familiarity:

I've put it through the wringer
The Black Diamond Vaporlock is always on me to build or use as an anchor on sport routes. Gets the job done, while still remaining lightweight and handy.
Excellent
Familiarity:

I've put it through the wringer
Put these guys to the test at my work when taking people outdoors. lightweight, it locks, and can hold my fatass. Would use for toprope anchors. not favorite for belay b/c of size.
works like a charm
Familiarity:

I've put it through the wringer
I love the snag-free keylock on this carabiner. It makes it really easy to manipulate the rope when your hands aren't feeling so great.