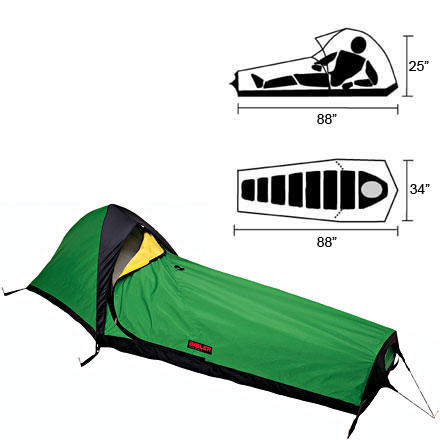 Community Images
The Black Diamond Tripod Bivy Bag is a larger, more spacious, more civilized incarnation of the classic bivy sack for solo trips. Whenever it's just you, why carry the extra weight of a tent? Three poles add head and foot room, increase the usable interior space, and help eliminate the dreaded claustrophobic feeling. ToddTex waterproof breathable fabric provides protection from rain and snow while allowing the breathability necessary for a comfortable, moisture-free night.
Freestanding single-wall bivy design saves weight by eliminating the need for a tent canopy and fly; ideal for four-season climbing and trekking applications
Waterproof breathable Todd-Tex fabric sheds wet weather and breathes exceptionally well to help reduce condensation
Taped seams prevent dripping water or morning dew from sneaking in through the fabric joints
Three aluminum poles create space above head and feet to improve air flow, decrease condensation, and limit claustrophobia
Half-moon zip entry provides easy access
Large mesh panel keeps out bugs and helps cut down on condensation buildup
Multiple stake-out loops provide secure anchoring in windy locations
Small size fits easily into a backpack, bike pack, or haul bag
Optional footprint sold separately
Based off original design from Bibler
Leaps and bounds better than the bipod!
Familiarity:

I've used it several times
Why on earth did they stop making this?

I found mine used (and slightly abused) off eBay after loving and hating my bipod (which I got new from Backcountry). Let me explain what this thing has over the bipod:

• Your whole body length is physically separated from the shelter, even if you're wearing a lofty bag with an inflated mattress under you. Lofty bags lose insulating ability when even slightly compressed, so the separation seriously helps warmth. My torso and feet would often be cold in the bipod because of this.

• It has space, even under your feet. Put most of your gear in a weightless garbage bag and feel at home in this thing. Not claustrophobic, unlike bipod.

• It's much more thoroughly sealed than the bipod (which is well sealed to begin with).

• Most of the setup can be done externally without opening the shelter, huge plus if it's raining or stormy. Setup is also easier than the bipod despite more pieces: less stuff to stretch and contort.

• Adorable little gear pocket inside!

Now you'll often hear people say get a tent instead of a glorified bivy. They're correct up to a point: if you look at tents of comparable (or less) weight, you have some spacious options. However, none of these (with exception of Hilleberg Akto) are bombproof or four season. This thing you can use pretty much anywhere, just match it with the right sleeping bag.

Yes, it weighs more, but you get what you pay for. After using this thing, I see that for four seasons normal ultralight bivy bags defeat the purpose: you need a heavier sleeping bag to deal with loss of loft.

Black Diamond: are you listening? Please make these again, please please please :->. Jack up the price, "modernize" it to appeal to this generation, and keep making this wonderful thing. There's really nothing quite like it on the market as of this writing.
Unanswered Question
Has anyone used this for mountaineering?...
Has anyone used this for mountaineering? Looking for a small, light option for use in good weather here in the cascades?
Black Diamond Bivy
Gender:

Male

Familiarity:

I've used it several times
Kept me dry in 5 days of rainy afternoons through Mono Pass near Rock Creek CA. I trust this bivy! Durable, breathable, just dry it out before you pack it up. Use a large trash bag to keep your backpack dry in the rain. I am 6 ft tall and this is the perfect size.
I was happy with this purchase. It was easy and fast to set up (after the first time). I experienced a little condensation on the inside, even sleeping with the tent open about a foot down with only the screen up at 12,000ft and probably 35 degrees out. I never fully tried it yet with it fully closed, but imagine it would be worse. I imagine if you were snow camping with a down bag, you may have problems with moisture. Overall, I feel it will work for me for any backcountry adventure. Having a few vents is a good suggestion from the previous reviewer...that would make this bivy Bomber.
What is the width of the foot area in this...
What is the width of the foot area in this Bivy? Will it fit 20 inch pads way down there?
Best Answer
Yes it will fit 20in rectangle shaped pads. The 25 wide would not fit.
Good, just misses being great
I'm 6ft 1 and getting in/out isn't easy - the zip could have been another few inches longer it would have got 5 stars. The other minor thing, it's a hot bivy and there's limited ventilation even with the flap open - this is ok in cold and cold wet weather but like a sauna in warm/hot wet weather. I took it to a gear alteration place and they added a head vent on the opposite side to the entry and foot vent to make it comfortably useable year round.

Overall very this is a very durable, robust, extremely waterproof bivy, it's breathable enough to minimize condensation in cold weather and it packs down fairly small. BUT, be prepared to live with the limited entry, and to customize the bag it if you plan to use it in warmer weather (25C/77F or more). Extending the main zip is a technical and expensive modification - I got 2 quotes, both over $250 to extend the main zips!

So far I've used it in the Ruby Mountains in Nevada where I had snow, rain and a bit of everything except warm weather and in Victoria Australia for a few nights where it ranged between 0oC to 30oC (32-86F). Like any tent it's most comfortable in the cooler stuff.

For comfortable use in hotter climates increases natural convection and cross flow with some closeable vents.

I use the bivy with a piece of tyvek cut for a ground sheet (cut large enough to step out on to it and tuck boots, etc under when wet), a regular size neo air and a marmot aspen ultralight bag with silk liner, and it's comfortable down to -10C (14F) even with the ultralight bag. A regular neo air fits nicely and leaves me room for a 35 liter pack in the head end. A large neo air does not fit. It's at the heavier end of bivy's, but at the extreme light end of tents - prefect for solo mountain biking with a lightweight 30-40 litre pack. It includes a tube of seam grip and syringe to apply it - use it on all seams and this bivy is 100% water tight.

I wanted this as a my one go to bivy for all conditions, a tough spec but the black diamond tripod came the closest. With the vent mods it gets 4 stars and only misses out on the 5th as I find the main entry zip is too short.
I set this up as soon as I got it- I haven't had a chance to try it outside yet, but it seems breathable and was super easy to set up. I've tried a Marmot bivy but heard that BD is the way to go so I'm excited to put it to the test in the next couple months!
Has anyone had problems with condensation...
Has anyone had problems with condensation buildup in this bivy?
In '06 I used the untaped seam version (but I sealed the seams) for about a month on the PCT/JMT in the Sierra Mtns. Spent about 7 nights on snow/ice at freezing temps, one afternoon for about an hour during a hail storm, and the remaining nights either on top of the bag or inside it. Never really had a condensation problem. It does seem to add about 10 degrees warmth to a sleeping bag! Highly recommended for areas like the Sierras. I went back to a Tarp Tent (1.5 lbs) for lower elevations.
I saw a review that a full size pad will...
I saw a review that a full size pad will not fit in the bivy. True? Anybody else have a different experience? Both my pads are 25 inch wide long rec. Going to be my first bivy< moving to AK to work as a guide. No tents
Best Answer
Yes. a FULL size pad will fit hard in the bivy...but a mommey pad fit just well
i know it's a lot to ask, but could some...
i know it's a lot to ask, but could some folks send some pics in of this bivy??? i ask because the massive corporation that black diamond is doesn't bother to give us any insightful pictures of this bivy on their website. i'm aware of the dimensions, but i would like to see an image of the bivy fully unzipped and a shot looking into the hooded area. black diamond never gives us those angles in the product description. cheers!!!

ayres
someone please clarify this for me... when...
someone please clarify this for me... when the bag is entirely unzipped/opened, is there a layer of mesh that spans rough the opened area? am i making sense? basically, if it is really warm out, can you leave the waterproof layer opened and still be covered by the mesh?

if not, what is the area of mesh that one is allowed? cheers,
Best Answer
You are making sense. :-) Yes, there is a mesh panel. You can find a better picture of it here:
http://www.blackdiamondequipment.com/en-us/shop/mountain/shelters/tripod-bivy
2 lb 10 oz. What's the point?
2 lb 10 oz. What's the point?
Best Answer
Not only 2lb 10oz but 300 big ones. Weigh too much. (what a pun)
For me, after experience with many different single wall UL shelters, the point is that this thing doesn't condense, period. Also, it's low profile makes wind a non-issue. The person above who commented that it's not that great in warmer temps...true. This bivy is meant for cold nights, for people who do not cook inside their shelters, and for people who don't need to haul the entire pack into bed with them. I own the Akto, the ZPacks Hexamid Solo, the Firstlight, the MLD Superlight bivy, but the BD tripod is the one I'm taking to the Sierra High Route this fall, when the weather can do anything, and my survival depends on my shelter.
Would this Bivy work without the stakes...
Would this Bivy work without the stakes and rods, as in a narrow ice cave? Or would I get soaked up? Thanks!
Best Answer
It works if you have something to put on the straps like a rock
What happens to my backpack on a rainy...
What happens to my backpack on a rainy night?

(Most probably I can keep my boots and other light items inside the bivy ...)
, ☃bcs_badge_alumni_label☃
Best Answer
I would recommend buying a rain cover for your backpack and just making sure it is elevated off the ground when you leave it over night.
Thanks Andrew. I have a backpack rain cover. Now I need to make sure to keep the straps, belts etc off the ground. (Need to leave my heavy Bibler Ahawhnee 2 behind for my next trip ...)
-Steve
Or take a big trash bag to put your backpack in. Contractor bags are big and burly, but a thinner one would probably work too.
A couple more ounces and you can have a nice solo tent.
, ☃bcs_badge_alumni_label☃
If you really want to keep your backpack, boots, etc. inside your tent, then a Bivy is not for you. Look instead a small tent: http://www.backcountry.com/4-season-tents. I prefer a lightweight 2-man tent to keep my gear in. BTW, "2-man tent" can usually be interpreted as "sleeps two very small men who like each other a lot without their gear". Hence, you'll want a 2 man just to fit one person (you) and your gear.