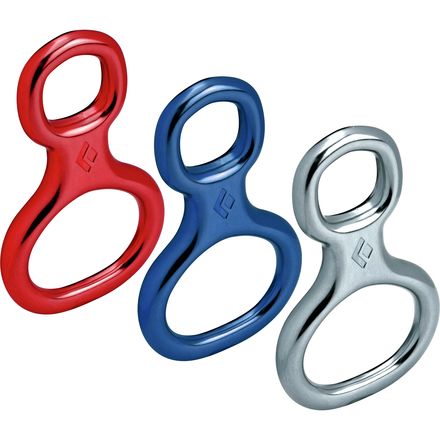 Community Images
Made of 7075-T6 aluminum alloy, the Super 8's flawless design makes for an incredibly strong, lightweight belay/rappel device. A super smooth ride, the Super 8 is great for handling any rope diameter. *Assorted colors.
Part of my gear list
Familiarity:

I've used it once or twice and have initial impressions
I ordered this as its a requirement for my next climb. I used these in the past while I was in the Military and I have to say that this one weighs a fraction of what the Military fig 8 weighs. Highly impressed with the quality of this. Never thought I would need one due to having a rappel device, but hey there is no harm in adding to gear I already have. I will update this review after I use it.
Good!
Familiarity:

I've used it once or twice and have initial impressions
This brake is pretty basic, cheap and of high quality. Excellent for those who want a more compact and simple equipment. Good alternative for those just starting out as well.
Really BD?
Familiarity:

I've put it through the wringer
So I bought one of these BD figure 8's and I am not impressed the non round shape makes you twirl around in circles on double rope repels and heated up extremely fast on a 50" free repel and shows a significant amount of wear after one use. Poor craftsmanship and design if you want my honest opinion. I have an ABC that Ive used to free repel 185' and it still looks brand new compared to the BD that I used once. For those or you who are thinking it no I am not a fat wanker I weigh 155lbs. Although I do love repelling faster than most people
Better for rappel than most.
Familiarity:

I've put it through the wringer
Love figure eights. I have one BD and one from ABC. Both are favorites. More handy than most people think. Perfect for in a pinch scenarios.
Best used for canyoneering & rapping
This is not my first choice belaying a climber and even less for when I'm leading but this is perfect for rapping. The reason for this is the fact that there is less friction causing it to not heat up as much as an ATC.
figure 8s are rad. that was your atc back in the day, and it still works great today. it makes fora super smooth rappel because there is less friction in the system than with an atc. there's also no variable friction like the teeth on an atc. on the flip side, that should mean less wear on your rope, though probably a nominal difference.



bottom line: it works as a belay device, but shines as a rappel device. if you rap a lot, you might look into it. it you're just cragging or multi-pitching, it'll mostly just add weight.
Works...
Familiarity:

I've used it several times
I'm not a huge fan of this device. First of all, the non-round stock adds quite a bit of friction when rapelling, too much for me, at least when double line rapelling. I weigh 165, so it's not like I'm too lightweight, but the shape of the loops and the cross section of the loops just add too much friction for me to comfortably control my rappel. I don't use a figure 8 for belay when climbing, but I can see the added friction as an advantage if you did.

It does look good, and it's small and lightweight, which is nice, I just keep it on my harness just in case, and it's not hard to justify.
This seemed to only work with 3mm cord, and it barely fit Barbie!
I had always seen the figure 8 rappel devices, but I never had a chance to use one. A few months ago I decided to purchase Black Diamonds Super 8 and test it out, and now I am sold on them. This device provides such a smooth rappelling experience, and also creates an amazing amount of friction. I was a little surprised at how quickly the aluminum heated up, but that is only a minor problem. Overall, this will be my go to device in the future.
One thing that might be really nice is to...
One thing that might be really nice is to show how a rope goes through a figure eight belay device. just a large photo of a figure 8 and then show the line coming down from the top of the rock going through and around the figure 8 and then out the bottom and showing the tag end going to the bottom of the rock.

Also the quick and easy way to hook into the figure 8 with a rope. show a single line starting at the top then the device bext to the line. then how you hook to your harness and the rope and the device to get them to all work together and the way it actually works and why. You might get some total beginner to give some thought to joining in. dray.
Best Answer
It's not a good idea for a total beginner to learn how to use a figure-8 belay device via a diagram or photo. That sort of lesson should be hands-on with an experienced climber who can double check everything.

If anyone reading this is a novice climber and is considering purchasing a figure-8 as a first belay device, please, please, please, get someone to show you exactly how to use it. Take a lesson at a gym or via a local club. Safety is paramount.
http://lmgtfy.com/?q=how+to+use+a+figure+8+rappel+device
Is this sold in a pk of 4qty
Is this sold in a pk of 4qty
Best Answer
Hello Anthea, no this is for a single rappel device. The picture is to show the colors available.
I still use a Black Diamond Super 8 from time to time. It's a good tool in your tool box to have. You can get enough friction by adding extra biners or rigging, ie vertaco. To undue a twist use your cows tail with a binner in-between both strands. I do think this is a good device for canyoning.
I bought one of these a few years ago to add to my collection of rappel devices for when I take people rappelling. The only complaint I have is that it gets hot pretty quick for aluminum. My really old KONG 8 hardly gets hot at all so I was a little disappointing in this 8, but over all it's a good little device.

If you are looking for a rappel device for canyoneering, stay away from 8's! They twist the rope and make it hard for the next person to rappel. I would recommend the Wild Country VC Pro II ATC for pretty much everything!
you'll never need another
once u have one... you will prolly never need another. i mostly sport and trad climb... I have used my 8 a couple times with no real issues. BD makes and excellent product that performs as expected.
, ☃bcs_badge_alumni_label☃
Good backup to an ATC
Handles repelling well, especially when it comes to heavier loads. These do tend to add twists to your rope and I wouldn't suggest as a general belay device- Good backup to an ATC!