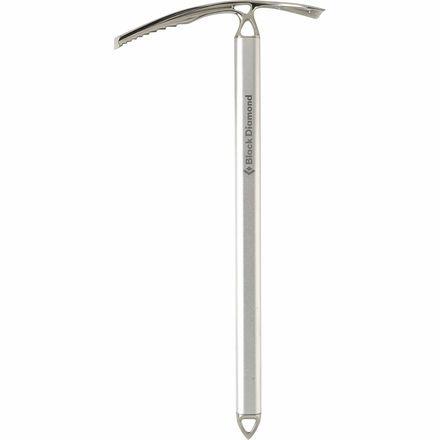 Colors

Community Images
Description
If you have an axe to grind when it comes to weight, the Raven Pro is for you.
The Raven Pro Ice Axe is the lightest, full-service piolet available, period. It has a super clean and simple design for the high-end user who refuses to sacrifice performance for less weight. The sleek and ergonomic head provides a sure grip and all-day comfort—this also makes for a fast, smooth hand rotation when going into self-arrest. Boot-axe belays are a snap too. The classically curved adze blasts ice, chops steps, and clears snow quickly and easily. Not just for the climber, the Raven Pro is a ski/snowboard-mountaineer's dream as well. At 11 ounces, you may think you forgot to bring it with you.
Durable 7075-T6 aluminum shaft, 17-4 investment cast stainless steel head and spike
Classic design ideal for all mountaineering situation
Flat head for a more comfortable hand rest
Simple and Perfect
Familiarity:

I've put it through the wringer
Put some foam and tape on the head to keep your hands warm. Light, durable and all-around good ice axe. Don't think I'll ever need another.
Excellent General Axe
Familiarity:

I've put it through the wringer
2 years in and this axe is still bulletproof. Black Diamond built the best general axe I've seen or used. Comfy hold, sticks well, and it's really light for being steel on top.

Excellence deserves to be recognized, and this is the gold standard.
Good general axe
Familiarity:

I've used it several times
I bought this axe for basic ski mountaineering and so far have had no problems. I am 5' 11" and bought the 65 cm length which I feel has been a good size. It is nice and light, and seems to be very durable, though I have only had to really use it a few times climbing up steep ice and snow fields. It is my first axe, so I don't have a lot to compare it to, but I have not been disappointed or felt like there was anything else I needed. Overall I think this is a good value and would recommend it to my friends.
Classic Axe for the Ski Mountaineer
Familiarity:

I've put it through the wringer
This has been my go-to axe for over three years. It's light, plunges well and is pretty minimalistic with its classic design. I love this axe. Since it's so light, I never hesitate to bring it with me on the climbs that I'm not certain if I'll need it or not. I have the 50cm length which is pretty versatile for steeper climbs. I'm 5'6''. I use this in conjunction with a BD whippet, which is obviously much more adjustable for flatter terrain. This is a pretty solid combo for anyone thinking about getting into ski mountaineering. The axe performs well enough on short, steeper ice and in variable situations however this is about as far as you can really push this thing. I love it for use where it's intended, steep snow and in some glacier travel where you may need to use it for belay and self-arrest. Great axe for the price too!
So for a versatile size, measure the distance between the tip of your middle finger while at your side and the malleolus of your ankle. This will provide the most versatile size for you.



If you intend to be on steeper terrain mostly, then you can use a shorter axe, if you are going to be on more moderate flatter terrain then a longer axe will suit you better.



You can call or email me directly. 801-736-6398, or bporreca@backcountry.com
Great but not often used anymore
Gender:

Male

Familiarity:

I've put it through the wringer
This is a great axe for low angle climbing, and was great when I just started mountaineering, but I don't use it often anymore (in no way is this a problem with the axe itself). The only reason this doesn't get 5 stars is because it's hard to get good sticks in ice (yes, it's a mountain axe, but it's harder than other mountain axes I've used), and feels more slick than many other options.
what size would you recommend for ski mountaineering. I'm 6ft 3. the ultra only goes to 60cm
JB,



Sizing will depend on a few factors. There are two schools of thought for sizing axes:



1- Size the axe according to your height

2- Size the axe according to the intended terrain / objective



For the Raven Ultra, you'd want the 60cm only if you intend to do steeper terrain.



If you're not intending to do lots of technical / steep terrain then you could go with the Raven Pro but in a 70cm length.



Shoot me an email if you have more quesitons or want to talk more indepth.



Jared D.

Expert Gearhead

800.409.4502 ext 4055

jdowns@backcountry.com
Super light and sharp as a razor
This is my first ice axe and I was pleasantly surprised by just how light it is. I have no plans to climb with it (just plan to use it for self arrest and to chop foot holds on snow slopes while hiking) but I was impressed by how easily the axe would enter and securely grip in solid ice. This will be a standard item in my pack for hiking in Glacier NP until mid August each year when the snow finally retreats from the highest trails.


Excellent
Gender:

Male

Familiarity:

I've used it once or twice and have initial impressions
Super lightweight, hardly noticeable at all on your backpack and doesn't tire your arm while walking with it. Had the displeasure to have to use it for a self-arrest and I can safely say I wouldn't be writing this review had I not had it with me. Excellent tool, great quality, it won't disappoint.
I question the need for this to exist
Familiarity:

I've used it once or twice and have initial impressions
The Raven Pro is only 2.5 oz lighter than the Raven for the same length. Its not noticeably stronger, nor does it hold an edge better. It is shiny though. If you have the money to spend an extra 25% on all your gear to save a couple ounces then go for it. Otherwise it makes no sense. The regular Raven will do just fine for 95% of people's purposes. Drink a few less beers the night before hitting the mountain and you will save that weight without costing you anything. Most mountaineers have adequate grip strength to carry an extra 2.5 oz in their hands all day. Its 2.5 ounces...
I'm 6'5 and would be using this thing more...
I'm 6'5 and would be using this thing more like a walking stick on some long hauls. Feel like I'd need it more on the steeper terrain but not ice climbing. Distance from my knuckles to my ankle is 72cm. Should I go with a 70cm or a 75cm? Any advice would be appreciated.
thanks Phil - will go w/ the 70cm
Best Answer
Hey Scott,



The 70cm is the better choice because the shorter swing/plant requires less energy, and even that 2cm difference seems to just feel a whole lot better. Definitely not for ice climbing at all- steeps and glacier travel, yes, just not vertical ice. The proper measurement is from your finger tips as your arms hang at your sides to the floor.
So light!
Gender:

Male

Familiarity:

I've used it once or twice and have initial impressions
I couldn't believe how light this thing is.

I didn't think there was any way the head and spike are steel, but they are!

I just wish the biner hole in the head was a tiny bit bigger. I also wish it came with the spike/pick/adze caps instead of having to buy them separately.
Other than the weight, what is the difference...
Other than the weight, what is the difference between the Raven Pro and Ultra? Can they both be used for the same purposes?
There isn't much besides the weight. The pick end is shaped differently to reduce weight. Only if you're counting grams would you need the ultra
BD Raven Pro
Gender:

Male

Familiarity:

I've put it through the wringer
Comfortable to hold onto. Lighter than most of the other full on mountaineering axes available. Can pound in a picket without destroying the axe. Most at home on long snow walks and glacier walks. Mine has seen lots of action on the standard routes up the PNW volcanos. Get a long one so you can use it like a pole. I got rid of the leash on day 1. The axe attaches well to all my packs with various systems. The top can be sharpened if you bash up a little too much rock. Buy it if you like walking on glaciers and don't expect to hit much vertical ice.
For my purposes of general mountaineering with or without crampons, this thing is more than enough. It's lightweight, chops pretty well, and is a good anchor. The Raven looks beautiful too. Most importantly, it's comfortable to hold.



I'm 6'1, 165 lbs and I have the 70 cm version. The 75 cm version would also do just fine.
Probably the best do-it-all ultralight ice axe.

It's great for self-arresting, improvising snow anchors and boot-axe belays due to it's direct shaft.
Take it for just-in-case snow/icy approaches - it's light and won't pull you down.
Climb a steep snow - it easily handles really steep snow slopes (depending on your skills for sure).
Climb an alpine ice - paired with an ice tool (e.g. Petzl Sum'Tec 43) it brings you up (again, it depends on your skills and do not oversize it - longer the shaft, harder to climb steep and/or icy slope).
Adze is good for cleaning snow and chopping steps.

Perfect.