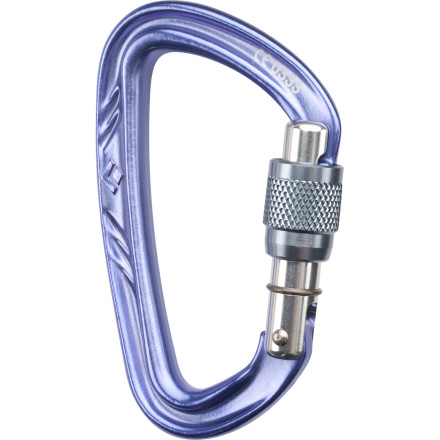 Community Images
Description
Well-versed in the prose of climbing.
As the saying goes, 'jack of all trades, master of none.' Black Diamond built the Nitron Screwgate Carabiner to re-write that to say "jack of all trades, master of all of them.' This do-it-all 'biner features a keylock gate that won't snag on protection, slings, or hangars, while small spine ridges and ergonomic shaping make for ease of handling. Whether you're headed to the frozen waterfall or local sandstone crag, rack up a few of these renaissance 'biners.
Great biner. This is the biner I use whenever I anchor myself into belays and repels and the purple color lets me tell it apart from my other positrons so I dont use those on bolts or other hardware. Keeps me from getting burs in my other gear. I prefer the positrons because they are cheaper, but if you want a lightweight locker that can do it all and don't mind the few extra dollars go grab a few.
Favorite Lockers Ever
Familiarity:

I've put it through the wringer
I have been using these lockers as my go to anchor biners for years. They are small, lightweight, and easy to use. The screwgate never gets stuck or catches. ANDDD can we talk about how awesome the color is???
Go-To Locker
Familiarity:

I've put it through the wringer
I've got over a dozen of these and I use them for everything. They're lightweight, the screwgate opens and closes so smoothly you can use it with just a flick of the thumb, and they feel solid when you're using them.
Looks great and Lightweight!
Familiarity:

I gave it as a gift but have feedback to share
My husband and I are setting up our first climbing gear set up, and a few of these made the cut! The design is nice and strong, while also being very light! Every little bit counts when you have to haul the full harness up a wall.
My go to...
Familiarity:

I've put it through the wringer
This is my go to locker for all of my anchor cleaning needs! I love that it's light and small so bolted anchors don't get too busy. I've used and worn out several sets of these and I don't plan on using anything else in the future!
Gear Differentiation
Familiarity:

I've put it through the wringer
These are lightweight, safe, easy to use, blah blah. I've been trusting BD with my life for ages and have no worries about misplaced trust as far as function goes. The reason I got these screwgates in particular was for their color. They are a very distinctive purple which keeps my climbing partner from taking them home (he is constantly confusing my gear for his and then never gives it back)!
No problems after a year
Familiarity:

I've put it through the wringer
These are my go to locking carabiners for cleaning anchors. I've had two of these for nearly a year and haven't seen any degradation in the screwgate or the carabiner itself. Highly recommended.
My favorite lockers hard at work keeping me safe!
Inaccurate weight description
I have recently bought a few of these, I always double check the manufacturers weight claims of climbing gear due to previous verifiable inaccuracies I have read about in gear reviews by even the most revered climbing brands. One biner weighs in at 52.1g, the other at 51.4g on my scale as an FYI for gram counters, rounding down to 50g is inaccurate according to my scale anyone else can verify or provide other info but this is what mine says. Is 2+/- grams per biner significant? Probably not, here comes the BUT... this leads to questioning ALL of the other given specs of the biner. If the weight claims "prove" to be inaccurate how can one cross compare all of the other factors of the biners attributes (Major Axis Strength ex.) with any confidence in the posted numbers? Should it be the consumers responsibility to test the specs for accuracy?
Are these larger than the BD Rocklock...
Are these larger than the BD Rocklock Carabiners? Someone mind tossing up a pic of both next to each other?
Don't have a picture of both, but here are some more specs. Nitron: 1.8 oz, 22 mm gate opening. RockLock: 3 oz, 21 mm gate opening, munter hitch compatible. Closed, open, and minor axis strengths are the same for both and both feature a keylock nose for smooth clipping.
No, these are much smaller. Nitrons are standard D-size carabiners, Rocklocks are much larger.
Great Locker
Gender:

Male

Familiarity:

I've put it through the wringer
Everything about this biner is solid. Gate action, weight, locker, color, everything rocks. Great for anchors and for clipping into the chains. Purple color also really stands out on the harness.
wish I was as light, strong & lavender
I love these. I don't use it to belay, but I use it as part of my anchor system as the violet haze is distinctive. It is super light, feels strong, and matches my quick draws in size and looks lovely against my nylon slings. I also have the yellow vaporlock biner, that I also enjoy. My question is, if these purple ones are 1g lighter, how come they are rated at a higher strength? The answer is their smaller size, not as much length to break, and not as much mass. Regardless I hope never to be close to the breaking point. I get protective of these, yet I love sharing them. No problems with screwing and locking. Locks smooth, doesn't get stuck, a beautiful shape of the spine and all the dimensions.
Excellent
Gender:

Male

Familiarity:

I've put it through the wringer
Excellent biner, I've put it through the wringer using it for my anchoring system.Works extremely well, feels good in the hand.
Great Locker!
Gender:

Male

Familiarity:

I've put it through the wringer
Nice and light with smooth gate and screw action.
I love these caribiners! They are the best for cleaning and for making locking draws for the chains at the top of a sport route. They are small and lightweight so they don't weigh to much when I'm on a sport route and trying to conserve weight. These are awesome biners and I recommend them if you want to save weight and stand out at the crag (thus the purple color).
One Sexy, Purple, Bad Ass, Beast.
Insert angelic choir of rapture here. Picture me inappropriately caressing and kissing this irresistibly desirable little siren of a temptress. One thing that sucks a big one about most lockers is that they weigh about five thousand pounds, and are about as sexy as a tipped over porta-potty. This is not that locker. It is purple, slender, light-weight, easy to clip, and makes you ten percent more beautiful just by clipping it to your rack. Seriously though, this is the best locker I have ever used... I frigging love the thing. Picture miraculous rays of light glinting and flitting upon said Biner, as harp music echos delicately in the background.
These carabiners are amazing. Excellent gate action, great handling, rad color, and the perfect size for many jobs. Essentially the positron, but 6 grams lighter. However, the positron is still the workhorse of my gear when it comes to lockers, you just can't beat the bang for the buck. If you've got a few extra dollars to spare, these are awesome.