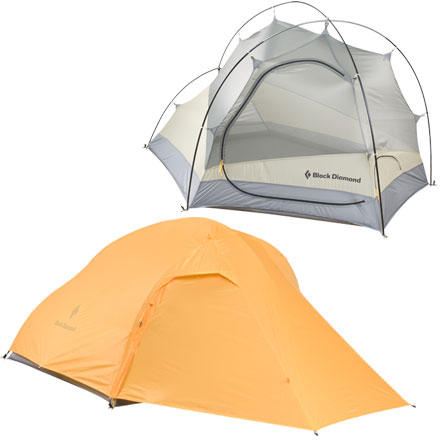 Community Images
Designed for weight-conscious backpackers and climbers, the Black Diamond Mirage 2-Person Tent offers total weather protection with top-notch ventilation to keep you comfortable three seasons out of the year. A built-in vestibule provides extra storage space, and a well-designed three-pole configuration increases strength and ensures that you have nothing to worry about when Mother Nature decides to send along a storm.
Freestanding, double-wall design and three-season construction ideal for trekking, climbing, and base-camp applications
Floor and fly seam sealed to prevent water from sneaking in through the fabric joints
Large door and vestibule make entry, exit, and gear storage a breeze
Fast-pitch hub and variable-diameter DAC Featherlite poles make setup easy
Adjustable front, rear, and top vents allow you to dial in the precise amount of ventilation you need for your climate
Fast-pitch option lets you carry just the poles, fly, and footprint for a lighter-weight rig (footprint sold separately)
Hurricane Resistant
Familiarity:

I've put it through the wringer
To confirm the negative reviews, it's an asymmetric tent that pitches freestanding with one corner that sits a bit off the ground. I'm not sure why this is such a deal breaker, but if you have a strong aversion to using tent stakes (which immediately fix the problem), I recommend buying a much cheaper and heavier tent that is less likely to blow away and will not be missed when it does. Additionally, the tent tapers strongly at your feet, giving it a significantly less cavernous feel. For backpackers and adventurers, this is its best asset. For fair weather car campers, it's probably pretty obnoxious.



Okay, now for a review. I've loved this tent from day one. It's big enough for two if you really like the other person, as it should be with an ultralight two person tent (if it had cavernous spaces and we could sleep with a large buffer between us, that would add a lot of unnecessary weight). It's well-ventilated with the rain fly on (and when it's been properly guyed out I've never had so much as a drop of condensation fall on me), and it's nearly all mesh for some great views with the fly off. The tent looks sharp, and I actually quite like the bright orange of the fly for solo camping. I feel like if something ever went wrong it could help get me found, though I hope I never have to use it like that.



Those are all the reasons I loved it up until I got hit by a massive thunderstorm in it--one of those blood red on the radar things with tornadoes, quarter-sized hail, and rain coming down sideways with 50 mile-per-hour gusts. I set up camp, pointed that "too-narrow" aerodynamic footbox that others complained about directly into the wind, climbed in, and prepared to get soaked. Thanks to that shape, despite the Armageddon outside, I stayed warm, dry, and safe inside. I had no problems with anything flapping in the wind, no rain came in, and the fly held up to hail and winds just shy of hurricane-force. And it did it at under two pounds a person.
Hi you all Do you know if I pick up the...
Hi you all

Do you know if I pick up the fly with the footprint first. can I then from the inside assembly the inner tent so the inner tent will be dry under heavy rain?


Best Answer
Hey Guy,



Kinda sorta. The pole ends go into the shell grommets first, then the fly straps go under those. The pole clips are hard to get at once the fly is on, and you end up crawling all over your mesh, and it's then covered in mud and water. I've done it with other fast-pitch type tents before, but it's slow, a pain in the ass, and everything ends up wet anyhow. In heavy rain, when you need a dry shelter quickly, it's best to just use the fast-pitch option and deal with the shell when the weather improves and bugs become the bigger problem.
This tent has seen the world and has taken just about every kind of weather nature can dish out and has never failed. The tent is ridiculously light at under 2 pounds per person and extremely weather proof. I went camping in the Redwoods and it poured one night, turning our campsite into a 2" deep puddle. No water in the tent. It did great in extreme wind in Ireland and it did great in the heat of the Gobi Desert. The thing pitches extremely quickly as well. When I went camping with some friends I pitched this by myself while the three of them were still trying to get their poles out. There isn't really much I can complain about aside from two little cosmetic things. First, as some have mentioned, it pitches so that one corner is slightly elevated off the ground. However, after staking it down and putting your sleeping bag and everything inside there is no problem. Also, the color is pretty bright. It would be great if someone was trying to find you, say in a rescue situation. However, I've been in some countries were it is best to set up out of site, making the bright color somewhat dangerous. This is not something most people would have to think about though. I've slept in a variety of high quality tents from quite a few brands but this one takes the cake. I highly recommend this tent
I took this on a two week kayaking trip in the Broughton Archipelago. We were there in mid June and had the campsites pretty much to ourselves so I was able to use the flattest best tent sites available. Every evening I would constantly readjust the stakes trying to get the fly to pitch taut around the door. I had read that other users had that problem and thought they were just "challenged" when it came to tent pitching. They were right, there is something about the cut of this tent that defies equal tension on the fly. It was dry in downpour conditions and had no measurable condensation and seemed to retain heat sufficiently on cold mornings and overall appears to be quality constructed but the fly is not SilNylon. At least not like any of the other SilNylon tarps and tent flys I own and so doesn't pack down as small as it might. I was looking to upgrade to a freestanding state of the art tent but am taking BC.com up on their satisfaction guarantee and returning it and will try a MSR HUBBA HUBBA
Is the fly on the Mirage seam sealed?
Is the fly on the Mirage seam sealed?
I like hiking alone a fair amount. I took this tent to Peru and did several overnight hiking/camping trips in the Andes alone. Yes, almost 4 lbs. is a lot for one person, but its also the lightest of its class. I wanted room to keep things in the tent and in the vestibule. I would bring my pack in the tent and the "small" vestibule was plenty for boots and wet things. I could also fit my pack in the vestibule if I wanted.
When doing continuous overnighters, whether in a back yard or in the wilderness, sometimes it is nice to have the extra space for comfort, changing, etc.
The quality seems very nice to me, breathability is great, yet it keeps heat in well also. I can also set this tent up pretty fast.
My only downside is that its bright Orange, and especially when I am hiking alone, I don't like sticking on like a soar thumb. It would be great if the rain fly were green or any earth tone.

This tent has never pissed me off in its weather-protection, setting up process, or packing down. I love it for myself, but the greatest part is... I can use it with a whole-nother person if necessary.

Light-weight for size and strength.
I like black diamond as a company and most of their stuff is great, but the mirage seems to need a second, updated, version. Manufacturing quality is a little lacking considering the price. Just like the other reviewer, I set it up inside first because I was too excited to go outside right away, and it didn't sit level. Stakes remedy this, but disappointing non the less. The fly is difficult to get right even after setting up the tent a bunch of times to get good at it. You can get the whole thing taut and then the door flaps in the wind, you can fix that and something else flaps. The fly clips to the body with little adjustable plastic pinch clips like you find on your backpack's hipbelt. This is cool, but if you step on those little lightweight things they might break, and they provide too much adjustability i.e. inconsistency. I think the shape of the tent is it's downfall. A good idea but it would be hard to make right without the tent being more expensive than it is, so considering this, black diamond did a good job. The main reason I am disappointed in this tent is the vestibule space. Being able to set your stuff out of the way of the door is a good idea if there is enough room to set your stuff there in the first place. The fly is so close to the tent in the vestibule there might as well not even be one. If you use this tent by yourself and only by yourself, there shouldn't be any problem. You could put everything inside with you in that case, but if is wet/muddy/dirty the inside of your tent will be too, causing it to not last as long. I could fit my size 13 boots and cooking stuff for the morning in the vestibule and that's it. With the door situated how it is one person still has to crawl over the other to take a piss. Minor annoyance, but an annoyance still. As for interior space, for one person it is perfect. For two it's tight but very doable, but you have to put your gear outside in the rain. There seems to be a lot of wasted space because of all the corners. Not very efficient. As for condensation, this tent excels. Air circulation is great, so if you hate condensation and you would buy anything so long as it does not have any condensation problems, this tent is great. Mild weather can't get through this tent either. I had it at 11,000ft. in rain and on top of snow at the same time, and it was fine. Just don't expect it to be perfect for every weather situation. I wish the fly came all the way to the ground, or at least closer to the ground. There are vents built into the fly so I don't see why there needs to be tons more ventilation by making the fly short. So, basically, I was not happy with this tent, I will be returning it to rei and buying something different, probably spending more, but if you are looking at this like a solo tent, I would recommend it to you. Especially for warm weather use.
Bummed, I ordered this tent and set it up inside. Not sure if the tent was incorrectly cut??? but it wouldn't sit flat on the ground the nose was all tweaked back in on the the tent and the left front corner was about 4 inches off the ground. It took 3 people to pull it out flat. I put the fly on and it got even worse. Didn't feel very stable at all. With 2 people inside you were very cozy not much extra room, wouldn't want to be rained in for a day. Set up a MSR Hubba Hubba tent right next to it and this tent was way more stable and felt almost cavernous compared the mirage.
What's the truth about the actual interior...
What's the truth about the actual interior size? One reviewer says it's NOT 30 sq ft, but less. Same reviewer also says the vestibule is basically unusable (i.e., unreachable) from inside the tent. What's up?
The vestibule was set up to store gear out of the doorway and does that well but it's not totally reachable from inside. For two people you would be very cozy not much room for anything extra inside with you... not sure of the actual sq ft but the hubba hubba @ 30sq ft was cavernous compared
This tent was used in heavy Colorado rain and the 2 wall design worked flawlessly. People in other brand tents were complaining while I was bone dry. The vestibule caused absolutely no problem with rain coming 'into' the tent. This simply was not an issue. Actually, it may be one of the better tents out there for heavy rain conditions because of the stout fly design. Since the fly can be easily made tight there is no chance of the fly and the inner wall ever hitting. The 'backpack' type snaps and closures make this a fool proof design for any rain situation.
Best All-Around-Lightweight-Tent Around.
I needed a lightweight tent for high altitude adventures that would fit myself, my dog, and my gear. In a newer, thought out design. This tent could not fit the bill more. Not only does it have these really cool hubs that help set it up extra fast but it also has that added vestibule area that is just perfect for housing your gear. Or your dog if he is too dirty to come inside. And it doesn't even weigh 4lbs. Replace the steel tent spikes it comes with for some MSR or Bibler titanium ones and you will even lose some more weight. Oh, did I mention all 3 poles are connected, all the time, even when you stash them. Doesn't that kinda mean it is more like 1 pole? Considering you cannot take it apart into 3 pieces. But yes, the tent poles are already connected to make setup even more intuitive. This is by far the best tent for that purpose on the market. And it looks cool too. If you are just buying it because you like the way it looks then it will probably piss you off but hey, that's not really my problem. 5 stars! What is wrong with this tent? I set the fly up correctly and had no problems stuffing all the gear out of my pack in the vestibule, plus my pack, as well as some misc. items with room to spare. My 120lb dog and myself fit fine inside the tent, and Im sure there was room for another person. If you want elbow room for 2 people you should always get a 3 person tent. The door is actually quite large for any alpine oriented tent designed lower than usual to handle high wind, and I especially had no problems getting in or out of the tent seeing it was a once piece mesh door. Most of my other tents like Bibler tents have 2 doors to unzip before you get out and you should see how tiny those doors are! Overall, there is no design problem with this tent. The style of the tent dictates that it's not going to be ideal for some huge guy car camping. I'm surprised this tent does not have more 5 star ratings. I'm sure when people see my review they may give this tent another look. Unless of course you are not into 1 person 5 star luxury :)
As ultralight tents go, the Mirage is a nice tent. The materials are great, and quality appears to be high; however, it is not up to the design expectations of any tent in this price range. The most surprising information is the interior floor space is 26.5 sq ft, not the 30 sq ft every site in the world advertises. That makes the tent a very tight fit for two normal adults. Two 6 footers might have room for one pair of boots in the tent with them. The single door is a nice size, but with the fly/vestibule set up, the tent door and vestibule door are mere inches apart, and the usable space of the 10sq ft vestibule is mostly out of reach from the door. The vestibule is large enough for a couple pairs of boots and a pack, or two small packs, if you can reach around to get them there. I have not used the tent in rainy weather, but can tell it would be fraught with problems. If rain is coming down, water will get in the tent if anyone enters or exits, and even the small side access to the vestibule would make it difficult to get stuff in and out of packs. Anything in the vestibule will probably get wet if needed when it is raining. The fly vents are a nice touch, but cannot be closed, so great ventilation will happen at any temperature. As a two man tent the Mirage is very disappointing mainly because of the practically unusable vestibule. There are lighter, bigger, better designs available for less money. As a one man shelter it would be adequate (though heavy), though would still be iffy in rainy weather. In fair weather camping, this would be a decent tent. Personally, I would rather have one of the several currently available roomier tents with better design that weighs about the same.