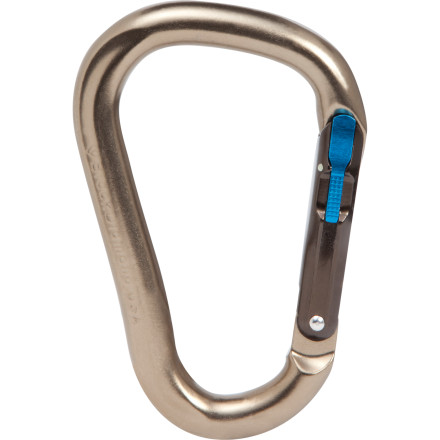 Colors

Videos

Community Images
Description
Unlike anything else.
The Black Diamond Magnetron RockLock carabiner uses a truly revolutionary gate that locks shut with magnetic tabs instead of a traditional screw gate. The advantages? Nothing to freeze shut in the winter or to clog up with sand, and you can operate the gate with one hand. Not to mention that this gate is significantly faster to open then traditional locking mechanisms. To top it all off, Black Diamond gave the RockLock carabiner a keylock nose that won't snag on gear, slings, or bolts when you tear down your anchor to head up the next pitch. Note: the locking mechanism comes in different colors (dark blue, light blue, green, or orange), so you might not get the blue that's pictured.
Revolutionary magnetic locking gate features two magnetized arms that repel each other when the gate is open but lock shut when they come in contact with the steel insert in the carabiner's nose
Gate opens by depressing the two arms with thumb and forefinger; can be operated with one hand, and design works equally well for right- and left-handers
Slightly curved spine maximizes gate opening
Magnetic gate doesn't have components that can freeze shut or clog with sand
Keylock nose helps prevent your rope from snagging
Hot-forged for maximum durability
Note: locking mechanism comes in different colors on the carabiner, so you might not get the blue that is pictured
Can't stop playing with it
Familiarity:

I've put it through the wringer
Warning this thing is wildly addicting to play with. Oh yeah and it is super quick and easy to use. Very easy to operate with one hand (my hands are average size).
In love with the Magnetron
Familiarity:

I've put it through the wringer
Super smooth gate that locks with two magnets! I have used this for a couple months and have no complaints. Its simple, versatile, and I plan on buying more in the future!
Loving Magnetron weight and functionalit
Familiarity:

I've used it several times
I use this as a lightweight set up with my Mega Jul. It does exactly what it should do and works well with the device (shaped biners tend to get "cut up" by the steel Jul. It works.
Love the Magnetron system
Familiarity:

I've used it once or twice and have initial impressions
So easy to use. But it's difficult to grab it if you have small hand like me (i'm petite)
Perfect
Gender:

Male

Familiarity:

I've put it through the wringer
Perfect with my GriGri 2, the large size allows me to slip it off and on easily.
Black Diamond Magnetron RockLock
Solid Choice
Familiarity:

I've put it through the wringer
I used this biner belaying for a ropes course all summer. It makes clipping in and out of an ATC effortless. The Rock lock is a big big biner that lets the rope glide effortlessly. (You will see the anodized finish wear off though) Hundreds of belays and it never froze or stuck.
Bought this along with other climbing accessories for someone just getting back into climbing. So far its been great for them. Very functional and makes them feel safe.
BD Magnetron RockLock Carabiner
Familiarity:

I've used it several times
I love this carabiner for winter mountaineering. The magnetic gate is easy to use while wearing gloves, much easier than earlier designs of push and twist gates.

Otherwise functions like a carabiner should!
Really cool
Familiarity:

I've put it through the wringer
these are my favorite lockers so far. theyre awesome and super safe. i just wish they made a smaller one
Good for Climbing, bad with obstructions
Familiarity:

I've put it through the wringer
The concept of the auto-locking mechanism using magnets is a stroke of genius. Super simple and great for one-handed operation. I used it on the end of my rescue sling during swiftwater rescue this summer . My one gripe with this carabiner is the way the mechanism is set up the slightest bit of sand and the gate won't open, not the best for rescue situations. I've also had reports of people using it when ice climbing and a similar problem occurring. Great for a belay biner but I'd discourage any situation where the biner would be on the floor making it more susceptible to having the mechanism be clogged.
Nice 'Biner; Bit Expensive
Familiarity:

I've put it through the wringer
Works well, simple to use. After a couple uses it becomes more natural to open and close, and it now feels like I am using a non-locking carabiner. The coating on the metal wears off after awhile of having rope rub on it, and it would have some sharp parts rounded off and smoothed out a little more by the locking mechanism. Overall nice product.



(Only used this indoors so far, no idea about outdoor performance.)
Good for certain situations
Familiarity:

I've put it through the wringer
All around a good carabiner. Not much I can say that I don't like about it. I have used many different types of carabiners, some good and some horrible and I would say this one is at the top. No problem with cross loading while belaying or anything like that. Once again BD didn't disappoint.