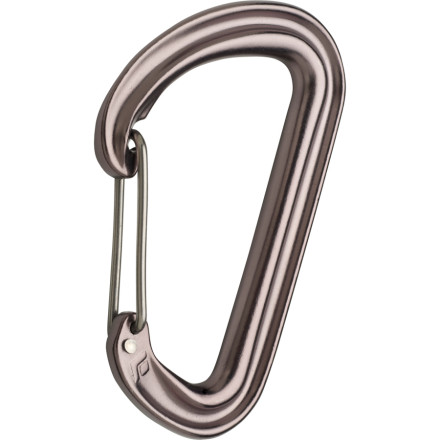 Community Images
Description
The original wiregate biner on a hot-forged diet.
The Black Diamond HotWire Carabiner started the wiregate revolution, and now it returns with a fresh, hot-forged design that makes it 20 percent lighter and helps streamline your rack even further. A slighltly widened nose angle improves clipping and the large rope-bearing surface helps you build anchors and manage multiple lines with ease.
For accessories
Familiarity:

I've used it several times
I did not get this for climbing but to hold gear and support. It's done well so far and seems really sturdy even with the wire locking option. good size vs weight as well.
lightweight and easy to maintain, robust
I like these Beaners.. Is the short version of carabiner biner or beaner? God forbid I say something un PC. Either way it sounds the same.



It is hard to do reviews on biners. They either work or they don't work. Biners come in different shapes and sizes. What is your intended use for the biner? Do you want one biner to work in unison with another biner? I think it all comes down to personal preference when choosing a biner. I like biners to be the same size and shape so there is some uniformity. If you find a biner that works it is a pretty good chance that picking more of the same biners will work too.



I really like these biners.. For me they are just the right size, shape and weight. They are also really strong and they really don't cost much when you need to pick up a few. They do a great job holding stuff and some people use them for a multitude of uses around the house.



None the less. If you are looking for a great biner these are the ones you should pick up. And No.. You won't find them at the HomeDepot . I have seen biners at HomedDepot but I don't think they are rated for climbing use. Not to put down the biners you find there. I am sure they are great biners for small projects around the house and small construction sites. Aisle 5 about halfway down on the right under the bungee cords.
What more could you want?
Familiarity:

I've put it through the wringer
I love my hitwires, they are my go to biner. They are lightweight, strong, and have a great size. The gate is nice and springy, and large enough for hassle free clipping. The cage has enough room so that your rope/rack has enough clearer top allow the gate to open freely without fumbling to unclip.
I bought these to use in a slackline setup. They have taken the strain well, with no signs of failing. They have a nice "springy" feel to the gate. As I start building a trad rack, these will definitely be going on there. Lightweight with a sizable gate.
Super Light with surprising strength rating. I have a few of these on camalot slings. Good size. I also used one for my car keys for a while. Lamest use imaginable for a piece of serious gear, but at least it shows your good taste in outdoor gear.
Love these wiregates. They're nice and big, but still pretty light, so perfect for sport draws. The wiregate action is super smooth and has a nice big gate opening for easy clipping. They also just feel good in your hand. In terms of climbing gear, I think this is most important, cause no company sells any gear that's any less safe when used properly, so for me, the biggest factor is the feel and comfort level I have with equipment. These 'biners feel good. Get some. They're great.



I'll also add, for deciding between these (or the HoodWires) and something like the Oz for a sport climbing rack, go with the full-size 'biner. They'll hold up better for longer on hard sport climbs where the weight savings of the Oz won't really make a difference.
Great biner. I've used this for pretty much all my carabiner needs...I like it because it's a little bit bigger than most non-locking biners and so the gate clearance is better. It's a little heavier than some, but not by much.
These have not let me down. Very simple and lightweight!
I love the shape of the old and new hotwires, too bad the new ones are made with a softer aluminum. I climbed regularly with the original hotwires for five years after replacing them with the new ones which are now half as worn in one year. My rope gets black much faster than ever before . Now I'm looking for wire gate DMM's, they have a much better reputation for not compromising on quality.
I recently got these in a posiwire quickpack and they've quickly become a favorite rope-end biner.

They are slightly larger than the BD positron biners, with less weight to them AND a much snappier gate action, even compared to most wire gates. This means huge gate openings for your rope end and a nice secure feeling when taking whips.

Anodization on these things peels away pretty fast, but they're not there to look pretty. Construction is great, they're thick for good durability, and they feel wonderful in hand. Always a nice smooth clip with these babies.
Are they currently made in the US or in...
Are they currently made in the US or in China?
BD Carabiners are made in Utah
who needs to climb to use this?
It's so light and useful to clip things onto your pack. I wanted a multipurpose 'biner that was lightweight and this fit the bill perfectly.
This was the first prototype of what eventually became the Hotwire carabiner. I cut it out of a block of some military "metal matrix" which was incredibly gummy to machine. Most of it was done with a Dremel tool. The wire for the gate came from a nearby hobby store and by pure luck, it actually worked fairly well, or at least well enough to see the potential for wire gate climbing carabiners.
The Original Wire Gated Biner
This is the new & improved version of the Hotwire carabiner which I squandered a year of my life designing at Black Diamond. The idea of a wire gate had been around for quite a while in the sailing world, but the original Hotwire was the first time it was used in a full-strength climbing carabiner and it was initially met with a lot of skepticism. Jonny Woodward was really the product champion of the idea and worked to perfect the concept to the point where it had the same (or better) gate action as a regular carabiner and was as strong. Because the spring steel in the gate is so hard, the crux was figuring out how to peen the ends of the wires.

For rock climbing, my rack is about 80% wiregates and most of those are Hotwires as they are a good all around biner. There are lighter carabiners out there, but the Hotwire is still "full sized" so it isn't fumbly. Wire gate carabiners are much less prone to gate whiplash, which is one of the leading causes of open gate biner failure.

The new Hotwire (shown on this page) is a hot forged version which makes for a lighter biner with the same strength as the old one. Wire gated biners are especially useful for Alpine racks as they are lightweight and not as prone to jamming with snow.
New to climbing but this is a great, easy to use, lightweight Carabiner.
I have decided to upgrade my 25 year old...
I have decided to upgrade my 25 year old "light D" biners to wiregates. I am looking at the Hotwire or Oz. The Oz is 0.3 ounces lighter, so it is very tempting when I consider that I carry about 40 biners. But it is quite a bit smaller. The neutrino is off my list because it weighs the same as the new Hotwire but is about as small as the Oz.

I am an old trad climber, and do a fair amount of multi-pitch stuff. I am known to take some whippers. Are the ultralight Oz so small that they might break or do a lot of damage to the rope in multiple falls? Are they hard to clip with fatigued fingers? Do slings get bunched up and cause problems when clipped into multiple slings at belay stations?

I am also thinking of getting a 9.8mm or 10.0mm rope to replace my old 10.5mm. So keep this in mind with your response. Also any advice on my rope diameter decision?

Help the geezer.
Get both. Both great...hotwire a bit easier to clip and a little less "fiddly". Hotwires and 10mm slings for "trad draws" and on my larger cams. Oz for free biners and for mid/small cams.
The newest version of the Hotwire looks and feels relatively large, but is actually quite lightweight for a full-size carabiner - I weighed one of mine on a digital scale and it came in at 36.5 grams. Simple, "industrial" in appearance, but very functional. The gate tension is on the heavy side which is good for safety/confidence but could make it slightly harder to clip for un-herculean users. The gate has no side-to-side slop when open, unlike many other brands that I own, indicating tight manufacturing tolerances. Because I'm odd, I worked the gate on one of my Hotwires over 1,000 times and it is still nice and "snappy". A great upgrade to this classic carabiner. Parts from USA, constructed in China.
Most of my rack is made up of these and I love them! They are light weight and have smooth clipping action. I perfer the use of wire gates over straight or bent.