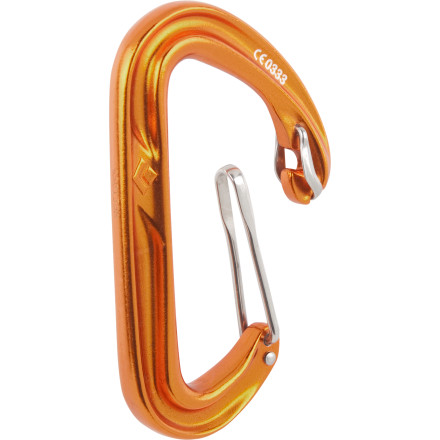 Community Images
Description
It's all about the size and the strength of the 'biner.
Before you start frantically slapping at your freakishly light harness and wondering where your hardware is, give a quick twist and listen for the telltale jangle of your trusty Black Diamond Carabiner bumping into your ATC. At a slim 37 grams each, these tiny wiregates boast the strength ratings of typical burly 'biners but won't pull your harness and pants off with the extra weight. In fact, you may not even notice them at all.
Favorite Non-Locking Carabiner
Familiarity:

I've put it through the wringer
My favorite non-locking carabiner by far for anything other than sport climbing. I always go back and forth between these and the newest version of the Oz carabiner, and both definitely have and always will have a place on my rack, but I typically use the HoodWire more. They have a bit better feel to them (they are a little "beefier"). Great smooth function, never any issues with snow, ice, dirt, etc. And I am a big fan of the snagless feature (when the old Oz carabiners didn't have this, these always won out). Plus not that looks matter, but the color is great!
Light and an Easy Clip
Familiarity:

I've put it through the wringer
The hood makes such a difference. I use these for my alpine draws.
Oz vs Hoodwire
Familiarity:

I've used it once or twice and have initial impressions
Very similar to the Black Diamond Oz carabiners but slightly heavier and slightly larger.

The main difference is that they are slightly thicker, accounting for the weight increase (1.3 oz vs. 1 oz) and the strength increase from Oz's 20/7/7 kN to Hoodwire's 24/8/8 kN.

Note that the biners curve very thin along the top between the gate and the spine, so I wouldn't use these for a garda hitch.
my carabiner of choice
Gender:

Male

Familiarity:

I've put it through the wringer
The hot-forged BD Hoodwire Carabiner is my favorite bener on the market. It's snag free design makes clipping and cleaning a breeze. It's lightweight yet is very strong, has a smooth wire gate that won't freeze in Alpine conditions, and has a great all around feel of quality. I have the color-coded Hoodwires for my Cams and use these Orange Hoodwires on all my slings, making them extra visible from afar. Though more pricey then the Neutrino, the craftsmanship of these Beners make them well worth that extra $1, plus backcountry.com usually has them on sale or will price match any other site's sale. I really dig these Beners and hope you will too! (picture) Gabe on Supercrack at Indian Creek, UT.
Use. Design. Engineer. Build. Repeat.
Are these carabiners closer to the size...
Are these carabiners closer to the size of the Neutrino or are the size of the HotWire?
Best Answer
Closer to the size of the Hotwire. The Hoodwire has a gate opening of 24 mm and the Hotwire is 25mm. The Neutrino is 22 mm.
Super rad.
Familiarity:

I've put it through the wringer
BD's solution to the keyed-gate problem that many carabiners face is both elegant and highly functional. I love the feel of the gates on the hoodwire--they clip smoothly and have the perfect amount of resistance. It's not fiddly small, either, which makes using it for ice climbing or mountaineering very easy. Great biner.
Great Biners
Familiarity:

I've used it several times
Lightweight and robust compared to similar
Super Lightweight!
Familiarity:

I've used it several times
Great biners to have around when weight is of the utmost importance. Compared to other biners of this size, the Black Diamond Hoodwire still boasts in strength unlike many of the others. Check it out!
I have a bunch of hoodwire draws, just pulled a few solo biners out of the dogbones to weigh. One came in at 36.8g the other 37.8g which is the closest to claimed weight I have found out of my rack of various biners so far.
What is the nose width on those?
What is the nose width on those?
so you had all these great BD wiregate biners and you said "there's no way BD can improve on these babies." fortunately a BD engineer was in the room with you and accepted your challenge. sometime later...voila! the Hoodwire was born! this is one of those things that you really only notice when you switch back to using a different biner. then you notice how much more functional these ones actually are. just buy one a couple and try them out, you'll notice an improvement.
Are there any benefits to this over a...
Are there any benefits to this over a standard keylock biner? Weight seems to be the same. Cost maybe?
Best Answer
The biggest benefit of a wire gate is the lack of gate flutter. Because solid gates weigh significantly more than wiregates, if the biner knocks against the rock, the gate will flutter open, and there's a small chance the rope or something else will pop out of it. Wire gates have little inertia, so they don't flutter.
The other main advantage besides what James said is that these wont freeze closed when you are ice climbing like a solid gate biner may.
@ James Jenden -- I'm not sure gate flutter has really been shown to be a problem. Gate flutter seems to be more of a modern rock climbing myth in my opinion. If you disagree, I'd like to see an example where gate flutter/chatter has resulted in a longer fall.



See the link for a discussion of the myth.

http://www.mountainproject.com/v/gate-chatter-myth-or-fact--deadly-or-lifely/107822921
@ twop -- I think the real issue with gate flutter is not that your biner is going to completely open and unclip from the rope, but rather the seriously reduced strength of an open gate. You take a huge fall and by coincidence the biner smacks the wall at just the right moment and opens the gate just enough to disengage the lock/clip/keylock/whatever-you-have, and 8kN (1800 lbs) is much more likely to fail than 24kN (5400 lbs).
It's like a wiregate, only less snaggy
Solid biner from BD. It has all the perks of a wiregate (light, minimal gate flutter) with most of the perks of a keylock, and is about 20% cheaper than a WC Helium. I'm also not as worried about accruing gunk in the hood as I am with the WC ("self cleaning"!).

The reasons I only gave them 4 stars: 1) The wire hood doesn't go quite as far out as the beginning of the notch (about 1mm, see picture) so there's still a hint of a snag sometimes vs. a keylock (very minor, and not noticeable at all if you're using it for a rope-end biner). 2) There are some inconsistencies in gate tension between biners, probably something to do with the flattened wire. That being said, the gates are all still snappy and trustworthy, just not as consistent as I'd like to see.

In conclusion: I will definitely be buying these again. An awesome rope-end biner with a little room for improvement.