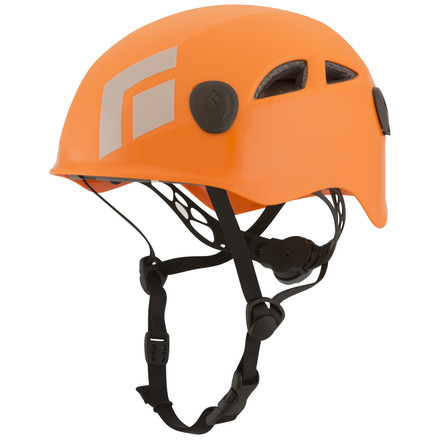 Colors

Detail Images

Videos

Community Images
Description
Fully protect your dome.
Keep your noggin from getting rocked at the crag when you don the Black Diamond Half Dome Helmet. Redesigned to maintain safety and boost efficiency, the Half Dome shaves 40 grams off the original design for celery-eating vert addicts.
Wheel adjuster accommodates a variety of hairstyles and head sizes while maintaining a specific fit
Headlamp clips open up the world of low-light climbing
Intuitive ventilated design offers natural airflow without compromising integrity
Tuck-away suspension allows for easier storage
Comfortable and light
Familiarity:

I've put it through the wringer
I've taken this helmet to Smith, RR, Jtree, Leavenworth, Squamish and Index, where it has done an acceptable job throughout. It breathes well, looks nice and will protect your noggin. My only problem with this climbing helmet(and all climbing helmets for that matter) is how much bigger it makes your head. I think my next helmet will be a foam style helmet.
Great Product
Familiarity:

I've used it several times
Lightweight and comfortable. I have no problem wearing it all day at a crag. It looks a little funny when wearing it due to my large head but most climbing helmets do.
GREAT LID
Familiarity:

I've put it through the wringer
This is a great helmet! I've used it a ton the past 6 months over the summer and fall throughout many many hours in the crags around VA and WV. This thing is a DEAL! It fits perfectly and breaths well so your noggin doesn't sweat too much... This is a great helmet for anyone, from beginners to the experienced. My employer bought a ton of these things after hearing my testimony about them. They're super tough and durable. They are also smooth so you can stick a goat on the side! Always a plus!! Overall, a fantastic helmet at a fantastic price! Well worth the money!
Totally solid
Familiarity:

I've put it through the wringer
This is a good helmet. It's pretty light and (importantly) the fit is excellent. If it feels a little strange, grab the crank wheel on the back and pull it down; it should fit quite snugly. Colors are great also.
Good Effective Helmet
Familiarity:

I've used it once or twice and have initial impressions
I got this helmet for a hike / climb up Mt Ritter in the Sierra Nevada. The hike involved traversing a steep glacier and class 4 climbs with scree and loose rock. A helmet was a must. I picked up the Black Diamond helmet because it was a good price and Black Diamond has a great reputation. The first thing I noticed was that it was light and fit without moving or sliding around. I sweat a lot and I was worried about that. The helmet is well ventilated and I never noticed a problem with excessive sweating. Luckily I didn't have to test out its resistance to rock falls. No rocks hit me. I loved the weight it was so light that I really didn't notice much when it was on my head. Even after hours it never got heavy or felt like it was a burden. Combine that with the great price and this helmet seems to be a great addition to your mountain adventures.
It's a helmet!
Familiarity:

I've used it once or twice and have initial impressions
Used this helmet for a trip up Mt Rainier. Fit well with easy adjustments for thicker or thinner hats. I mounted a GoPro to the front portion of the helmet just about where a headlamp sits. After about 6 hours of wearing the helmet with the GoPro attached I was getting a pretty significant pain under where my GoPro was mounted and I was very happy when I removed it. All in all a solid piece of gear.
Great helmet for big-headed fellas
Familiarity:

I've used it once or twice and have initial impressions
This is my first climbing helmet, and I was initially concerned that it would not fit my over-sized noggin (I'm 6'4'' with a disproportionately large head). I am happy to say that, not only did this helmet protect me from a couple of loose rocks in Squmish, BC over Labor Day weekend, I was cool and comfortable throughout the three days, as well. I especially enjoy how easily adjustable the chin strap is. I ordered the M/L size in Limestone and am psyched about how good it feels. I plan on having this helmet for years to come, regardless of hair length.
Solid Helmet
Familiarity:

I've put it through the wringer
This is a great helmet. I have used it for several multi-pitch climbs this year and so far my head is in tact. Although it is not the lightest helmet out there, which might be nice on longer multi-pitch days, it does the job and protects your head. The mechanism to tighten works great and the shape is comfortable on my head. I have used the head lamp clips and they also work well. All around great no frills helmet for a good price.
Can't Argue with 75+ Reviews and 5 Stars
Familiarity:

I've used it several times
This helmet is comfy, easily adjustable and does the job. Really can't go wrong here.
Does it's job
Familiarity:

I've put it through the wringer
I bought this helmet as my first climbing helmet and I've been pretty happy with it.

I ordered the Cafe color (which I don't think is available anymore) and a M/L size since I was right in between sizes according to the size chart. The helmet fits well, although even when tightened down snugly, doesn't seem to stay straight on my head, as it ends up tilting one way or the other. My other dislike of this helmet is that the overall structure of the helmet does seem a little flimsy in my opinion but not in a way that makes me feel unsafe at all; seams that if packed away too tightly or thrown around too much, the plastic would crack, especially on the area on the back of the neck. Although, even with all the scratches and bumps acquired, this has yet to happen!
The helmet is light and does it's job at protecting your head from climbing/belaying hazards like smashing into the wall and falling rock. It is comfortable enough to wear all day and is breathable enough you don't feel like your head is hot and sweaty. The headlamp clips are convenient and work well too.
Overall, a great first helmet and one of the more flattering ones, even if I do think $60 is a little on the high end for it.
Great all around helmet
Familiarity:

I've put it through the wringer
Throw it around, beat it up, smash your head a couple times, whatever, this helmet rolls with the punches and takes it like a champ. I have used it extensively mountaineering and doing some technical climbing as well, and I could not recommend it more. It gets 4 stars because the orange headlamp holders around the sides are not the best ones I have seen on a helmet of this sort.
Love it.
Familiarity:

I've used it several times
I wear a 7 and 3/8ths baseball hat and the M/L fits great. Some helmets can be painful but this helmet feels like you have a pillow wrapped around your head. You will not find a better helmet at the same price.
best helmet under $60.00
Gender:

Male

Familiarity:

I've put it through the wringer
The newly redesigned BD Half Dome is a great helmet, at a great price. Weight and ventilation is not all that dissimilar from helmets twice its cost. The new harness is simple and comfortable, making it an all around good investment. Climbing gear is expensive, all of us living in reality acknowledge this. This is a helmet, it's PPE so yes its important, but its so important that federal regulations require it meet the same specifications as a $130 Petzl. If you like Black Diamond this is another example of the gear you've come to expect from that manufacturer. The head lamp retention clips are very good, your light is going nowhere. I purchased this for search and rescue application, it has met my own rigorous personal expectations and I have no complaints.
The Standard for Helmets
Familiarity:

I've used it once or twice and have initial impressions
Was just out at Bank's Lake where the walls can disintegrate on you, and let me say this helmet made me feel secure and took a couple dings while belaying. Even with the heat we were experiencing, wearing this made little difference to my comfort, but I am positive this has already saved me from a nasty gash in the first day I wore. Plus, the ease of adjustment meant folks without a helmet could easily throw on when on a particularly chossy route.

Cannot recommend enough wearing this, at least while you are belaying. No excuse with a comfortable, adjustable, affordable, and durable helmet like this.