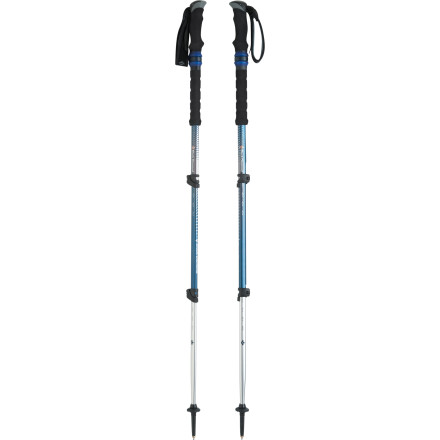 Detail Images

Videos
A tough hike on hard terrain can put your body through the ringer. Your feet might get a little sore, your back might need a break, and your hands can feel bloodless and exhausted from taking the impact of every strike of your poles on the ground. The Black Diamond Contour Elliptic Shock Trekking Poles give you the extra balance, and power you want while they gently reduce the jarring force of your poles hitting the earth.
Four-stage Control Shock Technology absorbs impact so your hands don't feel numb and tingly after a grueling hike
FlickLock adjustment system locks in place without complicated internal mechanisms that can jam up or break
Three-section design lets you easily stash these poles in your pack so your hands are free for tough scrambles
Interchangeable tips keep you ready for ever-changing conditions
Black Diamond Contour Elliptic Shock
What is the diff in compact and standard...
What is the diff in compact and standard poles #BLD1392
Best Answer
Black Diamond website: "The Black Diamond Contour Elliptic Shock Compact Trekking Pole is a shorter, smaller-grip version of our Contour Elliptic Shock that provides top-notch comfort and performance for any on-trail situation."



Compact: Weight per pair = 1lb 6oz; useable length = 27.5-49"; collapsible length = 24.5"



Standard: Weight = 1lb 8oz; useable length = 30-55"; collapsible length = 27"
They may not be lite as carbon, but these poles more than make up for that with their unbelievable strength. The contoured engineering makes them so much stronger than a straight pole anterior to posterior. The poles seem to have the same strength medial to lateral as a straight pole. Grips are standard and the poles ability to telescope makes them incredibly compacts. The only thing I don't like about the poles is the locking mechanism slips a bit over long periods of time with a lot of stress. Other than that pretty standard and I love these poles.
Great buy and very solid locks
I really like my Black Diamond Elliptical Shock Trekking poles. They are very comfortable and easy to use. The locks on my last trekking poles would slide, but these are rosk solid. I am recovering from a surgery and needed them for stability as I regain my strength. I am walking on paving and I needed the rubber tips. I did not realize that I had to order them seperately, but now that I have them the poles are very quite too.
The shock system is not as soft as I was expecting, but now that I have put many miles in with them and the tips, I have nothing to say except that I am very pleased with these quality poles. It is actually speeding my recovery because I find my walks to comfortable. Thanks Black Diamond!
Rock solid, stable work horses.
These are one of the most solid poles I've tried the triangle pole shape gives enormous stability if your a big guy or if you pack a ton of weight don't hesitate I just wish they had cork handles but it seems to be current trend for all makers to be lacking in that dept. These do come with baskets their just low pro.
When choosing trekking poles, I usually go with something a bit strongger than the normal. With that being said, I decided to buy a men's pair of poles for my wife, and these seem to fit the bill well for her. She mostly uses poles for snowshoeing. For everyone's knowledge, these do not come with baskets... or, if they do... I did not get any. I ended up just buying a set of BD universal baskets for them. The "shock" thing is pretty cool, but I'm not too sure how helpful it is... My wife doesn't even notice them. She does really like the lower grip though.