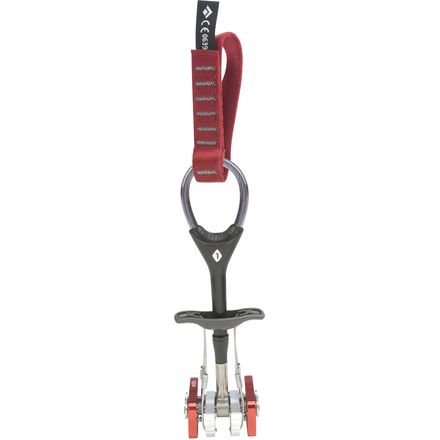 Videos

Community Images
Description
Just when you thought cams couldn't get better, Black Diamond brings out the C4 Camalots.
The Black Diamond Camalot has been the go-to camming device for more than a decade. So how do you make it better? You give it an even bigger expansion range, you make it 30% lighter than before, and you add a thumb loop to make one-handed placements seriously easy. The new design is so good that two of the half sizes were eliminated because they're no longer needed. The Camalot C4s have won award after award and have become the standard for any serious climbers building up a rack. Whether you're freeing big walls in Yosemite or sending splitters in the Creek, this cam has everything you need.

Camalot is 30% lighter than the previous model
Double-stem design allows full strength when placed passively
Wide expansion range means you need to carry less pieces to cover the ranges
Thumb loop makes placement easier and provides an additional clip-in for aiding
Color-coded for quick identification
Click sizing chart link for range, strength, and weight info
Best in Gear award from Rock and Ice
It's been said, Camelots are the standard. If you're shopping for your first rack, you have enough to think about already. Rest easy knowing these are the right choice. I prefer the more durable and flexible stem of the X4s for smaller sizes, but I'd trust my life to some well placed C4s any day.
What can I say?
Familiarity:

I've put it through the wringer
They're the standard for a reason. Buy these if you're a first timer; you won't regret it.
Benchmark
Familiarity:

I've used it several times
I've been impressed with both ease of placement as well as the security of those placements. I haven't fallen on a C4, but I've used them in belay anchors and other crucial points of protection. Recently I used a .75 to protect a dangerous pendulum when my partner was following on a route that traversed significantly. He hung on the rope a couple of times and given that the route traversed as much as it did, I was a little nervous about that cam walking itself to a bad position, but it stayed put and remained reliable. Certainly I've got some other stories related to trusting in these cams and it goes without saying that good placement and judgment of the leader is the most important factor with any cam, but I will say, the C4 seem to be the standard to measure other cams against. I haven't used extensively other brands of cams, but based on my impressions of the BD C4s I'm not in any hurry to go looking for an alternative right now.
The best.
Familiarity:

I've put it through the wringer
What is there to say about these? There's a reason you see them on almost everyone's rack.

I've used Tech Friends and Dragons but won't ever buy a cam that's not a Camalot.
I use my cams like crazy and these babies never break down on me! I'm so glad my rack is made up of BD C4s because I know I can take whipper after whipper and not have to worry about my gear failing me. The weight has never bothered me and I'm a 115 lb girl. I'm still comfortable climbing with a full double rack up any crack- or even carrying 14 #2s up a climb :)
Amazing
Familiarity:

I've put it through the wringer
These cams are absolutely great. The only thing that people really complain about with these are their weight. Which is not really a concern to me. They are only slightly heavier than the competitors.

These have a great smooth action and fir the wall really well. They just work so well and that is why they are generally most peoples go to!
Easy as 1, 2, 3!
Familiarity:

I've used it several times
I got the Fingers and Hands package of a 1, 2, and 3 and seems to compliment well the rest of my rack of Metolius cams in the smaller sizes. The expansion range of these is nice. Thanks Backcountry for offering this package. : )
Trust em with me life...
Familiarity:

I've put it through the wringer
Best compliment I can give any piece of climbing equipment... I trust them with my life. They hold well on all types of rock, and so far I have never had one pop out on me. They get 4 stars because in the smallest sizes I prefer Aliens or small Friends, as they just seem to inspire a bit more confidence. Also, the trigger action on these (while fantastic) feels a bit cheaper than those of the Friends, DMMs, and even the Aliens. But that might just be a personal preference of mine. Attached photo shows me racked up with some C4s on a pretty fun 5.9.
When will you be getting more of the .3's?
Christopher,



We have a bunch of #0.3's and #0.4's on order. Would you like me to watch the inventory for you?



Shoot me an email anytime you have questions!



Jared D.

Expert Gearhead

801.736.4336

jdowns@backcountry.com
Best Answer
Our current inventory is made in China, where they have been made for the last few years. BD is currently moving production from overseas to Salt Lake City, UT but they will not be available right away.
Gold Standard
Familiarity:

I've put it through the wringer
These cams are the standard for a reason - smooth action, burly double axle that gives more security and range, and has the right amount of stiffness/flex in the stem. I also prefer them to the u-shaped cams because they fit in weird spaces more easily
The Standard
Familiarity:

I've put it through the wringer
The C4 has a smooth double axle desgin that performs well when dirty and has a great range. I couldn't be happier. They are ubiquitous for a reason.
Best cam's ever made
Familiarity:

I've put it through the wringer
I inherited a lot of gear when I started climbing a few years ago, but I always reach for the Camalot's when the going gets desperate. They always inspire confidence, no matter the size.
Price Increase Beta
Familiarity:

I've put it through the wringer
Hi Backcountry customers! Just wanted to reach out and explain the price increase for the Camalots a little bit. After connecting with Black Diamond and getting the good word they have decided to move all production of one of their flagship products from China back to the US. All of the components were always milled/machined by them but the final assembly was done in China. They felt that making the investment to bring all production back in house would be good for the company and good for the greater Salt Lake City community by creating jobs for locals. Hoping that we can all continue to support such a great company even with the price increase.
fast and secure placement.