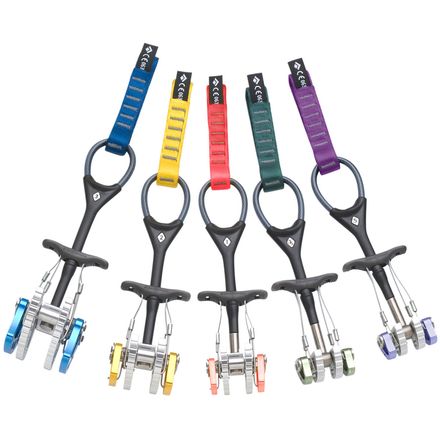 Detail Images

Videos

Community Images
Description
Build your rack right.
Incredible expansion range and low weight make the Black Diamond Camalot C4 Package a perfect way to start off any trad rack or beef up an old one. These five cams (size 0.5-3) cover all the bases from fingers to fists. The new Camalots are so dialed that two half-sizes were eliminated because the new increased expansion range deemed them obsolete. In addition to providing this increased range, the double-axle design makes these cams full strength even when placed passively. With all these advances, Black Diamond still managed to decrease weight by 30%, because no one likes weight.

Double-axle design for extra-large expansion range
Double-axle design works as cam stops to increase strength of tipped-out placements
Large thumb loop provides a clip-in point for aid climbers
These are 30% lighter than previous Camalots
Color-coded for quick identification
Includes five sizes from .05 to 3 (loose fingers to fists)
Click sizing chart link for range, strength, and weight info
The gold standard
Familiarity:

I've used it several times
I picked up this set of C4s, along with a set of DMM stoppers to start my trad rack. The C4 cams are well engineered, beautiful, and provide solid protection. They are a great balance between price, expansion range, weight, and do all this while maintaining superb quality. The five sizes in this set (.05 to 3) were perfect for all the climbs I did in the Gunks.
When I picked these up Backcountry had these on sale for a little over $260 but I would not hesitate to pay full price when I end up buying doubles and triples of these to keep building my rack.

The Standard
Familiarity:

I've put it through the wringer
C4's are the standard to which I evaluate all other cams. These cams are so darn solid in so many ways, it is really hard to find anything else that does so well in so many ways. Of course climbers have their unique preferences and these are not the best is some specific applications, but overall nothing beats the C4!

Things I love:
- The trigger and loop design is so freakin' solid! No silly post or awkward triggers here. The C4 feels great in hand when plugging it in the crack.
- The cam action also feels solid, not too stiff and not too loose, but just right!
- These are nice and burly cams that will give you a good amount of use. Of course nothing lasts forever and big whippers can eat up cams, but I feel super confident in the strength of these cams.
- The double axle design allows great range but also can be used as a passive placement if you really really needed to, but not recommended.
- The head is fairly narrow for how beefy these cams are. There are some other cams on the market that have much more narrow head for slotting into shallow cracks, but the C4's are pretty darn good here.
- The webbing is again really solid and has held up great after a lot of use.
- The thump loop is also great for having a little higher clip in point for aid climbing.
- These are also decently flexible. Again not the best, but pretty darn good!

Overall you really just can't beat these cams! I have used these a ton and look forward to many more climbs!


Perfect starter pack for my trad rack
Familiarity:

I've used it once or twice and have initial impressions
This is a great range of sizes to start my trad rack. I got the Neutrino rackpack so that I can match the colors to the biners. I have no doubt I'll be buying doubles and triples as I keep building my rack. Looking forward to getting either C3s or X4s soon!
Awesome!
Familiarity:

I've put it through the wringer
These cams are absolutely great. The only thing that people really complain about with these are their weight. Which is not really a concern to me. They are only slightly heavier than the competitors.

These have a great smooth action and fir the wall really well. They just work so well and that is why they are generally most peoples go to! Great starter set, and I added a couple others to have a decent set up!
All around pretty good
Familiarity:

I've used it once or twice and have initial impressions
The BD camelot C4s are the cams you see at every crag for good reason. I'm only a beginner in trad climbing but I have not been disappointed. The only other cams I've used are the DMM dragons which are very nice. The C4s are heavier, have a smaller range, and should basically always be clipped into with a quickdraw, while the dragons have extendable slings that you can clip your rope into saving you on the number of draws and lockers you need to buy and carry up. However, C4s are cheaper and work well, so that is what I have. The 0.5-3 set was a good core set to start with, but you'll end up wanting more.
Awesome cams, great quality, smooth action, and slightly wider cam spread for solid placement. These are the gold standard for a reason.
Job well done Black Diamond.
Needed more
Familiarity:

I've put it through the wringer
These are the most common sizes for climbing in Yosemite. I make a few trips a year to climb there and I use these sizes the most. Super reliable and the never fail. You can never have enough of them. Pick up neutrino rackpack carabiners for them. Watch the site here for deals. You can at times get this set for around 290$
Starter Pack.
Familiarity:

I've used it several times
I bought these as a first step towards trad climbing, and have used them mostly as anchors for top-roping at this point, but the quality is amazing and with a name like Black Diamond, you can certainly trust them.

Excited to complete the rack!
Why did the price of this package jump more than $50?
Hey,



So the price jump was due to BD switching things up.



For a while their cams were being produced in China but they've began the process of transitioning the manufacturing back to the North America.



Shoot me an email anytime you have climbing questions!



Jared D.

Expert Gearhead

801.736.4336

jdowns@backcountry.com


Best Answer
It's back down as low as I've ever seen it right now! $262 that's a steal
Cam cam cam cams...
Familiarity:

I've used it several times
Well, it's not like you can complain about manufacturing quality on climbing gear...and certainly not on Black Diamond cams.

I love that I just took care of a good chunk of what I need for a rack in one fowl swoop. The package cam deal is where its at!
Solid Cams and great to build a rack
Familiarity:

I've put it through the wringer
I bought this set of cams when I first started building my rack two years ago. They're solid cams, and definitely a great start to anyone looking to build a rack. I've put em to good use and look forward to using them on more trips to come.
Bomber cams
Gender:

Male

Familiarity:

I've put it through the wringer
They save lives!




Mike Cushing Crushing Unknown Climb