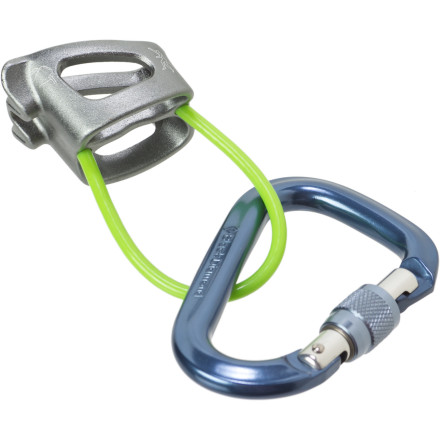 Detail Images

Community Images
Whether you're ticking off a sport project or working the face of a big wall, the Black Diamond Big Air XP Package helps you up and down the vertical world. High-friction mode keeps you in control even when handling skinny or icy ropes, and the mini Pearabiner Screwgate carabiner features a keylock nose to eliminate snags.
Good gear, but misadvertised
Familiarity:

I've put it through the wringer
When I ordered this package, I was expecting to receive the gear shown in the picture. However, I was sent a more basic ATC without any teeth and the screw gate carabiner (shown below). Both work great, but be warned that what you see might not be what you get.
Awesome
Familiarity:

I've put it through the wringer
I've used Black Diamond ATC's for years, and there's a reason. Once again impressed with the quality Black Diamond puts into their products.
Big Air for your Buck
Familiarity:

I've used it several times
Not sure what I can say about this ATC that hasn't already been said, but I'll just outline a few features here. I normally use GriGri's more than ATC's, but for situations that require it or simply those that prefer the responsiveness of an ATC, this is a great piece of gear to add to the closet. It bites the rope well, provides good friction when you're braking, and it's super lightweight. When I have this thing clipped on to the back of my harness I forget that I have it on. The locking carabiner is fantastic as well and has completely converted me to Black Diamond carabiners for all of my climbing needs.
The safety for everything
I use this all around in many situations sport,trad,mountaineering and a little extra protection never hurts!
It works!
Familiarity:

I've used it several times
This is my first ATC. It's affective and not too expensive!
exactly what you'd expect
great and cheap belay system. I'm diggen the friction side too.
great package for versatile climbing
Familiarity:

I gave it as a gift but have feedback to share
bought this as a gift for a friend who has finally graduated from top roping at the gym and is getting out side. I have pretty much used BD ATC's and carabiners for all of my belaying needs in my climbing career. More importantly I trust all of my partners to use them as well. The teeth on the XP are really nice if your partner is bigger than you and you need a little more control on the lowering, or if you are using some smaller diameter ropes on alpine or ice objectives. Always reassuring to slap the ropes in high friction mode to abseil with gloves on after a long cold day on an alpine route.
I bought this package because I liked the price and its exactly what I expected. I like the carabiner and the ATC both. The ATC has a friction side which is why I like it.
Black Diamond Big Air XP Package
Familiarity:

I've used it several times
Highly recommended if you're looking for a simple, light weight, durable ATC set up.
Belay today!
Familiarity:

I've used it several times
The Black Diamond Big Air XP belay is a great addition to any climbers plethora of gear. It can be used for any type of climbing. It is super light and very durable. The screwgate is a huge plus with the keylock nose to get rid of any snags. I would recommend this to any climber looking for a new ATC!
Climb On, Garth.
Familiarity:

I've put it through the wringer
Does the job perfectly. Just a simple set up and a great price.
Fits my rope perfectly
Familiarity:

I've put it through the wringer
This ATC-XP is great! I love that it came in a package with a carabiner. I always keep this combination together because the carabiner is a little smaller than I prefer for things like top-rope anchors. This is definitely a great deal.

The rope I use is perfect for this XP-- 9.8 mm thickness. I've never experienced any stick with my rope in the system. Combo is super lightweight and simple. I'm really glad I bought this package!
One of the most versatile, super bomber, and idiot proof belay devices. I love how it handles my skinny 8mm rope for canyoneering all the way to my fat 10.5mm for sport climbing. Its light enough I don't really notice it on my harness. I've had both the older style and the newer style and can say that the weight difference is noticeable. If you have an old ATC and are thinking about upgrading DO IT! You won't regret it. The mini Pearabiner is solid and a great locker but a little smaller than I prefer for a belay biner. This package is a great deal with the best ATC around.
Yes!
Gender:

Male

Familiarity:

I've used it several times
Solid biner and ATC device. Bites the rope well, and is lightweight. Just like Rory below, the ATC device that came with my purchase is orange. No complaints, though, love it!
This little guy is really solid - use it for indoor climbing all the time. Love the high friction mode.
The newer ATC-XP with holes in the walls that comes with this is amazing. It's noticeably lighter and it seems to bite on the rope a lot better than my older ATC-XP. As an FYI, the belay device I got with this package was bright orange. This is a great package buy and I have zero complaints.